'House Of Gucci': In Conversation With Lady Gaga, Adam Driver, Salma Hayek & Jared Leto
The stars on their vast, impassioned journey behind Hollywood's glamorous true-crime drama
Wednesday Dec. 1, 2021
No other label is as synonymous with luxury and glamour as the Italian brand Gucci. But beneath its premium chic is a tawdry tale of lies, deceit and cold-blooded murder. Acclaimed director Ridley Scott's new film House of Gucci explores the dynasty of the Gucci family and how high-end fashion turned into high crimes.
Here, the BBC's Edith Bowman interviews Lady Gaga, Adam Driver, Salma Hayek and Jared Leto about their roles in Hollywood's most glamorous true-crime drama.
Lady Gaga, you said you didn't want anyone to tell you who Patrizia Reggiani was as you prepared for the role. How did you discover who and what she was?
Lady Gaga: I grappled with who she was and why this happened for a long time. I spent a lot of time reading about her and watching interviews she gave. I tried not to read or watch anything that had too much of an opinion because I really wanted to create my own.
I thought it was significant and important to make sure that I was more of a journalist when approaching this role, because this was — and is — a real person. But also a person that, in a lot of her interviews, lies all the time.
I wanted to be able to decide for myself, "Okay, what does she look like when she lies, what does she look like when she's not lying? Who was the real woman, Patrizia Reggiani, before she got married and before she had Maurizio Gucci murdered?".
I believe she was a real woman that fell in love. I believe that she not only loved Maurizio, but she loved what he meant and the way that he empowered her within the family business. When that was taken from her, I believe she reacted in a way that most women don't. Most women don't have their husbands murdered.
Yet I do believe in that system — this sort of systemic oppression that she experienced — that this happened because she was simply too hurt.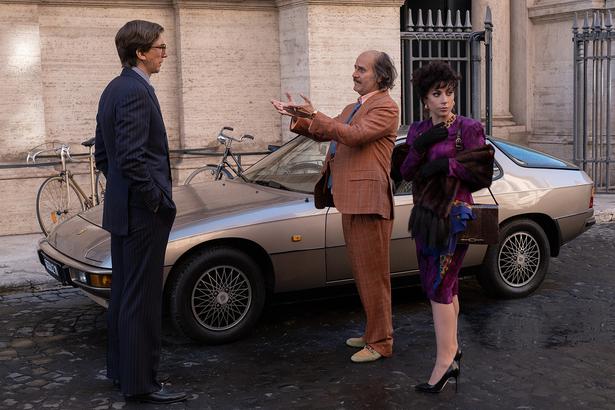 It's an incredible performance. So much of it is down to the physicality, the way you hold yourself in the clothes and how much the clothes tell us part of the story.
I wanted to make sure that Patrizia never looked as shiny as the Guccis. I never wanted the fashion to do the talking. In terms of the physicality of the acting, I had three different animals that I was working with.
Earlier in her life, I was a house cat. In the middle of the film, I was a fox. I studied the way foxes hunt, they're actually quite playful when they hunt. And then I studied panthers for the end. I watched lots of videos about the way that panthers hunt. They seduce and then pounce.
I'm sure everybody knows that there's a very big difference between all the three animals so I used that as part of the way that I discovered the physicality of the character.
Jared, Paolo Gucci's so much fun to watch. He's got this child-like, beautiful quality to him. How did you find your version of him?
Jared Leto: For me, this was an opportunity to work with one of my heroes, Ridley Scott. We all have these films that we connect to as younger people and Blade Runner was a movie that changed my life. I don't know what it was about that movie. It captured my imagination as a young person, and also taught me about acting, cinematography, storytelling and filmmaking. It really helped me fall in love with cinema.
I'm so glad that I had these big shoes to fill with Paolo Gucci. I don't think I had time to stop and think about it. I'm working with Gaga and Driver and Jeremy Irons. Al Pacino playing my paps was another one that's hard to believe.
Salma, you bring a brilliant jovial-ness to this story, even though Pina Auriemma is involved in quite a dark storyline. But you've wanted to make this film for quite a while?
READ: A First Glimpse At Ridley Scott's Impossibly Alluring Film
Salma Hayek: I didn't know I was going to have anything to do with this movie but I knew it was going to get made for a long time, because I happen to be really good friends with Giannina Scott [wife of director Ridley Scott]. I saw her fight for this for 20 years.
She was passionate about it. She wanted to do the story of a woman that everybody sees only as a gold digger, but that really loved this man. It's a story about love and the places you go for love.
Adam, this journey that Maurizio Gucci's on with his wife Patrizia Reggiani, and as that relationship with her changes what research could you do into that, in finding out how that love changes, and that love has a journey?
Adam Driver: I don't know if there's any one specific thing. You can only do so much research. I've found this from playing real people before, you take details that open your imagination about them and then disregard the things that start making it feel like an impression.
There's endless things you can do, endless questions you can ask yourself. You have to throw it all away. You have to be open to a better idea in the moment. That's what I feel this cast shares in common. Everyone is prepared, everyone shows up on time, everyone is very well rehearsed.
But everyone seemed very willing to throw it all out in service of somebody else's idea. It's not something we consciously talked about, we didn't get together, it's just innate in this cast.
It's so much more fun to play in scenes and be surprised then come in with your idea and try to force everyone else to follow it. Plus the way Ridley shoots, he sets it up so it's designed to do that. It's designed to be spontaneous.
We have a limited amount of takes, you know, we're going to focus on you for thirty minutes, and then we're going to take lunch, and then we're going to come around and we're going to focus on the other guy. Everyone starts and ends on the front of their feet during all the takes. It's a great environment to be around.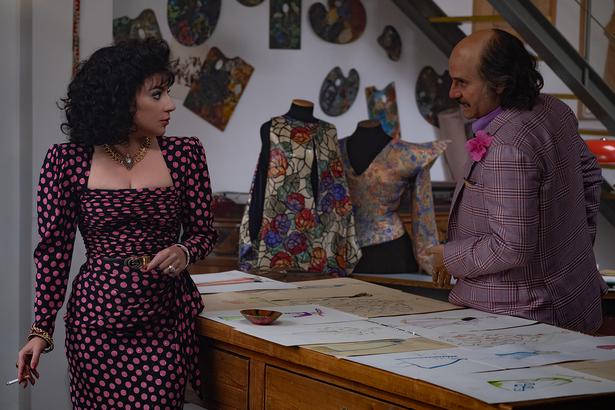 Gaga, what defined Patrizia for you? Or did that change throughout the story?
Lady Gaga: Maurizio Gucci, for Patrizia, was a way to survive. It was an opportunity to matter, in a way that she never mattered in her whole life. And, in a way, for her to matter to her husband. She felt she could be valuable in advising him in his endeavours, inheriting half the company. She really shines in her strength as a ride-or-die wife.
When the police come for tax evasion, she guards their home with her life. What Gucci means to her is, 'this is how I survive this world'.
She had a dream of a better life for herself. Gucci had all of it and she wanted everything. I don't think she wanted everything because she was this crazy gold-digger, or this opportunistic, obsessive woman. I think she believed it was what she was supposed to do.
The film follows Patrizia from when she's 22 through to 49. How did you approach playing a character over that period of time?
Lady Gaga: First of all, me passing as a 22 or 25-year-old is ridiculous, but thanks. [laughs]
It was a challenge. Our trailer, where I got ready every day, was like a science lab. We had continuity photos in order of scenes so we always knew what I looked like at any given moment. There were15 wigs that were actual replicas of the way she wore her hair at exact times in her life that we were able to find in photographs. They were specific to the era, even the chemicals that were used to dye the hair were specific to the era. Everything we did was very accurate.
In the morning I might be filming a scene where she is in her late 30s or early 40s, and then I would, you know, have to do a scene where I was 25.
We'd go back and forth but because we were organised and so specific we were always ready. That's what my director deserved. And it's also what my fellow actors deserved. I wanted to always be on time on set, and I wanted to always be ready to be the version of Patrizia that was in that scene.
It was such a pleasure working with every single actor because everybody cared. Everybody wanted this to be as great as possible. I feel like we really scraped the bottom of the pan and made the gravy every day. That's a very Italian thing to say. [laughs]
House of Gucci opens in cinemas on January 1, 2022.
Share this: