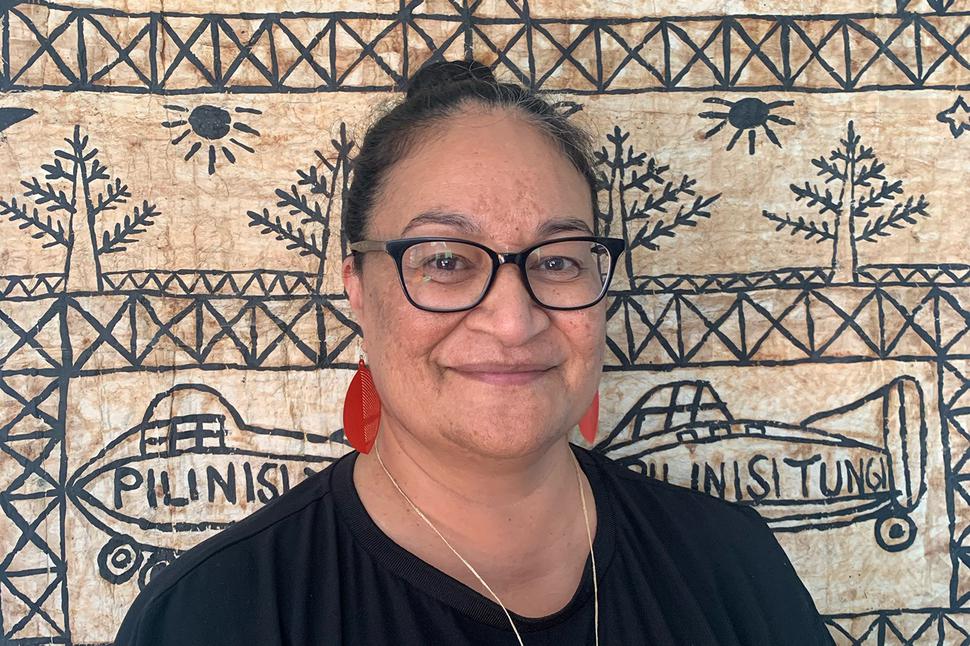 How Fuli Pereira Makes It Work
The curator of Auckland Museum's Pacific and World collections is enamoured with material culture and adornment
Sunday May 15, 2022
"My role at Auckland Museum is about quality community access to, and engagement with, museum collections via exhibitions, online content, publications and in-person visits. I've worked at Auckland Museum for 26 years, 18 years as Curator Pacific and the last 11 years as Curator Pacific and World Collections.
There are almost no areas of material culture that I'm not fascinated by. I love adornment for the capsules of identity they are, and textiles for the cultural prestige wrapped up in them.
I'm particularly interested in the material culture of atoll communities, how people not only lived but thrived on minute tracts of land with extremely limited flora and fauna, in the middle of the vast ocean for millennia. The ingenuity and resourcefulness of humanity are writ large here.
Recently I've been collaborating with Britomart for the City of Colour Festival, to curate a selection of tivaevae that will be exhibited in the precinct's Pavilion buildings.
Tivaevae are hand-sewn bed coverings made by women of the Cook Islands. One of the key elements about the value of tivaevae-making is the communal undertaking. Vainetini, women's sewing groups, are usually centred around an expert tivaevae-maker who designs and cuts the tivaevae pieces and oversees the sewing or embellishment of these elements to be brought together to make up the final tivaevae.
READ: How Manuscript Curator Nina Finigan Makes It Work
The museum's collection of tivaevae is lovely, with tivaevae from the early 1900s made up of geometric patterns that aren't seen or made today, as well as contemporary patterns of carnations and pansies that don't grow in the islands but here in New Zealand. There are tivaevae made by vainetini, and others designed and cut by mothers to be sewn with their daughters. The stories behind tivaevae are just as significant for me as the beautiful tivaevae themselves.
Tivaevae are gifted at every major event in a person's life, and are an important expression of women's creativity in the Cook Islands. They're treasured heirlooms passed down through families.
For the City of Colour Festival tivaevae exhibition my team selected 14 pieces. It was important for us to include older examples as well as contemporary pieces. The range of techniques is important as well — tivaevae taorei, patchwork quilts, tivaevae manu, applique quilts and a tivaevae tataura, embroidered applique quilt.
We also wanted to include full bed quilts as well as cushion covers as great examples of tivaevae. And you really can't look past tivaevae for the theme of Festival of Colour!
The art of tivaevae is still strong today. New patterns and colour combinations are always being explored. Women take inspiration for patterns and motifs from what is in their surrounding environment, and increasingly what might be a social topic or event of the day."

WHAT KEEPS ME INSPIRED
A highlight for me... in The Art of Tivaevae exhibition is the tivaevae taorei, a patchwork quilt with a carnation design (1996.224.1, pictured left). This is a highly technical piece and requires a mathematical brain to design and plan out. Made in 1969, the pattern is designed on a grid with every square having an allotted colour. Its maker, Mama Kaitamaki, probably had several women help in the sewing of this tivaevae, each of whom would have had several long lengths of cotton on which would be threaded 2cm square coloured "patches" in a very strict order. It's amazing to see tivaevae being brought to life when pieced together.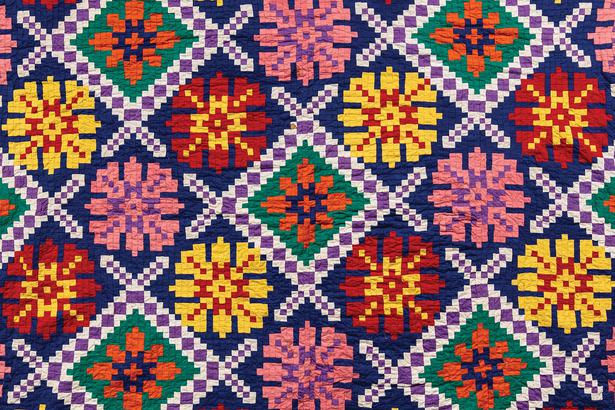 A piece housed in the Museum's Pacific collection that is special to me is ... Pa or pearl-shell fishing lure. These are important within the Tokelau community. They're very utilitarian and necessary for livelihood, but also symbolic of health and wellbeing of families and of Tokelau as
a nation.
I'm addicted to... the Crime and Investigation channel. The Mindy Project is ridiculous fun and The Repair Shop is a must on a Friday night.
I'm reading ... Lucy Mackintosh's Shifting Grounds: Deep Histories of Tāmaki Makaurau Auckland and Reawakened by Jeff Evans, which profiles 10 navigators of the Pacific who trained under master navigator Mau Piailug.
I love jewellery... the tactile nature of material, the expression of identity and place. But I'm surrounded by exceptional adornment pieces from the Pacific, I mostly make do with them (pictured below left is Civa Vonovono. Breastplate. 1925.92. Collection of Auckland War Memorial Museum Tamaki Paenga Hira).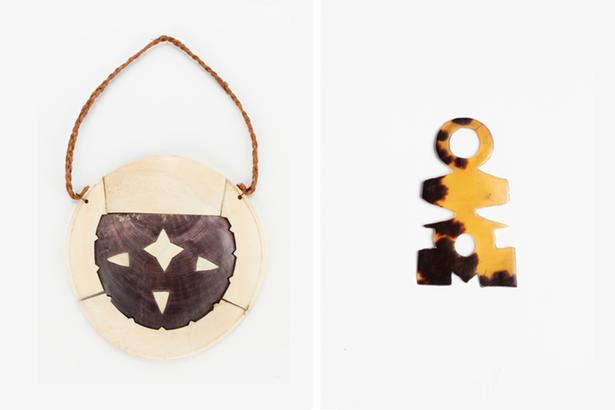 I have eclectic taste in music. I'm being schooled in K-pop by my daughter who has curated playlists for my drive to work with everything from Sinatra to BTS, Patsy Cline to Lil Uzi Vert and the Samoan Five Stars to Doja Cat.
I'm currently attempting a home edit. I own far too many 'things' and am being influenced by Yumiko Sekine, the founder of Fog Linen (@Foglinenyumiko), who has a wonderful philosophy and aesthetic for simplicity in the home.
An interesting person I follow on Instagram is ... a brilliant friend of mine, Lizzy Leckie, who is the textile artist @Flaxweaver; @Sidestokesteve because he makes wonderful pottery; and another brilliant friend of mine @Bevmoon500.
'The Art of Tivaevae' is on display at The Pavilions, Britomart, as part of Heart of the City's 'City of Colour Festival', until May 22.
Share this: