How to Collect Art
From the Parnell ridges to a garage in Glen Innes, explore the machinations of the Auckland art world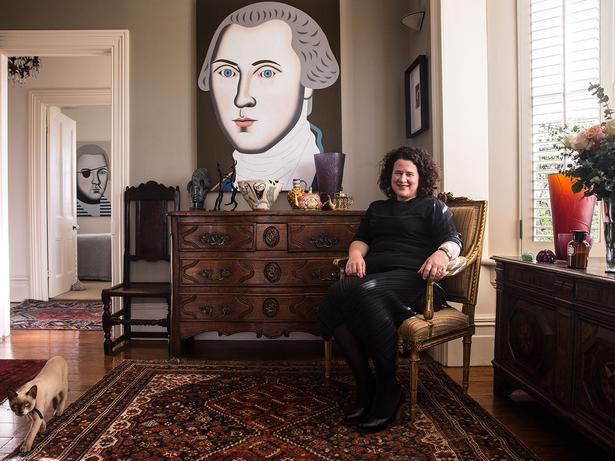 Wednesday May 25, 2016
Art collecting for some is a serious pastime, or a ludicrous one, depending on the outlay. Last year, a Qatari collector forked out $300 million for Paul Gauguin's, Will You Marry Me, making it one of the most expensive paintings ever sold. As for the reasons we collect, much has been written on the subject — perhaps it will make you appear wealthy; you can love and look at it all day long and it won't answer back. More cryptically, French philosopher Jean Baudrilard suggested collecting was an erotic act driven by a regressive desire for possession. However you don't have to be a collector, or an obsessive to enjoy this week's Auckland Art Fair, which will attract all moving parts of the art world — artists, gallerists, collectors, educators and critics. We spoke to a few to get their views on New Zealand's contemporary art scene.

THE ART HONCHO
Art + Object's black-painted, converted auction house is strategically located on the fringe of Ponsonby, where houses are as rare as Goldies and new money shimmers like Klimts. Launched in 2007, the auction company set out to service younger contemporary collectors who weren't being catered to by the older auction houses on the "other side of town".
Jammed into their store-room-cum-action-space — hot off the truck from St Mary's Bay, the contents of recently closed Molly's Hotel lie scattered about — chairs, sofas, artwork, curio, it's all there, except for the bed Beyonce once slept in, which was rejected by the auction house. "I'm not sure the fact she slept in it for one night gives in any special significance," quips Leigh Melville, one of three founders of Art + Object.
Melville's job mainly involves buying and selling art and objects on the secondary market — a fancy word for pre-loved. "It's an interesting part of the job. You never know what's going to come through the door."
Recent auctions have included many Colin McCahons, Fiona Pardingtons and Michael Parekowhais; their largest sale to date was a McCahon titled, He Calls for Elias, which fetched $562,500. Art + Object also conducts many high value private off-market sales and offers a valuation and advisory service.
Today we are sitting in the private selling room — reserved for clients who prefer privacy while purchasing — or disposing of works they no longer desire. Melville is bright and quick. An ex-head girl from St Cuthbert's, with a background in communications and later in gallery relations, she's a wealth of artistic knowledge. Next year she chairs the New Zealand at Venice Biennale Patrons Trust, which raises funds to support New Zealand's representative, who in 2017 will be Lisa Reihana with a project titled Emissaries.
Melville's previous involvement in the Venice Biennale has resulted in close relationships with New Zealand's leading artists, including Parekowhai. "It was fascinating to be around when Michael was working on his flower arrangement photographs, which commemorate places in France and Flanders where the Maori Battalion fought in World War I. Just understanding where the work comes from really gives you a better appreciation for the art."
Melville's husband, antiques dealer Donald Melville, shares a love of collecting things. And collect they have. "At first, I collected photography because it was vaguely affordable."
Now her collection looks like it might be vaguely less affordable. Her home in Auckland houses works by Peter Robinson, Richard Killeen, Gretchen Albrecht, sculptor Terry Stringer and Parekowhai. Melville exudes an obvious joy when talking about art, especially her glass art collection that includes pieces by leading New Zealand glass artists Anne Robinson and Leila Walters
Her advice to new collectors? Do your research. "Collecting is harder than it looks, you have to put the work in."
Melville suggests visiting galleries and subscribing to catalogues and museum feeds. "Don't feel intimidated by gallerists — they genuinely want to talk to you. Before you buy, ask yourself, do I like it, can I afford it? And whatever you do, don't buy art on cruise ships or on holiday."
In terms of mediums to collect, Melville says pottery is hot at the moment, and photography has become a more valuable media. Paintings will always be a good investment, as not many artists are painting in the traditional sense. "To be noticed, artists think they need to do something outrageous."
As a result, in recent years there has been an increase in mediums like video and installation. However, when considering an investment in art, the medium is not necessarily a driver of value. "In the past generally photography didn't fetch as much as paintings, but now it's not unusual to see photographs sell in excess of a million."
Paintings, she says, will always be regarded as blue-chip. If you are thinking of purchasing an artist's work at auction, Melville suggests tracking their progress at previous auctions to see how they perform. Another thing to consider is how many works the artist has available on the secondary market. "If an artist, like Ralph Hotere for example, is prolific, the market is well-supplied, so this may affect their value at auction."
Other tips include considering the quality of the raw materials an artist is using, and — if you're buying a print — making sure the artist is clear with their editioning — meaning look out for clear numbering and signing as this will affect the value if you decide to on-sell the work. "Look for editions in low numbers 1 of 20 is fine, but watch out if you've got 899 of 2015."
When it comes to framing, invest in museum-quality glass to protect the artwork from New Zealand's harsh sun, and if you own a watercolour, hang it on an interior wall out of direct light.
Back in the foyer, Melville plies me with Art + Object's last three catalogues — beautiful, book-like publications bound to lead to a regressive desire for possession.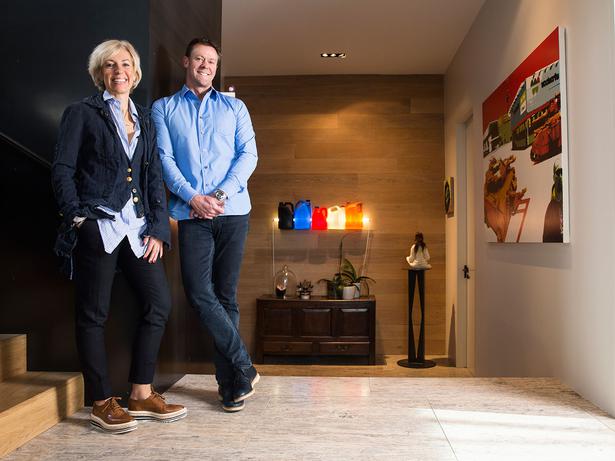 THE COLLECTOR AND FINANCIER
If New Zealand art had a road map, it might start in a garage in Glen Innes and wind up in a pavillion in Parnell — one like Sonja and Glenn Hawkins' beautiful new home, designed by Andrew Patterson. Inside, an extensive New Zealand art collection graces walls, plinths, ceilings, shelves, and gardens too. Sonja, an interior designer, guides me around her home, which features sleek steel and wooden panelling. On arrival, a hot pink Max Gimblett takes centre stage and in the foyer a colourful light installation draws you in.
On closer inspection, the light fixture is in fact a row of colourful jerry cans threaded on a fluorescent tube, made by French-based Kiwi artist Bill Culbert. Other standout pieces include a bronze pot plant sculpture by Michael Parekowhai — Hawkins is a mad gardener, so this appealed; a richly coloured Gretchen Albright; an early Gordon Walters, (before he started his koru paintings); and a most unusual John Ward-Knox sculpture made out of silver chains forming a fantastical spider's web, stretching from one corner of the entrance hall to the other. "I had to warn the housekeeper not to stick her broom up there," laughs Hawkins, who received it as a recent birthday gift from her husband, founder of finance group Avanti.
Their collection is entirely made up of New Zealand artists, bar a glass bubble chandelier from Welsh artist Cerith Wyn Evans with bulbs that pulse to the beat of music, "quite a novelty when we are entertaining."
Sitting in her gallery-like living and kitchen area, surrounded by gardens and sculptures, Hawkins explains her seven-year stint in commercial interiors exposed her to a wide range of art, and she often met with artists. So what had always been an interest (art was a favourite subject at school), soon become a passion. "I definitely caught the bug."
She started visiting galleries, museums and art school shows, often accompanied by her toddler in a stroller. "Mostly at this point I was just looking, but it felt so exciting I'd come home feeling rejuvenated and I'd tell my husband what I'd seen."
Eventually she passed the bug on to him. Now most of their travelling trips have an artistic motive — they recently returned from Naoshima, a Japanese island in the Seto Inland Sea known for its modern art museums, architecture and sculptures. Twenty years ago, when Hawkins first started collecting, she wasn't in a position to buy artworks outright, so she'd often put works on lay-by.
This experience gave her the idea to start an art financing business called My Art, which offers interest-free loans to budding art collectors. "I think many people feel they can't come up with the money to buy art," Sonja says, "My Art is seeking to remedy that. The purchaser comes up with 10 per cent down. So for a $2000 work, you'll only need $200, then you pay it back in monthly installments, with no additional costs if you ensure your payments are timely. "This way buyers get their art straight away and the artists and galleries are paid immediately."
It's a not-for-profit organisation and the financing fee, around 5 per cent, is paid by the gallery to My Art. After covering costs, My Art puts the remainder back into a charitable trust supporting the arts. The scheme, based on a similar model called Own Art in the UK encourages collectors to purchase art and generates gallery sales. And more importantly, it helps artists grow their careers. It works for artists, buyers and galleries. "Living with art has been so joyful," says Sonja, "I want others to have that buzz."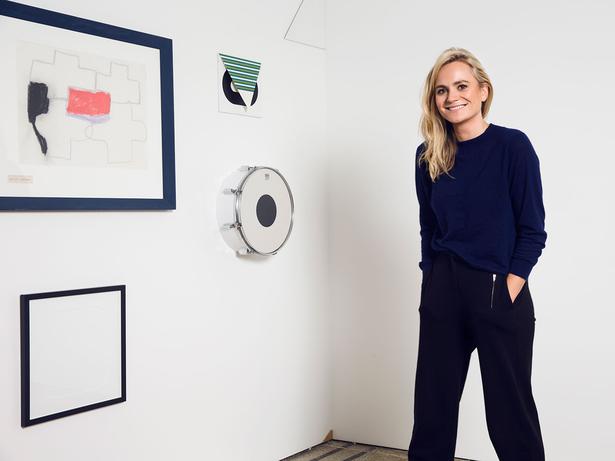 THE GALLERIST AND MARKETING MAVEN
"Tell me the story of your beautiful life," asks 26-year-old Sophie Wallace on her Instagram feed, @takoyakidreams. The dreamy pictures that follow tell the story of her beautiful life — one developing in cool-kid colour, dropping into places like New York, Paris and Prague and back to her home ground, Hawke's Bay.
A Dunedin graduate of law, film and art history, Wallace only spent one year practicing law at Bell Gully before giving in to her true love, art. Realising she had a short time to pursue the J1 visa, which allows recent graduates to work in the United States for a year, she headed to New York and landed a job with the prestigious Pace Gallery which propelled her into the world of contemporary art. Her communication internship saw her managing their eye-popping Instagram feed and dealing with artists on a daily basis.
"It was a pivotal experience for me, I learned to nurture artist and client relationships, and we were having museum-quality shows all the time."
A year later, her communications and marketing experience in New York came in handy in setting up her own contemporary art space in Hawke's Bay. Parlour Projects is in an old Hastings factory, but with its 8m studs and 11m viewing wall, it could be in New York.
"There were no contemporary art spaces in the area and I felt this could bring more visitors to the region and give locals — many of whom are interested — a place to come see some of our leading artists and introduce them to emerging ones."
Like Elam graduate Billie Caly whose large-scale photo prints of botanical subjects feature in the next show, due to open in a few weeks. Wallace also plans to utilise the space for other artistic events and next summer she's planning to host Shakespeare plays.
Recently though, Wallace has been Auckland-based, contracted as a co-ordinator to the Auckland Art Fair. The fair returns after a three-year hiatus and under new ownership promises to be more aligned with sophisticated international arts fairs. Featuring top-level galleries selected by a panel that included Simon Rees, director of the Govett-Brewster Gallery and the Len Lye Centre in New Plymouth, visitors can also expect engaging art events, like talks with artists and gourmet fare created by Peter Gordon.
Wallace is excited that, this year, 10 international galleries will also be present. There's Mutt, a gallery from Chile which will bring Latin flavour, Bergman from Rarotonga, which will add a hint of the Pacific and Australia's Roslyn Oxley9 Gallery and Pom Pom galleries, bringing exciting artists like photographer Tracey Moffat, one of Australia's most internationally successful artists whose staged and directed photographs flirt with issues of sexuality, history and race.
Wallace's advice to new collectors visiting the fair is to do your research before you come, then focus on the galleries and artists you like, rather than trying to cover it all. "Spend some time visiting galleries online beforehand, educate yourself, and if you find something challenging, read up on the artist. Collecting is a fine balance between drawing on your knowledge and following your passions."
Listening to artist talks is another way to learn more about the art making process and there are many running thoughout the fair's schedule, she explains.
As for collecting tips, Wallace shies away from buying art as an investment. She prefers to collect from artists she really admires, like New Zealand photographer Meg Porteous. "If you're not able to spend a large amount, a print is a great way to start your collection."
There will be a special editions booth at the fair where a group of non-profit institutions will be selling a selection of prints by New Zealand contemporary artists, priced between $100 and $2000.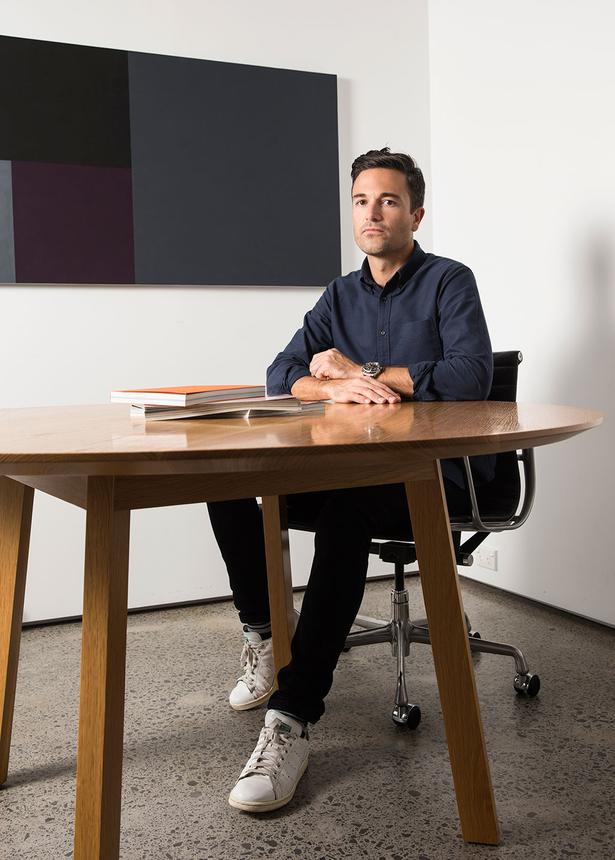 THE DIGITAL CONNECTOR
An interview via text seems natural with online arts entrepreneur Simon Fisher. Until you accidentally text him your grocery list. Fisher, 38, on the other hand is very competent working in the cloud. As managing director and co-founder of online art portal ocula.com he's created a virtual version of an international art fair and with over 3 million page views a year, it's catching on. This goliath of a site provides bucket loads of information on 43,000 artworks, 6250 artists, 175 galleries and 115 art museums. You could spend hours perusing beautiful art in Korea from your couch then link up with the gallery to find price information.
Or, once you've signed up to Ocula.com for free, you can follow that artist and receive emails on new artworks or shows. Can't make it to Art Basel or Frieze Art Fair in New York? Ocula can show you what was there.
Though some may reject looking at art online, Fisher explains the platform is designed to provide a starting point. Often the collector will end up looking at the art in the flesh. Apart from connecting some of the world's biggest collectors and important curators, Ocula also has an art advisory and private sale branch. "Last year I was able to sell major works by artists like Yayoi Kusama, Ed Ruscha, Cecliy Brown and Yoshitomo Nara," says Fisher.
To give you an idea of value, one of Nara's works — he's the Japanese pop artist who draws the girl with the huge head and staring eyes — recently sold through Sotheby's for just over 2 million US dollars.
Fisher, a sixth-generation member of the Fisher family, who founded Fisher's Fine Arts of Christchurch in 1870, was destined to work in the art world, and has devoted the past six years of his life getting Ocula up and running, along with Christopher Taylor, formerly of Webbs, who looks after the publishing side of the site.
"The schedule is pretty gruelling. I go to seven fairs a year and a lot of my own capital has gone into the business," which has meant he's had little time or resources for his own collecting. But he hints he might have a few special pieces — a Michael Parekowhai and a Shane Cotton — and he is occasionally gifted pieces from galleries.
Though Fisher is based in Auckland, the business has its main hub and editorial team in Hong Kong, with another Kiwi, Anna Dickie as managing editor. And with 20 writers all over the world, the website is able to source quality, up-to-date editorial content.
Apart from private sales, the main revenue earner for Ocula is subscription fees from partner galleries.
They have 175 signed galleries and are hoping to reach 300 in the near future.
Once a gallery signs on, Ocula uses its platform to expose their shows and artists on an international stage. "This is particularly attractive for New Zealand galleries who want to be seen on the international stage. We're are seeing much more interest in New Zealand art from international buyers."
Ocula is the Auckland Art Fair's digital partner and Fisher is positive about the prospect of a show of international quality this year, "it certainly looking like organisers have taken it up a notch".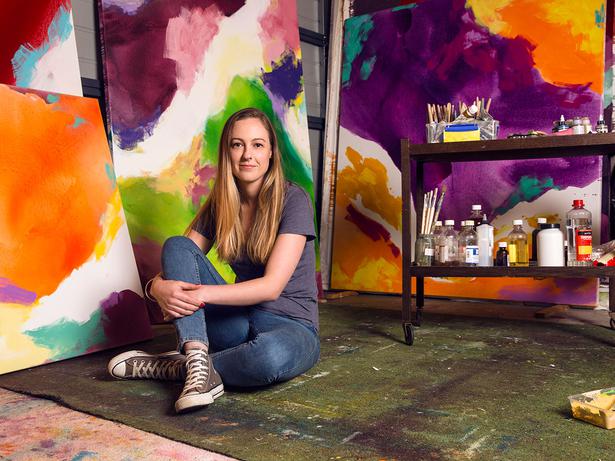 THE YOUNG ARTIST IN FULL COLOUR
On a sodden Auckland day, in a generic state house garage in Glen Innes, there are some colourful things going on. In Amanda Gruenwald's large fluid paintings, pools and swirls of translucent color ebb and flow over the canvas edges. They are exercises in "handling paint" and dalliances in incongruous colour combinations. Both spontaneous and methodical; chaotic and meditative. For some though, the paintings could be viewed as large globules of pigment on canvas, contrasted with the odd vigorous brush stroke.
Some might say, "oh I could do that" — a common response to contemporary art but as Degas said "painting is easy when you don't know how, but very difficult when you do."
Gruenwald concurs. "Often paintings that are really good look easy. It's taken me a long time to get to this point. It's the result of many failures, a honing down of a particular thing."
That thing for her is colour and form. Driven by a fine balance of intuition and planning, she starts by stretching the canvas, then pours the paint from above, letting it flow and create shapes. Her works in acrylic and oil paint explore the interaction of colour and surface: some areas are translucent and beaded, others scruffy with gestural brush strokes, some areas look restful, others more exuberant. "One mark influences the next and then when you get to a point where you like it, it becomes scary to put the down the next part."
The finishing phase is the hardest, she laments. Some will be here for weeks. "I'll come down and just sit here and look with a cup of tea," says the 30-year-old, "until I know what to do next."
Trish Clark is Gruenwald's gallery representative, and acts as another set of eyes. "She'll come in and say, 'that one is finished','that one needs more'. I value her opinion, but sometimes I'll disagree," she laughs. "Trish is great, she knows I'm a sensitive soul."
Gruenwald is softly spoken and thoughtful. Happy with her place in the world, even though the work can be hard graft at times. "It's certainly not glamourous," she gestures pointing at the chaotic space. "It's physical and messy."
Clark is amazed that Gruenwald can produce anything in her dark garage. "Against all the odds, she manages to come up with great results. She works slowly though, often I might be given a painting that's still wet, but I'll take what I can get!" That's because all her paintings have sold out.
Gruenwald, a 2012 Elam School of Art graduate, was awarded the Gordon Harris Painting Prize and the Kate Edgar Charitable Trust Grant in her final year of study, which set her on a trajectory for promise and laid the ground for a committed post-graduate period of painting. Her first successful solo show in 2013 at Sanderson Gallery titled Accumulations, displayed a tighter painting style in a more sombre colour palette, while her new paintings, some of which can be viewed at this week's art fair, are loose and bright.
The pressure is always present for a young emerging artist and as a painter, even more so. Though many young artists have devolved into technology to assist in their art making, Gruenwald has rejected it. "I'm not even on Instagram".
"Painting is difficult, you have to claim something as your own. You need to understand your natural inclination and feel confident with that."
Gruenwald has struggled with the idea that not all painting has to be conceptual or intellectual, some paintings are just what they are. Also challenging are the realities of living as an early career artist. Finances are tight, "but you go into it knowing that".
She supplements her income with floristry three days a week, which is followed by four days of uninterrupted art-making. "I never knew before Elam I could have a working life as an artist, even though that's what I've wanted to be since I remember."
Painting has been in her life since she was 12, when she would often draw portraits of her family. She was encouraged by her mother, who was an early childhood art teacher. Her father, a salesman, ran a supplementary flower growing business on the side. Flowers remain in her life now, "they're a subconscious inspiration of texture and colour".
Other inspirations include the lush colour palettes of early 19th century New Zealand landscape painter Rhona Haszard, and Russian colourist Jules Olitski, a leader of the Colour Field School in the 60s and 70s. His emphasis was on materials, surface, and colour's emotional strength; his paintings, like Gruenwald's, reject any suggestion of imagery or narrative, taking abstraction to its outer limits. "Colour must be felt throughout," said Olitski, and in Gruenwald's paintings, it is overflowing.
Share this: