How to Look Good in Wedding Photos
Wedding photographer Danelle Bohane has shot around 200 weddings in 12 countries. She shares tips on how to look natural in your wedding pictures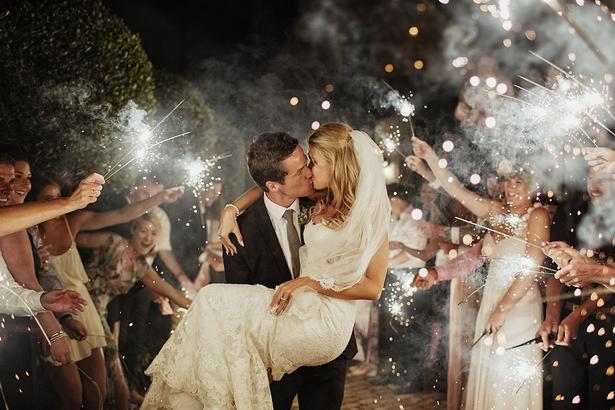 Wednesday March 30, 2016
Your best tip for getting the bride and groom to pose naturally?
This begins at the time the couple first enquire with me about photographing their wedding, it's all about trust. If I build trust in the relationship between myself and the couple ultimately it will make everyone relaxed especially when it comes to the portrait time. I also really encourage the couple to step away from everyone (bridal party included) just to have their own time together with me lingering around with the camera; my aim is to just let the couple interact naturally by not over posing them but encouraging them throughout this time so they feel like they are getting the goods.
How do you approach the pre-wedding photos?
This is a time to have a fly on the wall approach with no direction necessary. I am there to capture all the moments happening, my focus isn't just on the bride because there is so many other elements to tell the story on a wedding day - from the family photo on the wall to the bride's dad rehearsing his speech, I am looking for images that evoke emotion and that doesn't always require someone being in the image either.
From a guests' perspective, what is the best moment of the day to capture for social media?
The recessional, as there is so much excitement when they head back the aisle as a brand new married couple. But I need to add, these days it's really popular for people to do unplugged ceremonies, meaning no one can take images except for the professional photographer. Which is fantastic for two reasons: people actually concentrate to what is being said and take it all in, and secondly, there isn't a sea of iPhone and iPads in the audience. That can have a negative effect on the aesthetic of the professional images, and no one gets in the way of the photographer who is being paid to do it well... Not much worse when someone steps in the aisle with their when the bride is walking down!
Generally speaking, what's your favourite moment to capture?
This is such a tough one because there are so many moments throughout the day that can surprise me, even after shooting around 200 weddings. I think it will be just wherever the most raw emotion unfolds, generally it would be post ceremony when guests congratulate the couple, so much excitement and love in the atmosphere.
Tips for looking good in the photo booth?
For the bride, to put on her brightest lipstick she owns, such a good look for the photobooth and rest of the evening!
What do you recommend the bride and groom do with their photos once they are ready? Can you recommend any places to get them printed etc.?
Sadly we are now in a society where people aren't printing images as much, which breaks my heart but I am definitely guilty of this one myself. There is nothing like a beautifully printed image so go to town with the printing but don't skimp on quality, ask you photographer where the best place to get prints done is, but I can tell you right now its not at the local stationery shop. These days there are wonderful online book companies who do a range of different style of books and albums but my favourite is a company called Artifact Uprising and they do really affordable coffee table styled books and are also the coolest I have seen available.
Your photographer also probably offers fine art albums, and these are the best possible way to present your wedding images, and will last for generations if they are the fine art type printed on archival paper. These will come at a price tag though as you are paying for quality, a nice 1st anniversary gift to yourselves if you can't quite justify it the immediate wedding budget.
Tell us a little about your background?
I would be sitting over the 200 wedding mark now and been shooting for five years - can't really believe it but they say time flies when you have fun. By the end of this year I would have photographed weddings in 12 different countries. The highlight wedding that I have done would have been at the beginning of this year in Rajasthan, India, the stars really did align for this one and it will forever be a once in a lifetime experience.
I have been privileged to win a few different types of awards over the last few years, some recognised within NZ and then some internationally. The highlight awards would be NZ Wedding Photographer of the Year for 2013 and then the New York Rangefinder magazine 30 Rising Stars of Wedding Photography 2015 which I am most proud of winning.
Share this: