Where to Eat, Stay and Party in Ibiza
From countryside retreats to banging nightclubs, this Spanish island is the hot destination right now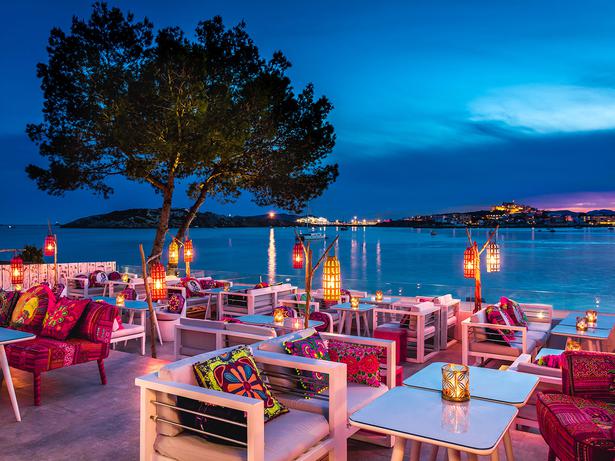 Wednesday June 21, 2017
THE BEST BEACHFRONT RESTAURANTS

Amante
Of all the knockout views in Ibiza, the shimmering aquamarine vista that greets you as you descend the steps to Amante has to be one of the most knee-weakening on the island. Amante's draw is its secluded clifftop location and you'll need to be quick to secure one of the loungers that line its lowest tier.
If you don't, settle in at the elegant bar and restaurant; a masterclass in "refined rustic" decor, serving a varied menu of perfectly executed crowd-pleasers (prawn carpaccio, burrata, passionfruit cheesecake), alongside more experimental dishes (Spanish fisherman's stew with saffron, avocado mousse dessert). Look out for Amante's sister restaurant Aiyanna, opening on Cala Nova this month.
• Visit Amanteibiza.com
Sa Punta
French restaurateur Rodolphe Sachs hasn't bottled his recipe for Ibizan good vibes (yet) but it must go something like: one part spectacular location (at the furthest tip of Talamanca bay overlooking the Old Town in one direction, with an expanse of ocean in the other); three parts distinctive, consistently delicious food (the site is home to three restaurants) and a hefty dose of mood-enhancing music.
The original fine-dining restaurant dishes up exquisite fresh seafood — the Nobu-style black cod is a standout — while upstairs, colourful Lebanese restaurant Patchwork offers moreish sharing dishes (hummus, baba ghanoush and sambousek), and further up the clifftop is kitsch Asian eatery Ginger.
• Visit Sapuntaibiza.com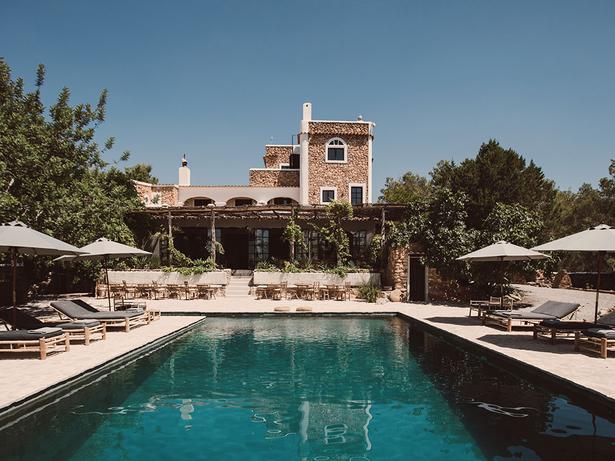 La Granja, near Ibiza Town. PIcture / Supplied
THE TOP BOUTIQUE HOTELS

Ca Na Xica
San Miquel de Balansat
Ca Na Xica is all about luxury in a bucolic, countryside setting. The main reception house was built in the style of a traditional Spanish finca, while the pool area, restaurant, and 20 rooms feel airy, spacious and tastefully contemporary.
The main areas are navigable via wide paths set in the natural red gravel native to the island; many are lined with prickly pear cacti that bear red fruit late in the season. Large terraces overlooking the countryside, sweeping fields of grass, and a warm beige colour scheme — punctuated only by the crisp turquoise of the pool — tie everything together. 
• Visit Canaxica.com
READ: 8 Great Places to go in the Spanish Islands
Can Talaias
San Carlo
Can Talaias is near the village of San Carlos in the northeast of the island. The house is on a hillside with panoramic sea views, and is very romantic and perfect for special occasions. It is easy to imagine the house as a family home, as there are only a handful of rooms and the vibe is intimate and casual. It has just the right amount of luxury without feeling pretentious or formal. This was one of the first agroturismos on Ibiza and has just grown more gorgeous over the years. All rooms have plenty of light and space, with large bathrooms, and some have big terraces.
• Visit Cantalaias.net
La Granja, near Ibiza Town
La Granja is a rustic, 16th-century farmhouse with private-retreat vibes, thanks to its "members-only" requirement (which is, in fact, done simply by agreeing to the terms and conditions on its online booking form). It has 10 main guestrooms decorated in a traditional Ibizan style; an open, communal dining area with reclaimed wood furniture; and a luxurious pool that overlooks acres of terraced farmland.
A traditional Bedouin tent on the property hosts parties, meditations and gatherings of like-minded people. Breakfast comes served on a platter and includes scrambled eggs, montaditos (Spanish bread with fresh tomato spread and toppings such as avocado, jamon and manchego), fresh-squeezed juice and fruit — most of which comes straight from the farm.
• Visit Lagranjaibiza.com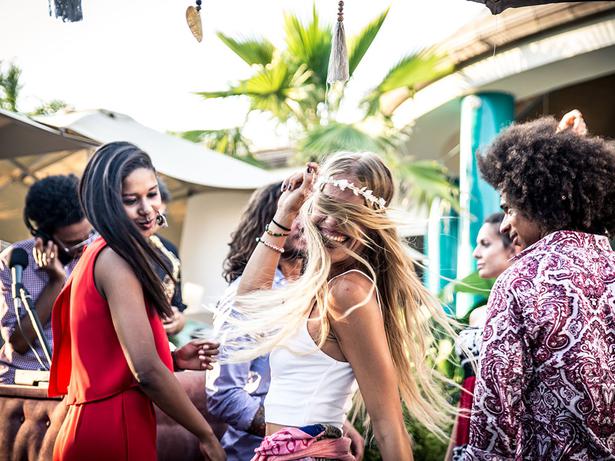 Music and dancing is one of Ibiza's main attractions. Pictures / 123RF
THE BEST BARS, NIGHTLIFE AND CLUBS
Nikki Beach Ibiza
The extremely hip beach club group opened a venue near Santa Eulalia in 2013 and it immediately became the place to be seen, at any time of the day. Expect cabanas, daybeds, cocktails, bronzed bodies and a bucketload of glamour.
• Visit Nikkibeach.com
Amnesia
Legendary club that lays claim to inventing the Balearic Beat. It may be difficult to believe now, but the venue was originally an 18th century farmhouse. Now two vast spaces are packed with 5000 people dancing frenetically on summer nights.
• Visit Amnesia.es
READ Throwback: Annabel's, London's Poshest Nightclub
La Bodega
At the foot of the old town in Ibiza's capital, La Bodega is a bar, pavement cafe, lounge and restaurant all rolled into one, and is a good place to get into the island vibe with a few beers or glasses of wine. The tapas menu combines the traditional with the more exotic, with excellent meatballs and squid.
• Visit Labodegaibiza.es
Pacha
It may have been open for 40 years, but Pacha just goes onwards and upwards in its quest for world club domination. The crowd changes according to the night, but you can guarantee the presence of countless celebrities from A to Z list in the never-ending series of rooms.
• Visit Pacha.com
— The Daily Telegraph
THE THREE BEST BEACHES IN IBIZA
1. Cala Jondal, San Jose
Of the 80 beaches in Ibiza, Cala Jondal is the most relaxed. Set in a secluded bay, with some of the most atmospheric bars and restaurants, it feels serene, sophisticated and happening all at the same time.
Who goes? The best kind of Ibiza crowd — none of the pretension of some of the other beaches and a very welcoming location for families. The rich and famous are not so aware of themselves here, and although this lack of image is very deliberate, it adds to the friendly ambience.
What is there to do? Swimming, snorkelling, dancing. If you have energy left, you can also hire pedalos.
Bars and bites: The Blue Marlin (Bluemarlinibiza.com) is a definitive Ibiza venue of billowing white cushions, day beds, refreshing sprinklers and ambient music stretching all the way down to the sea. Try the lobster ravioli. For fresh fish and Ibizan rice dishes, head to Yemanja beach restaurant, considered one of the finest on this stretch of the coast.
2. Las Salinas, Playa d'en Bossa
Named after the salt lakes in the south of Ibiza, this 1.5km crescent of sand on the southernmost tip of the island is bordered by a small pine forest. With music blaring from the party bars, it's here that you will find the most ostentatious clientele on the island.

Who goes? Sometimes it can end up as a who's who of the world party scene.

What is there to do? Water sports are available, including catamarans. With big breakers here on windy days, you can sometimes enjoy a good body-surf.

Bars and bites: The Jockey Club is an informal restaurant with a pleasant elevated view of the sea and an extensive menu. Something a little different for the bold is the ostrich fillet. The legendary Sa Trinxa Beach Bar is the place for a liquid lunch or supper. Despite its relaxed hippie feel, it always provides an electric warm-up for a night on the town.
READ: The Best Auckland City Beaches
3. Playa Mitjorn, Formentera
Formentera, the largest of the islands to the south of Ibiza, has the best Balearic beaches and Playa Mitjorn, on the south coast and formed by a series of coves, is the longest beach on the island, with white sands and placid seas. The area is relatively undeveloped and, on some days, it's possible to find your own cove. The beach, a rugged mixture of rocks, grasses and deep sand, extends across the whole south of the island, from La Mola to Cap de Barbaria.

Who goes? Burned-out clubbers, island-hoppers and families.

What is there to do? Relax in peace and quiet away from Ibiza. Swimming, snorkelling, sailing, pedalo hire, beach volleyball, tennis nearby and healthy walks.

Bars and bites: Head to Las Banderas for a cocktail. This archetypal hippie bar in a brightly coloured shack is notable for its North African decor. For a quality meal try the a la carte grill on the beach at Hotel Insotel. Or go to the Blue Bar, one of the original 60s chiringuitos (beach bars).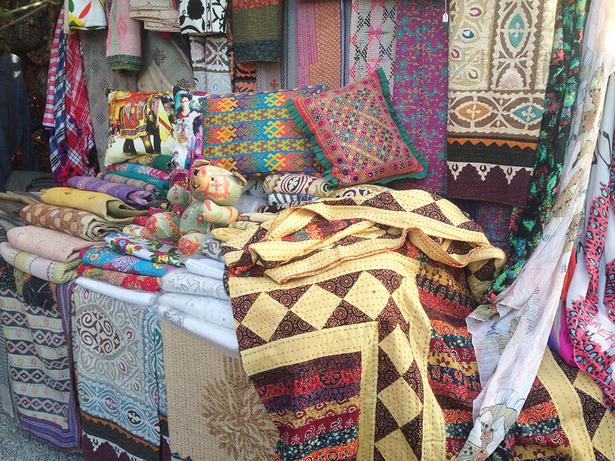 SHOPPING
Ibiza is famous for its hippie markets, although you are unlikely to find any real bargains these days. Las Dalias is on Saturdays in San Carlos and the Sant Jordi market is on Saturday mornings in the hippodrome outside Ibiza Town.
The town itself has a mix of chain stores and designer boutiques. Ad Libitum (Bisbe Cardona 10) is the label that created the Ibiza look with its floaty, white embroidered dresses.
Share this:
More Culture & Travel / Going Places