Inside David Bromley's new exhibition
Environment is all-important to Australian artist David Bromley, who cleverly combines his love of interiors with his art.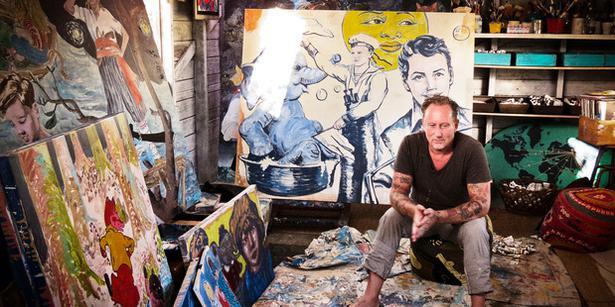 Wednesday Nov. 19, 2014
People refer to the Bromley aesthetic. Explain what this is.
A great, Scottish-born, Australian artist called Ian Fairweather said rather abruptly when asked about his inspiration for his work ... "Well , it comes from everything I've ever seen, heard or experienced."
My aesthetic is the same. It's born from everything I've seen, heard and experienced. The things that I surround myself with are the things that are the building blocks of my life. They represent my obsessive interest in many cultures, crafts and things made that I find remarkable.
The music I listen to, the furniture and objects I collect or lust after are my appreciation of other people's endeavours and I thank them for adding colour and inspiration to my life. In turn, I work very hard to do justice to my creative heroes, be it a humble chair maker through to a rock star, by working long and determined hours to mine my own creativity.

How did you get from being a school dropout and surf bum, to an artist whose work features in prestigious galleries around the world and has been published in magazines such as Vogue Living, Marie Claire Maison and arthouse books published by the likes of Taschen and Assouline?
I went from being quite academic at a young age to rarely going to school at about age 14 and leaving completely at 15 years old. From a straight A student to a bottom grade student at 14. I rebelled and questioned school constructs. I went to a school where fighting and bullying were prevalent and found it vile. The teachers in those days turned a blind eye and my increasing misery resulted in me simply leaving.
My isolation then led to poor lifestyle choices accompanied by many phobias and insecurities. This left me somewhat on the scrap heap and I was very confused.
But I have stayed alive long enough to grow a bit of a brain and cling to the fact that being busy and working commitedly at something, however simple, helps with building blocks to regain self-respect and a sense of worth.
I decided to be the most committed surf bum and moved from South Australia to the warmer waters in Queensland, where I got healthy, fit, ate well, surfed and looked for a vocation where I would work daily.
I was at a market where I saw a woman behind a trestle table of pottery and decided that would be my new addiction. I went to a country pottery class and, within months, worked hard at pottery and developed my own styles.
I have been addicted and committed to working every day on a craft, be it painting, pottery, sculpture, etc, ever since that day over half a lifetime ago.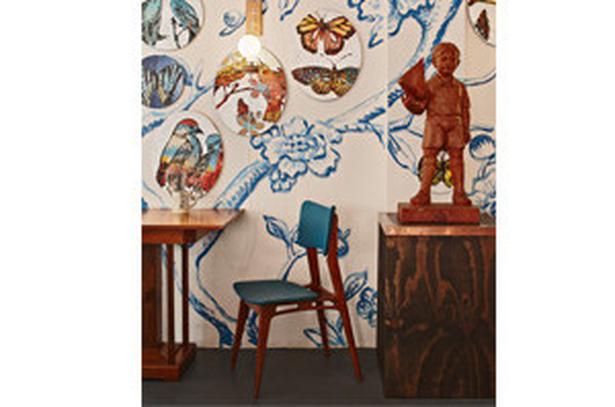 Not only is your work found in galleries but also in homeware stores. This has evoked comment that your work is more decoration than art. How do you answer that?
A core amount of people within the art world like to find ways of making themselves feel superior by denigrating certain others' endeavours.
In their elitist manner, they use words to undermine terms that have been applied to my art such as decorative, nostalgic, evocative, etc.
The only occasion I point to my success is to point out that those dear souls who repeatedly make me among the top five-selling artists in Australia in the last decade are my most trusted critics.
I am fortunate as to have had my own mind and have comfortably embraced the decorative as an art-form to be embraced. I loathe the snobbery that sadly exists in the art world and don't seek or need its approval. I'll continue to decorate to my heart's content.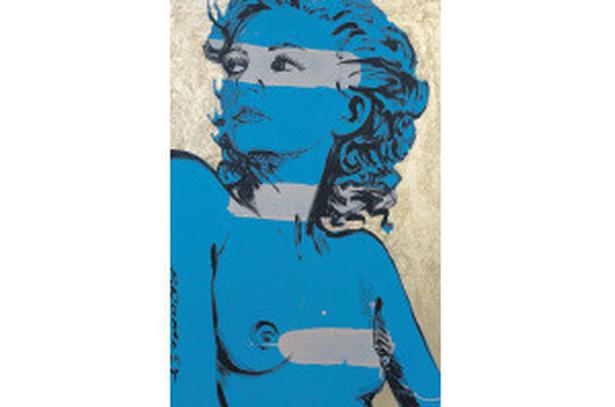 You have said that you could never live somewhere uninspired. Your world is full of colour, oversized art, sculptures, furniture, landscapes. Why are you drawn to this? How does this feed your creativity?
When I was starting out in art, as mentioned above, I had decided that to be totally committed to hard work would help grow a good, purposeful life. But I often met other creative folk who appeared to be crippled by too much self-analysis. I was terrified of losing myself to this malaise as I had just found myself a way of building my life. So I likened it to running out of petrol.
I have actively sought to "fill my tank" where I can and keep working to ward off the temptation to embark on too much introspection.
I don't mean to preach but hard work really can be the path that keeps the demons at bay!

What does your work say about you?
That I had a very, very challenging and disturbing adolescence but, despite that, I like to portray the romance of childhood and growing up through my idealistic representations that reinforce the optimistic as opposed to the negative. That I love the female form. That I love beauty and art and paint. That I am a hopeless romantic who makes decorative, nostalgic paintings.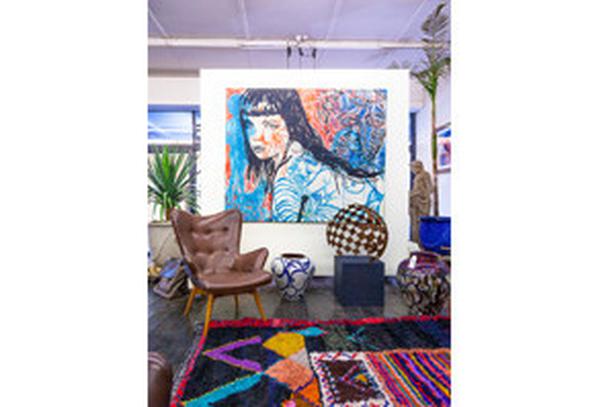 Do you ever crave a more Zen environment?
I often think of a favourite song that says "if there was a more peaceful environment to aspire to, don't you think I'd have found it by now and gone there?". I live among chaos - lots of children, co-workers, busyness and stuff - and that's where I'm most at peace. So you could say that's my Zen place.
Gardening is also my obsession. Last night, after a week of planting masses of transplanted trees in a heatwave, then watering and fertilising, I lay in bed listening to the rain until 3 o'clock in the morning.
If that's also not Zen, I don't know what it is but can assure you it was delightfully relaxing.

What are you inspired by right now and what are you working on?
Lots of interior design fit-outs. I've just completed a fit-out in Singapore for the Jakarta restaurant chain Potato Head, doing all the mistrals, making their cutlery, furniture, lighting, paint finishes, ceramics, etc. I'm also working on the fit-out for a big retail and domestic complex here in Melbourne.
I'm working on promoting the Charles Blackman Trust and producing a book on his last 10 years' work. [Charles Blackman is one of Australia's most celebrated artists.] We are redeveloping a massive warehouse in country Victoria for a new Bromley & Co gallery. And I am always painting. That's my constant companion.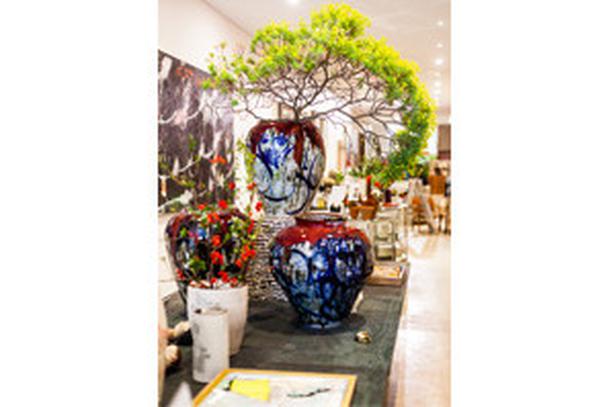 You work as part of a team with your wife, Yuge (a New Zealander). Can you explain how this works?
When we met, we both worked from about 6am until about 9pm. Yuge would head out the door to work in criminal and commercial law and me into the studio. Quite organically, Yuge's interest and fascination with the creative world grew and her love for fashion started to blossom.
Leaving the law world was a big change for Yuge but it was inevitable our worlds would begin to blur and blend. We now work together on most things and Bromley & Co is our joint collaboration. We are both workaholics and we sew into our every day a working process that is quite organic.

How do you approach a new project?
Investigate, brainstorm, begin to apply ... over and over and over.

Tell us about how important your own personal environment is to you?
Yuge and I are now mostly in Melbourne and Daylesford in country Victoria. We are absolute and utter homebodies so our own personal environment is so important.
The parts we love the most: our family and our extended families, our dog Charlie, close buddies, my artist friends, music, gardening, movies and documentaries.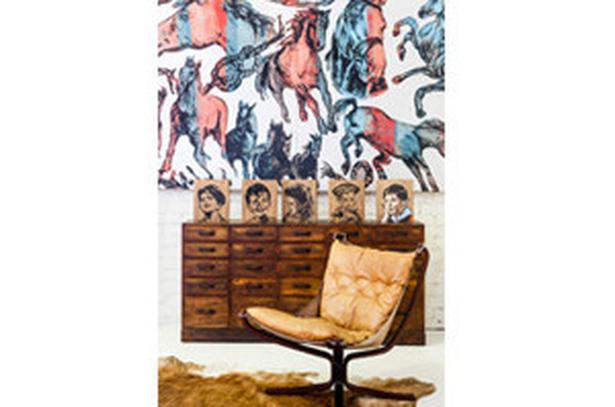 What do you do to relax?
Relaxing is a curious word. It's a bit like the Zen thoughts above. As Noel Coward says, "Work is more fun than fun."

What works are you most proud of?
I just like the fact that I love to work. The artworks I'm most proud of are those that find a new home. I love work where I go beyond the pain barrier, then search for the second and third wind but keep laughing.

Is this the first-time you've exhibited in New Zealand?
I have exhibited in Auckland before with Kieran Smyth at Smyth Galleries. This exhibition is the product of my valued friendship with Kieran and his partner, Mandy. Flourishing relationships with my gallery partners are essential to delivering a new collection.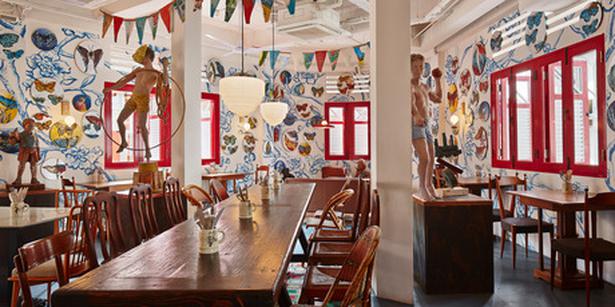 Tell us about the collection that is showing here in New Zealand?
Kieran, who has a real fear of flying, ventures over here to hang out, which I really admire as I hate to fly as well. So he gets in that big metal bird in fear and loathing and comes to us to be part of our family and, from this, we cook up what will be shown. Our friendship and empathy makes it easy to put our heads together and build the exhibition. The result this time is a women, butterflies and floral collection that I'm very pleased with and proud to exhibit in Auckland.

You have new Bromley & Co stores in Australia. Do you have plans to open in New Zealand?
Kieran and I have talked about the idea. I'm excited!

Anything else you'd like to add?
No. I'm off to talk to my plants and see how they enjoyed the rain last night.

• David Bromley's exhibition is on at Smyth Gallery, 41 Jervois Rd, St Mary's Bay, until Nov 28.
Share this:
More Culture & Travel / Features & Profiles