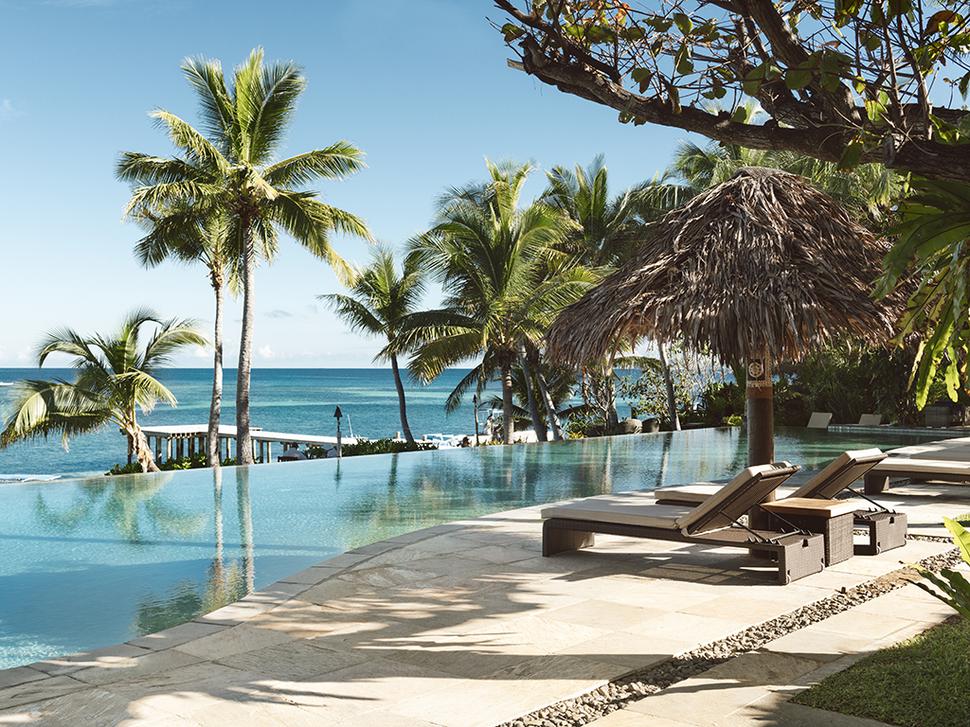 Feeling The Love At Fiji's Top-Rated Romantic Resort
With no children and limited wifi, Fiji's Tokoriki Island Resort is the destination of choice for loved-up couples and honeymooners
Thursday April 18, 2019
I had to laugh. I'd been sent to write about Fiji's adults-only romance mecca Tokoriki Island Resort. As someone who recoils at overt displays of affection, humour was the only way I'd get through this. At least my story would be impartial, I figured, as the least likely writer to fall for the charms of this romantic resort.
Located in the Mamanuca Islands, Tokoriki is a five-star luxury destination attracting honeymooners and couples from all over the world, who arrive in a loved-up haze to decompress after the excitement of their weddings or to switch off from their stressful lives and tune into each other.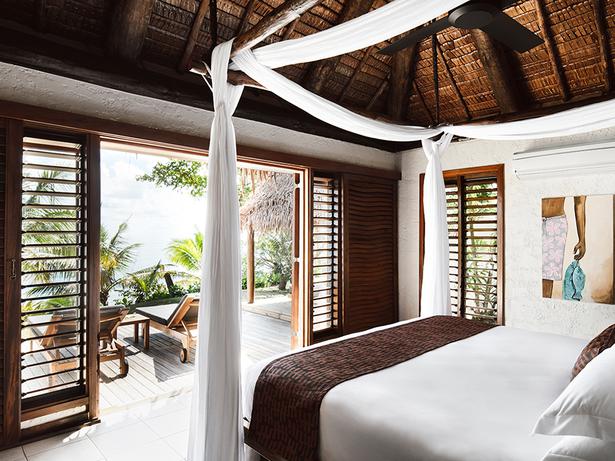 The bedroom of a beachfront villa. Photo / Supplied

If you're not in either of those categories you might, upon arrival, look on in dismay as you take in the layout of the beautiful beach-front resort, expertly leveraged for the enjoyment of pairs. The pool loungers, restaurant tables and patio couches arranged in purposeful configurations of two. The happy couples strolling hand in hand or lolling about in the pool.

READ: Fiji's Newest Luxury Eco Resort Is A Unique Slice Of Paradise

Following that the colour might drain from your face when you're informed that none of the rooms have Wi-Fi, televisions, or entertainment of any kind, unless you count staring into your lover's eyes. (Okay yes, that pale-faced person scanning the pool in horror was me, but I was there to work, and feeling very conspicuously solo.)

As I'll discover, this lack of communications is an intentional omission to encourage honeymooners to spend their time devoted to each other rather than their Instagram feed. For the few guests desperate to stay connected (which is none, they're all too engrossed in each other — just as Tokoriki's management intended it), the lobby's Wi-Fi is always on.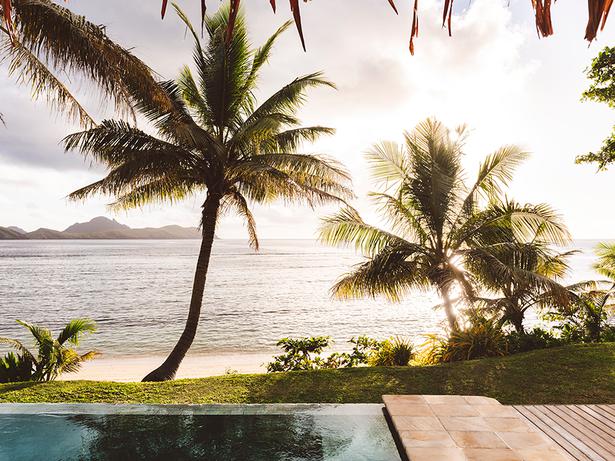 Tokoriki Island Resort at sunset. Photo / Supplied

Established 27 years ago, Tokoriki is one of Fiji's original resorts. Australian owner Andrew Turnbull and his wife Yvonne purchased it 24 years ago when "it was lucky to have half a star" says director of sales and marketing Patrice Belle, who has been on staff for eight years. "It was little bungalows on the beach with white plastic chairs and hardly any tree growth. They just loved the feel and the location and they saw potential. Gradually over the years they kept investing and that's what happens when you keep investing — you become successful."

The owners visit often and their presence looms large at the resort with Yvonne responsible for the elegant design, interiors and impressive gardens, and Andrew the quirky additions like the eight-seater teppanyaki bure. But it's their ongoing relationship with staff that has had the biggest impact, with 28 of the team having worked at Tokoriki for 10 years or more.

READ: 5 Epic Fiji Day Trips To Suit Just About Everyone

Today the resort has 36 rooms, with eight bures, 18 pool bures and 10 impressive pool villas, all beachfront. The property underwent an extensive multimillion-dollar refurbishment three years ago, adding a state-of-the-art kitchen, a jetty and a heli pad, as well as rebranding and refreshing the website and logo to reflect Tokoriki's luxury evolution. This phase of development was prompted in part by the resort being voted number one in Fiji by Trip Advisor.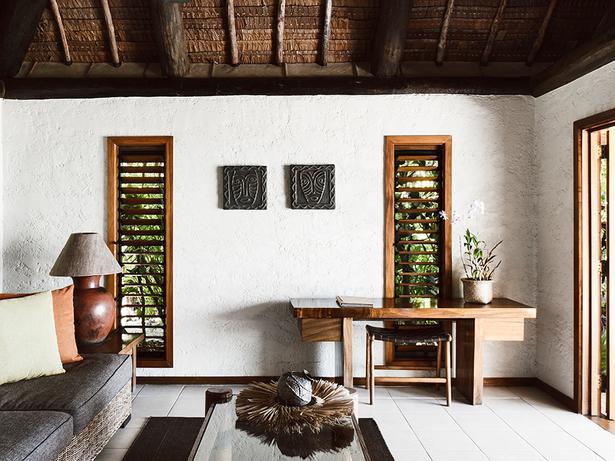 "We ask most guests how they end up here and they say Trip Advisor," says Patrice. "It's very powerful.
"When the resort was voted number one in Fiji and 16 in the world, it was the turning point in doing a major renovation. We wanted visitors to agree with that rating when they got here."
READ: Fashion Marketing Manager Isabella Lau Shares Her Packing Tips
Unsurprisingly for this resort, with the tear-filled memories of "lots and lots of proposals" metaphorically lining the pathways, it's won Fiji's 'Top Romantic Resort' on Trip Advisor five years in a row. "We have more guests than any others writing amazing things," says Patrice. "They're so excited about their experience and they want to share it. It's like when you go to see a great movie and you want to tell people about it. 'Oh have you seen that movie A Star Is Born?' — That's what Tokoriki does to you."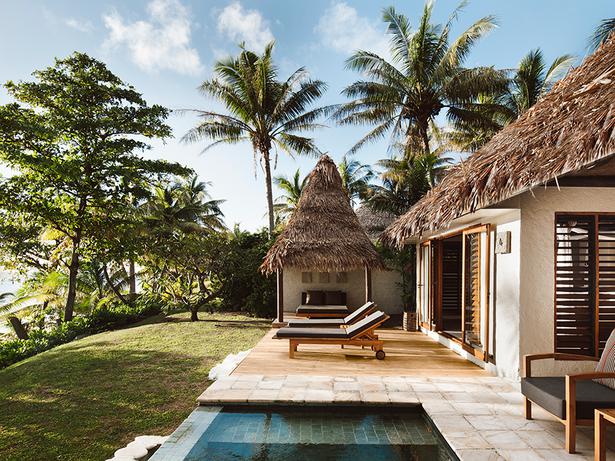 The sceptic in me can't help but wonder whether the reviews might be skewed by all those love pheromones. I doubt there are many honeymooners who leave a tropical holiday in a bad mood. Or maybe it's the fact that Tokoriki really does lay the romance on thick. Crucially, groups are discouraged and the resort is child-free.
"Groups destroy the romantic ambience we've created over 20 years," says Patrice. "It's quiet here and people come to relax." Tokoriki's "romance co-ordinators" are on hand to facilitate special touches, such as oceanfront breakfasts and dinners at a table for two.
READ: The Most Stylish Berlin Airbnb Homes & Experiences
Or etching couples' names into frangipanis with gold pen as place settings, or placing a bottle of Champagne on ice in a room. Couples can opt for a massage for two in their bure followed by a candlelit dinner, serenaded by musicians (readers, have you lost your lunch yet?). Or they can head to the spa, again set up with two treatment beds in every room, to experience couples' massages or other pampering like facials or body wraps.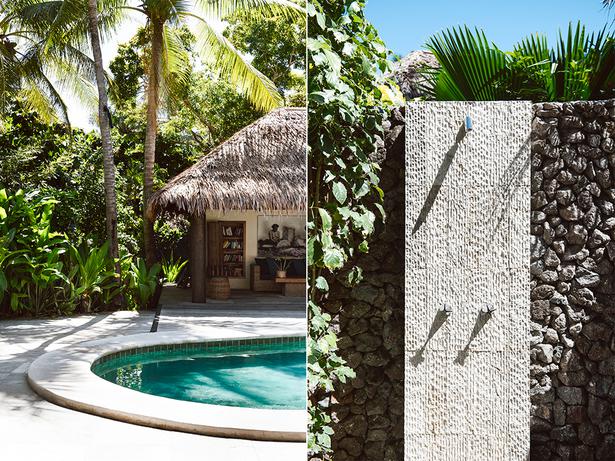 From left: The shared library and one of the outdoor showers. Photo / Supplied

Even if they don't leave their bures they're cosseted in romance. The rooms are beautifully designed with traditional Fijian touches like thatched roofs and timber ceiling beams wrapped in magi magi. Wooden shutters and built-in furniture add a nice sense of permanency and each bure has a stone-lined outdoor shower, complemented by the lush and established planting that surrounds the resort.

READ: Simple Ways To De-Stress & Unwind

The rooms feel private and enclosed and guests won't hear random knocks on the door from staff, unless it's the complimentary canapes that arrive at 5pm. "No one knocks on your door here," says Patrice, drawing from her years of experience interpreting guest's needs.

What of cynical visitors like myself? Did I fall for Tokoriki's charms by the end? Not all the way; I spent too much time alone in the lobby. But I can see how you would. At this resort guests come up to you to tell you how much they love it. A young couple from Australia is visiting for the second time, hoping to recapture the magic of their honeymoon a year ago. Philip from the UK says he's visited all the best resorts in the world and if he could bottle the feeling at Tokoriki he'd be a rich man.

One New Zealand couple in their 80s has visited 50 times and have a tree planted in their honour to prove it. Tokoriki has the ability to be intoxicating; you just have to give into its wiles.
Share this: