11 Bold Women to Admire
On International Women's Day, we celebrate the achievements of bold and inspirational role models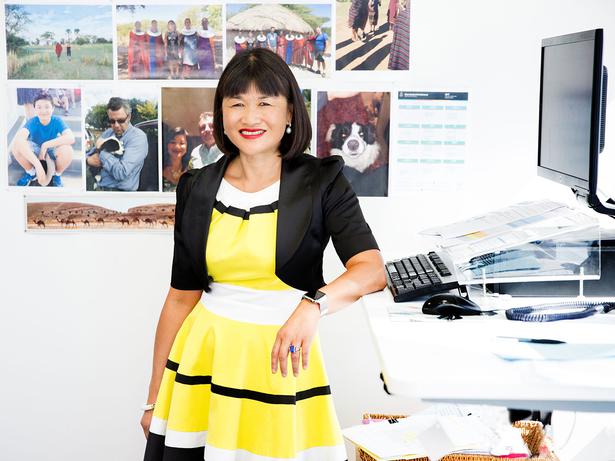 Wednesday March 8, 2017
MAI CHEN
For years Mai Chen hoped someone would step up to address the glaring lack of representation of ethnic women in New Zealand. When no one did, the University of Auckland law professor and managing director of Chen Palmer set up Super Diverse Women.
Launched last month, the organisation champions the rights and achievements of women from indigenous and migrant backgrounds, particularly the "super diverse" who identify with more than one ethnicity, as well as the LGBT and disabled communities.
In Auckland, Maori, Pasifika and Asian women now comprise one out of every four people, and an even larger proportion of younger women. This growing segment of "visually different" women experiences more hardship than most, says Chen, the author of Diversity Matrix: Updating what diversity means for discrimination law in the 21st Century.
"[Eat My Lunch founder] Lisa King is often asked, 'Are you a volunteer, dear?' When Barbara Ala'alatoa was made principal of Sylvia Park School it was presumed that because she's Pasifika, standards would go downhill. Their experience is that they're constantly underestimated, particularly at senior management level. They suffer subconscious bias against their gender and race."
The initiative has enlisted a slew of high-powered women as role models, the above among them, alongside the likes of Bic Runga, designer Kiri Nathan, Dame Tariana Turia, author Helene Wong and Fonterra COO Jacqueline Chow. It provides a platform for super diverse women to connect. There's also a TEDx conference in the works, and commercial and mentoring opportunities.
"I hope that top leaders who are super diverse tell their stories, make the invisible visible, and that the public become more aware of the super diverse women out there," says Chen. "The barriers are higher for them, their journey is more difficult but they don't lack the merit."
LAUREN DUCA
In December, Lauren's "scorched earth" op-ed titled Donald Trump Is Gaslighting America went viral, and caught establishment media off-guard — because it was published by Teen Vogue.
A few weeks later the Brooklyn-based writer appeared on Fox News to discuss Ivanka Trump, with host Tucker Carlson openly sneering at her body of work, which included fashion and pop culture for the millenial-focused title.
"A woman can love Ariana Grande and her thigh-high boots and still discuss politics. Those things are not mutually exclusive," she fought back, winning both fans and harassment from online trolls.
She later talked to WWD, commenting on how people often underestimate women's media. "We treat young women like they are removed from political context, as if you can't enjoy Kylie's Jenner's Instagram account and be invested in the future of this country," she said. "Teen girls have just as much of an investment in political dialogue, and it's time to stop pretending otherwise."
Lauren recently launched a new column for Teen Vogue, called Thigh-High Politics.
CHIMAMANDA NGOZI ADICHIE
Her TedX talk We Should All Be Feminists became part of mainstream pop culture lore when Beyonce sampled part of it in her 2013 track Flawless.
Since then, the Nigerian writer has become a passionate and astute public voice of feminism and women, writing for the likes of the New Yorker, Vanity Fair and Elle. Last year her manifesto's message went even further, with the title appearing on slogan T-shirts at Dior and, now, in the windows of the luxury fashion house's boutiques.
Her latest is Dear Ijeawele, Or A Feminist Manifesto In Fifteen Suggestions, a charming book written as a letter to a friend, who asked for advice on raising a feminist daughter — to which she replies with suggestions including teaching her to ask questions; teaching her to question language; encouraging her participation in sports and having open conversations about clothes, makeup and sexuality.
ROXANE GAY
The American feminist, writer and professor released the book of essays Bad Feminist in 2014, and quickly became a leader in conversations on feminism, race identity and race online.
In January, she was in the news for pulling her book How to Be Heard from publication, in protest at the publisher's parent company, Simon & Schuster, giving a book deal to far-right figure Milo Yiannopoulos. She explained in a statement to Buzzfeed, "I was supposed to turn the book in this month and I kept thinking about how egregious it is to give someone like Milo a platform for his blunt, inelegant hate and provocation.
"And to be clear, this isn't about censorship. Milo has every right to say what he wants to say, however distasteful I and many others find it to be. He doesn't have a right to have a book published by a major publisher, but he has, in some bizarre twist of fate, been afforded that privilege.
So be it. I'm not interested in doing business with a publisher willing to grant him that privilege. I am also fortunate enough to be in a position to make this decision. I recognise that other writers aren't and understand that completely."
Roxane's upcoming books include Difficult Women, featuring a collection of stories, and the memoir Hunger, about food, weight and self-image. In May, according to her website, she is also set to appear at the Auckland Writers Festival.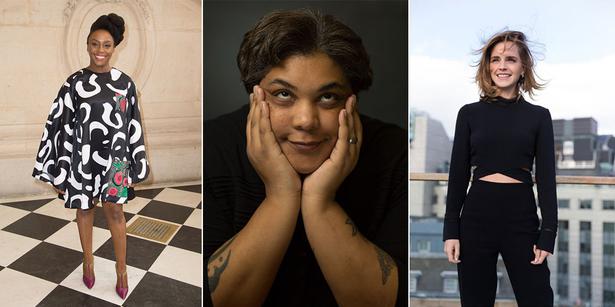 Chimamanda Ngozi Adichie; Roxane Gay; Emma Watson. Pictures / Supplied

EMMA WATSON
In 2014 the United Nations enlisted Emma Watson as a UN Women Goodwill Ambassador, the actress spearheading the organisation's HeForShe campaign with a moving speech, declaring "If you believe in equality, you're a feminist. Sorry to tell you." The role saw her travel to Malawi late last year to bring awareness to issues surrounding child marriage.

Using her fame as a platform to do good, Emma is sharing her outfit details and then some, starting up a dedicated account @the_press_tour while on the road for her new film Beauty and the Beast. As well as offering up extensive details of her looks, right down to which blush she is wearing, the account shines a spotlight on fashion and beauty brands that are implementing sustainable practices.

For the project, she told Vanity Fair that she asked all designers and brands to answer a questionnaire "about how their garments were produced, what their impact was on the environment, and the moral reason she should wear one on the red carpet".

NATALIE MASSENET
The digital landscape for big-ticket luxury purchases wouldn't be what it is today without Natalie Massenet. In 2000, the US-born entrepreneur founded Net-a-Porter.com out of her flat in Chelsea, London — dedicating 15 years to the business that paved the e-commerce market for luxury goods. Her business acumen and clout within the fashion retail industry has seen her become chair of the British Fashion Council, receive an MBE from the Queen and most recently be made a Dame Commander of the Order of the British Empire.

After parting ways with the company in 2015, ahead of a merger with Federico Marchetti's YOOX Group, Massenet took to Instagram last week to announce her new role as non-executive co-chairman at online giant Farfetch — her expertise no doubt ringing in a new era for Farfetch.com

ASHLEY GRAHAM
On American Vogue's 125th anniversary, Ashley Graham was the magazine's first "plus size" cover model. Although she appeared alongside six other models, such as Adwoa Aboah and Kendall Jenner, it's a step in the right direction for the influential magazine — and the tip of the iceberg in terms of barriers the 29-year-old has broken. Ashley has been a key voice in moving the use of "plus-size" models away from tokenism and into normality, a Sports Illustrated cover and Michael Kors show included.

Kiwi model Georgia Pratt runs in the same circles: the pair have appeared alongside each other in plus-size retail chain Lane Bryant's lingerie campaign and regularly attend parties together on the New York social circuit. It's safe to say Graham's work as a self-proclaimed body activist is far from over.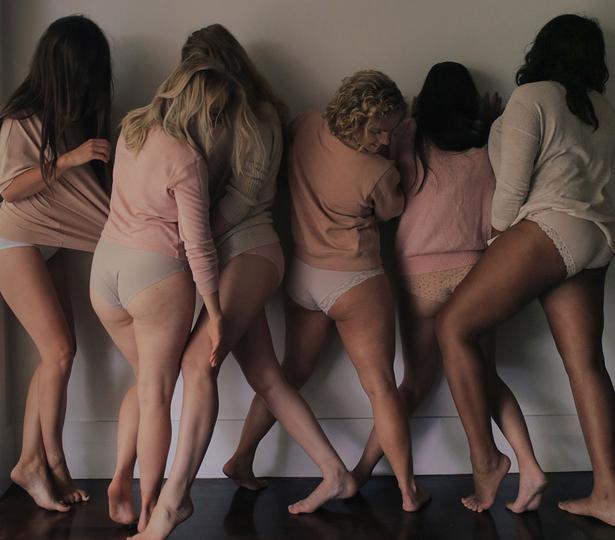 FLAPS
The women behind last year's sell-out season are back with the performance Flaps Retouched, a further "visceral, honest, celebratory exploration of all things vagina". Featuring more than 40 funny and honest vignettes, the show's cast is made up of seven emerging female artists, directed by Torum Heng, who says she was drawn to the hilarious honesty of the show.
"It's a friendly reminder that you aren't alone in this town called Womanhood. The cast give us permission to laugh at ourselves, invite us to enjoy our everydays and be loud and proud of the weird bits too. I believe you can stomach a whole lot more of the tough stuff in life if there is a way to laugh through it. Being female shouldn't be one of the tough things, but right now, as so many things try and test us, at least Flaps is a way to enjoy it!"
• FLAPS Retouched, March 28-April 8, Basement Theatre. For tickets visit iTicket.co.nz
KAREN WALKER
New Zealand's most internationally recognised fashion designer has added another string to her bow of accomplishments, receiving an induction to the Co.Of.Women Hall of Fame, for her achievements as a female business leader in her community. As part of Women's Entrepreneur Week, the induction recognises women who have inspired other female entrepreneurs, with a formidable group of women behind the Co.Of.Women, including its chairwoman Theresa Gattung.
Karen is in good company, being inducted alongside Carmel Fisher, founder and managing director of one of New Zealand's largest investment managers and KiwiSaver providers, Fisher Funds; and Audette Excel, philanthropist, corporate lawyer and founder of international development organisation Adara Group, focused on improving health and education for women, children and communities living in poverty.
"Karen receives this induction in recognition of her building a highly entrepreneurial and resilient business and brand along with her service to empowering other women," explains Tara Lorigan, CEO of Co.OfWomen.
LENA DUNHAM
The director, writer and actress is currently starring in the final season of her show Girls, and has become a high-profile voice on feminism and politics. Last year she campaigned for Hillary Clinton and fronted the podcast miniseries Women of the Hour, following the launch of her weekly feminist newsletter Lenny Letter in 2015.
Lena has also been vocal on issues of body image. Last year she came out to say that she would no longer allow her image to be Photoshopped, and stripped off for NZ lingerie label Lonely. She appeared on the cover of Glamour's February issue alongside her Girls co-stars, posting the unretouched picture to Instagram.
"It was really important to me to express, personally, the significance of being allowed to keep my body intact on the cover of a magazine," she says. "Even at age 30, it had a huge impact on my self-esteem to be given the chance to look at that magazine cover and see my body unedited. Representation matters — and we all know it. That was the first time I've ever posted publicity shots of myself, because it's the first time I've felt like myself. It's great to see a picture of yourself and go: 'Oh, that's me. And I like what I look like'."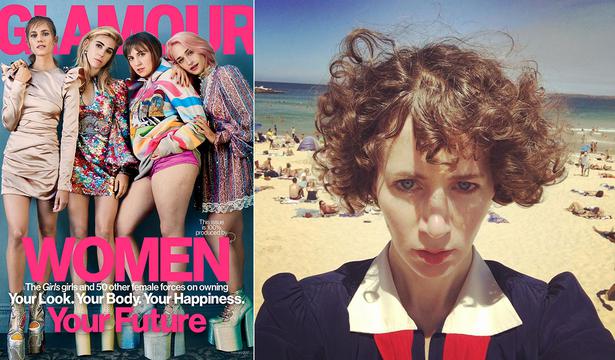 Lena Dunham, third from left, with her Girls co-stars on the cover of Glamour. Above, feminist director and writer Miranda July in Sydney. Pictures / Supplied

MIRANDA JULY
"I grew up surrounded by people exploring their own trips, in the very progressive city of Berkeley in California — my parents are both writers. They were really involved in their own world, so I was not coddled. I have a big brother who would make dolls' houses and playhouses and furniture out of wood. He was the one who taught me from such a young age that you could just make something. The physical act of gluing something together was really formative for me.

If I have an idea, I have to write it down right then. Sometimes I'll turn and write something down on my phone, and now my 4-year-old son has just started saying: "Oh, do you have an idea?" Part of me is like, oh shit, I've been busted that I'm not thinking about him. On the other hand, I guess he's learning about the importance of writing down an idea.

My husband [director Mike Mills] and I are two people who never thought we'd be married. We were two people who frankly thought we'd be fine if we weren't married, and decided to try it … until it sails off. Everyone's ready at all times to have to be alone. I don't know if I'm recommending this, but it really keeps it new. It's been 12 years and it's more or less like our first date. I'm still totally into it.

We met when we were both fully formed. We met at Sundance with our first movies. He was one of the men I was competing with; one of the men I vanquished. So in a way, no one was guiding the other on how to live. It was more like, well, this is working fine, but maybe there's a way that life could be better. Let's just see.

I have female friends who work in all different mediums who I speak to at least once a week. It helps me so much to know that I'm not alone. I think that's the bare minimum you need to sustain yourself — some sort of context of other women making things.

I was so punk and uninvested in the mainstream [when starting her feminist film archive Joanie 4 Jackie], that I had forgotten the mainstream matters. Just because I had made an underground feminist network that served me and a few hundred women, didn't mean that world at large had survived. And that mattered to me.

Most artists will say, if you're forever chasing prizes, it's just going to be an unhappy life. The Joanie 4 Jackie principles were trying to come up with other ways to feel good making things, and that's all still true. Once you do get prizes and you see what that feels like, you see both what's meaningful about it — it means you can keep making work and you can reach an audience — but at the same time it doesn't sustain you creatively."
— as told to Rebecca Nicholson, The Observer


• See Miranda July's feminist film archive at joanie4jackie.com

Share this: