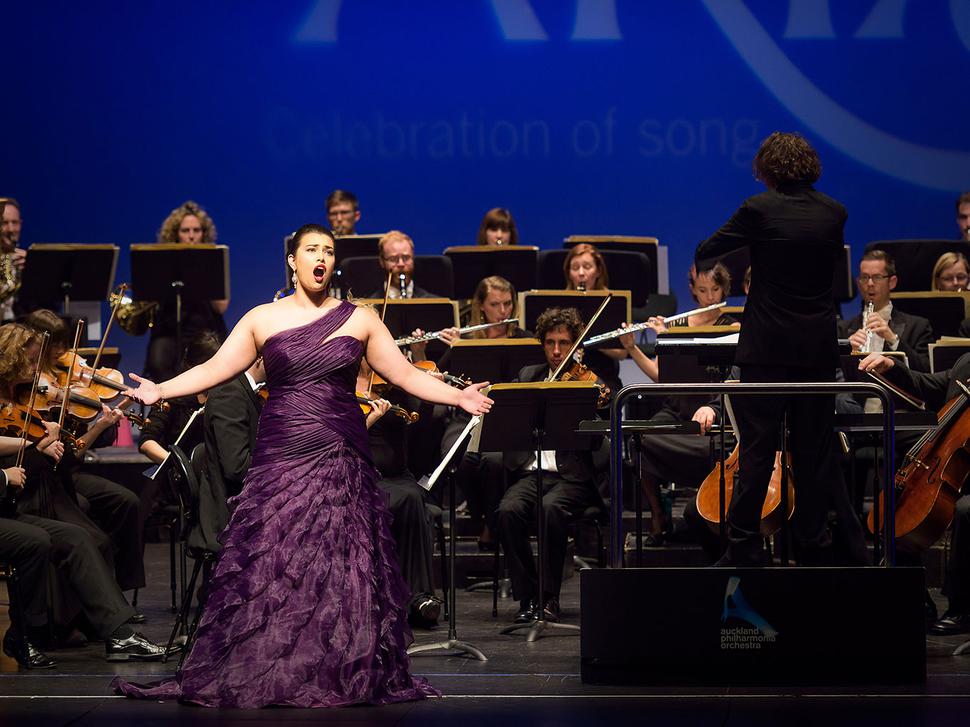 Opera Singer Isabella Moore's Influential Songs
Soprano and opera singer Isabella Moore shares the tracks that have shaped her life and career
Monday Nov. 23, 2015
1. Can't Fight the Moonlight by Leann Rimes
As a kid, I loved singing and performing for my family. I have always been obsessed with movies about singers, e.g. The Little Mermaid, Caruso, Dream Girls, The Spice Girls Movie, Farinelli, Burlesque. But my favourite movie at one point in my life was Coyote Ugly. It featured this song by LeAnn Rimes and I was dying to sing it for people. I chose my Uncle's wedding reception to belt my favourite song and with more than a handful of people there, I definitely count this as my first public performance. This was my first really memorable adrenaline rush from performing for an audience, and after that I was addicted.

2. My Spirit Sang All Day by Gerald Finzi
Before becoming a soloist, I sang classical music through choral singing during my teenage years. I have to credit my choral experience for helping build my musicianship, language diction, ability to sing in ensembles, and more. My Spirit Sang All Day was one of the first pieces I learnt as part of the Graduate Choir of NZ when I was 16 years old, and for me, is my Graduate Choir of NZ anthem. Some of my most treasured memories and life-long friends have been made through my time singing in choirs in New Zealand.

3. Porgi Amor from The Marriage of Figaro by Mozart
This was the aria I sang at my first NZ Opera school. It is significant to me because it marks the moment in time when I decided I was serious about becoming an opera singer. I turned up to the school and I was by far the least experienced. I had no idea how hard I was going to be worked and I had to up my game immediately to survive the two-week course. Porgi amor is one of the arias sung by the Countess from The Marriage of Figaro by Mozart, and is deceivingly difficult. The aria tested my abilities and was the push I needed. After attending the NZOS, I moved to Wellington to study at the NZ School of Music.

4. Diva by Beyoncé
Before I wanted to be the next Maria Callas, I wanted to be Sporty Spice, and then later, Beyoncé. Diva was the theme for my 21st birthday party, because even after I found opera, I couldn't quite shake my inner Queen B. For me, this song represents how I grew into my own kind of 'diva'; my transition from a girl who liked singing into a woman who is now carving a career from it. It's kind of awesome to think, by 21 I had found what I'm truly passionate about: opera. I don't associate the word 'diva' with negative connotations. I like to think it's an empowering word that can be used to describe a strong, independent and talented woman.

5. The Girl Is Mine by Michael Jackson & Paul McCartney 
I love opera, but when you spend all your time learning operatic music, sometimes your ears just need a break. Growing up, my genres of choice were pop, hip hop, RnB and rap, and these are still the genres I listen to now when I want to relax. I have my go-to jams when I need to chill out, and number one on the list is The Girl Is Mine by Michael Jackson. If I'm ever upset or anxious, this song soothes my soul. It's light-hearted and perfect for unwinding and getting my happy vibes going.

6. Tacea la notte placida from Il trovatore by Verdi
During my studies at the NZSM, I was exposed to many works, operas, and composers. I fell in love with the music of Giuseppe Verdi after studying his operas and the sopranos who sang his heroine roles. Many of these roles were for dramatic sopranos, e.g. Leonora (Il trovatore), Aida (Aida), Desdemona (Otello) and Elvira (Ernani), to name a few. Tacea la notte placida was one Verdi aria I had the privilege of performing with both the NZSM Orchestra and the Auckland Philharmonic Orchestra. The opera this aria is from, Il trovatore, is also one of my most favourite operas and I can't wait to have the opportunity to sing the role of Leonora one day.

7. Le atua e from malaga by igelese ete
I am a NZ-born Samoan and proud! When I was studying towards my Masters in Wales, I sang a Samoan song for one of our concerts in Cardiff and I got very emotional afterwards. Whether I'm singing overseas or in New Zealand, I always feel a rush of pride singing in Samoan. I have sung a couple pieces from Malaga and had the opportunity to work with the composer himself, as well as other Samoan opera singers. As I continue working and building my career, I feel it's very important to remember my roots, my aiga and where I've come from.
Share this: