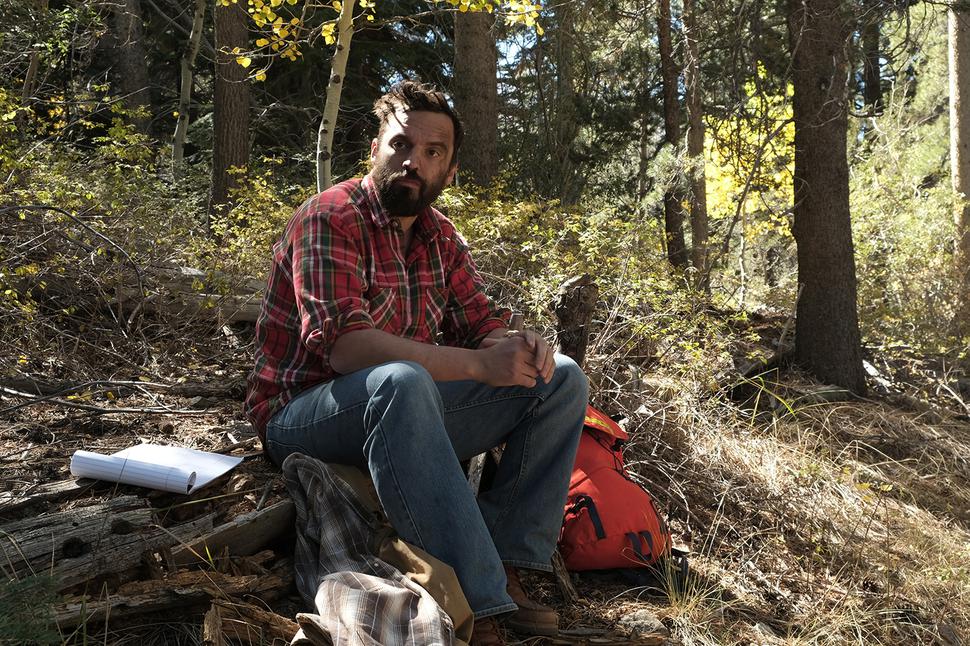 Actor Jake Johnson On Creativity, Funding His New Film Himself & Why He Shouldn't Wear Bell Bottoms
In 'Ride the Eagle', the woods becomes a playground of comedy and tragedy for the 'New Girl' star
Wednesday Sept. 29, 2021
Like most of us, actor Jake Johnson's plans were wildly derailed last year. The New Girl star had been pitching a new comedy series he'd created with his buddy and former New Girl director Trent O'Donnell when the onset of Covid forced the pair into lockdown and saw interest in the project drop off.
"We'd spent months developing a really funny thing," Jake explains. "But on a Zoom pitch Hulu decided they didn't see it the way we saw it. Because of the pandemic we didn't want to pitch it to everyone else. We just stopped and thought, 'Why are we doing this? Why don't we just make something?'."
That "something" became their new film Ride the Eagle, a dramedy the pair co-wrote about coming to terms with death while learning to embrace life. In the film Jake stars as Leif, an easygoing bongos player, who learns that his estranged mother has passed.
READ: Ruby Harris' Short Film 'Pet Day' Is An Idyllic Look At Growing Up Horseback Riding In Small Town Aotearoa
Unsure how to feel about her death he heads to her cabin in Yosemite to fulfill a series of tasks she's left him as part of a "conditional inheritance". If he completes them he inherits the cabin. And if he doesn't? Well, no inheritance.
While it's themes may be heavy, Trent's direction ensures its tone is as light and breezy as the Californian wind ruffling through Yosemite's trees.
"Trent and I always cracked jokes but we didn't want to make something that was a straight comedy," Jake says. "As we started crafting this story we realised it was more emotional and heavy than what we usually do. But we also knew that we didn't want to take ourselves too seriously so we kept infusing lightness and jokes into it. Neither of us feels the desire or the need to think that this is a movie that could teach people. It is entertainment so we kinda knew what the tone was going to be. It seemed really clear to us."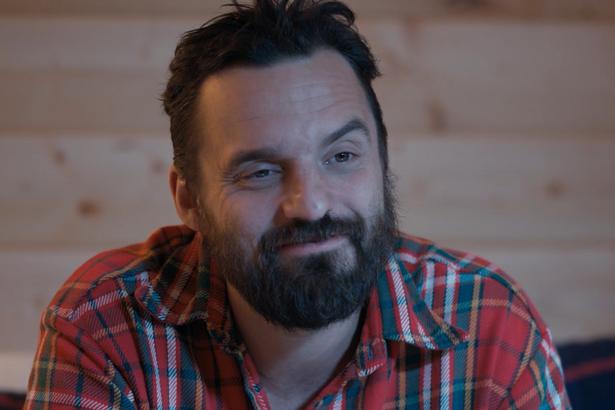 What wasn't so clear was how they were going to pull it off. With their State in lockdown they weren't sure if they'd be able to work with other actors or assemble a small crew. There was also the small matter of financing.
"Mostly in Hollywood there's somebody who offers you something. Well, Trent and I were offering each other to pay for it ourselves," Jake laughs. "We did four years of New Girl together and we both decided that we were willing and excited to do this. That gave us the energy and desire to write the movie and develop it and start putting money into it."
With Ride the Eagle, the pair were literally putting their money where their mouth was, completely funding the project themselves.
"This is not the most expensive movie ever made so we were somewhat comfortable. Jake probably more so," Trent laughs. "Not to get into our finances, but Jake has more money than me. But it was contained and small enough in terms of budget that we were resourceful but it was also enough money that we didn't want to waste it. We wanted every dollar to end up on screen."
READ: Simon Bird's Directorial Debut 'Days Of The Bagnold Summer' Is A Charming Character Portrait
"If you pitch something to a studio or to a network as soon as they buy your idea you now work for them," Jake says. "The reason I like financing is that we worked for ourselves and we wrote for what we had. We didn't write anything that we didn't have access to."
"Funding it ourselves made us responsible for everything," Trent continues. "The exciting thing was we created our own momentum. So often you have an idea with a friend and you don't go through with it and make it. But putting money into it made us go, 'okay, we have to seriously make this thing' and see it through."
With the money in place, a small crew and only a few other actors involved, including Hollywood heavyweights Susan Sarandon and J.K. Simmons, they all got tested, headed up to Yosemite and created their own bubble, living in the same cabin they were shooting in.
"When we got into it we forgot the pandemic was even on, which was quite cool," Trent says, reminiscing.
They shot for six days — "it was insane", Jake notes — filming around meals and the available light.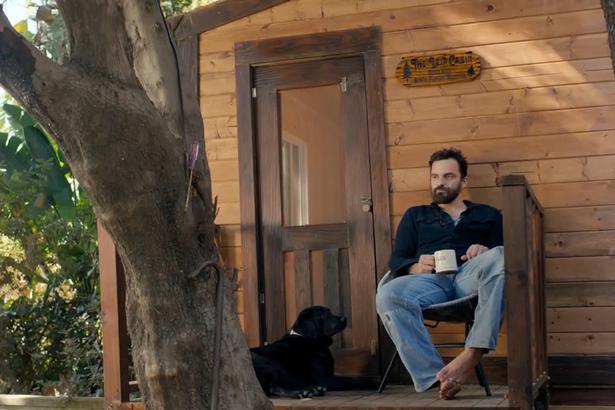 "We were just there to make the movie," Trent continues. "We lived and breathed it and shot two to three times quicker than you would on a normal production."
The movie's been well received, with critics praising it for its offbeat comedy and gentle take on a heavy subject. It's both funny and heartwarming and just a lovely little way to spend a couple of hours. As for Jake, he knew exactly how he felt when he finally sat down to watch the completely finished film for the first time.
"Masterpiece," he declares without hesitation. "Just one word and I knew it the second I saw my character in the bell-bottom jeans I was wearing. Truth be told they weren't the right cut for my body. But I saw that and I thought, 'masterpiece'."
READ: 'Nine Perfect Strangers' & The Rise Of The Twisting, Eat-The-Rich Mystery
Grinning, he sheds some light on the funky sartorial choice of his character.
"One of the problems was that we didn't have a wardrobe department so I got those pants on Etsy. The cool 70s model guy on Etsy, he looked cool in those pants. But when they got on my body I looked like an overweight woman in bell bottoms. An overweight woman in those pants would look good, but with my top half… it just looked all wrong. So seeing my character in those, the only term Trent and I kept saying to each other was 'Bravo! Bravo! Masterpiece. Masterpiece.
"We threw roses at the screen. We kissed each other on the cheek and we treated our wives and kids like crap because now we are masters of Hollywood."
Ride the Eagle is in cinemas around the country now. Its Auckland release date will be confirmed soon.
Share this: