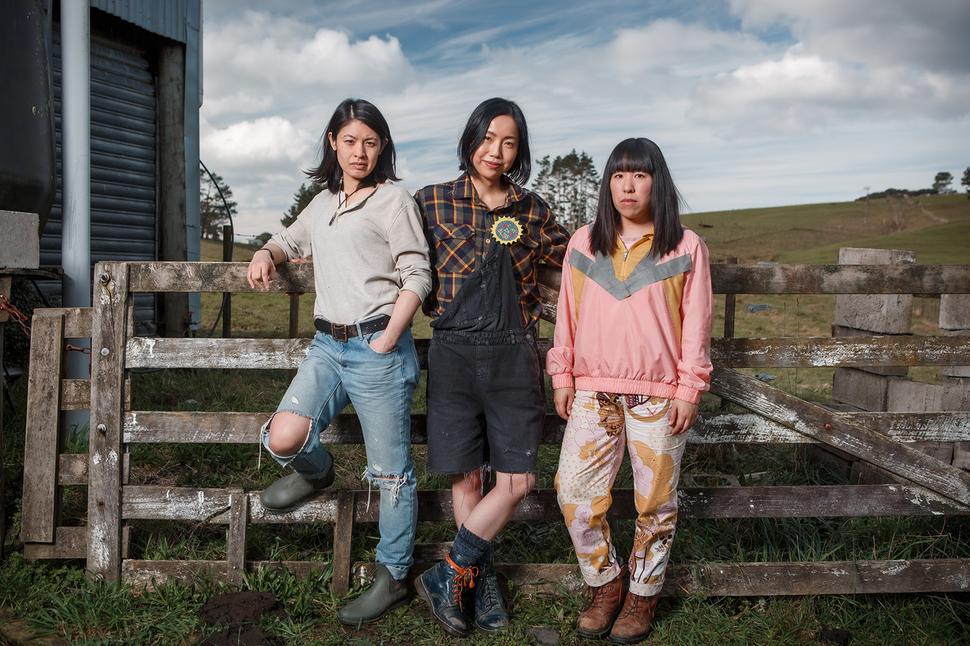 People Of The Year: JJ Fong, Ally Xue & Perlina Lau's Future State Of Mind
Already a hit here and in Australia, their pandemic-related black dramedy, 'Creamerie', is set to infect the world
Saturday Dec. 18, 2021
Back in April, TVNZ released a local show quite unlike any other. Three years in the making, it was a work of science fiction that suddenly veered towards science fact when Covid struck in 2020. Creamerie was a black dramedy that imagined a world where the male population had been completely wiped out by a killer virus.
That the real world was now mirroring the concept they'd been working on since 2018 gave its creative team of JJ Fong, Ally Xue and Perlina Lau, along with director Roseanne Liang, pause for thought.
Not only had they all created and written the series, but JJ, Ally and Perlina were also starring as the series leads. Creamerie is a real-world example of making your dreams happen but also shows how, through no fault of your own, dreams can quickly become a bit of a nightmare. But we'll get to that in a second.
"We've been so stoked with the response to Creamerie this year," says Perlina. "When you make something and put it out there, you can only hope. You don't know how people are going to respond. And, given it's a pandemic-related dystopian show, a lot of it is so current. We just didn't know how it was going to land."
They needn't have worried. Critics here and in Australia lapped up Creamerie and just last week it launched in the US on streaming giant Hulu.
But of course, that's easy to say in the rosy glow of success. When they came up with the idea, pitching it through their shared production company Flat 3 Productions, Covid was nothing more than a twinkle in a rogue bat's eye.
"We came up with this in 2018. We did the proposal, got funding and did the writing. By the time we were ready to film almost two years later, Covid hit," Perlina explains. "It was really surreal. We looked at each other and thought, 'Can we actually film this?' Not just from a logistical point of view but is it too on the nose? Will it actually have a negative response?"
Fortunately, they noticed that a lot of people in lockdown had begun flocking to pandemic-related movies and shows, such as Contagion and Outbreak.
The Breathtaking Vision Of Jane Campion's Psychological Western 'The Power Of The Dog'
"We thought maybe there's something in that, the need to watch that kind of material. Psychologists were saying people were looking for answers to questions that hadn't been answered yet, or even asked. So for us, we were like, well, maybe by the time this rolls out people will be in the space to see a show like this. It could be a bit of escapism."
They were also unsure how the unique mashing of its dark and heavy themes with Kiwi comedy would be received.
"We wanted to get certain messages across but also have people enjoy watching it and have a laugh."
They were encouraged by the success of other shows with pitch-black tones, like HBO's acclaimed serial killer comedy Barry, Netflix's dark anthology series Black Mirror and the big momma of bleak vibes, HBO's The Handmaid's Tale.
"People really liked them and those shows found an audience, so it gave us encouragement that there was a chance people could like Creamerie," she explains. "I think we needed that confidence to make it, and have that belief that we could do it."
With the recent Hulu deal and a handful of nominations at the New Zealand Television Awards, you may be surprised to learn that a second season hasn't yet been locked in. Especially considering how the final episode left you dangling on one hell of a cliffhanger.
"We've got our eyes on season two," Perlina enthuses. "We're still hustling for funding and investment but we're starting to work on it and get those ideas going. We left it on such a cliffhanger that we can't not follow it up. We need resolution."
Reflecting on 2021, Perlina says they all just feel extremely grateful. "For each of us individually, it's been a creatively productive and lucky year," Perlina says.
"We've all separately been able to pursue our own projects, which has been amazing, then we've got this incredible shared experience of releasing Creamerie, which was like our baby. It's been a really cool year. Especially given the year that it's been. We're so aware that lots of people have had a tough two years so we feel all the more grateful. It's hard to feel anything but that, given what we've seen happen and what people have had to go through — not just here but around the world.
"We're just really, really grateful and happy and that probably sounds cliche but I think the particular circumstance of everything is why that's the case."
Creamerie is available to watch on TVNZ OnDemand
Share this: