Buy a Judy Millar Work for $150
It's not every day you get the chance to buy a Judy Millar work for $150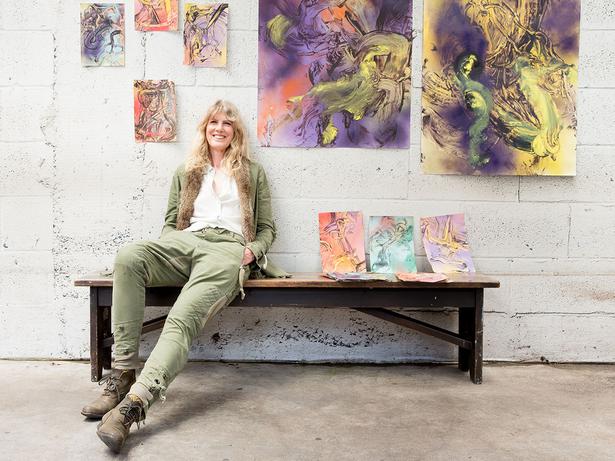 Wednesday Nov. 23, 2016
It's not every day you get the chance to buy a Judy Millar work for $150. Best known for her large, wildly energetic paintings, the New Zealand artist commands sale prices of up to $75,000 at galleries around the world. That makes the 25 colourful A4-sized paintings she's created for Art Ache a steal.
"It was hard for me to get the kind of energy I wanted in a small surface because I use my body a lot but it was an interesting challenge," Judy says. She's currently working on a sculpture for the Auckland Art Gallery before returning to her second home of Berlin next month.
Art Ache founder Aimee Ralfini started the event three years ago to encourage everyday punters to collect art, in a relaxed setting. Visitors are invited to peruse affordable works and mingle with the artists over drinks at the Golden Dawn. Also on the bill: pop artist Hayley King (aka Flox), Susannah Bridges, Lola Rose, Marcel Kalma, Jermaine Reihana and an anonymous "mystery" artist. A limited number of works will be available for $50.
READ: More Fun Things to Do This Weekend
It's a far cry less than your average outlay, but Judy says those eye-watering prices reflect the work behind the scenes. "Framing, exhibiting, freighting, crating — it's all incredibly expensive. A piece of art is something that's not mass produced.
The amount of time needed for planning and thinking means it's very expensive to make." Even so, she sees it as vital that the public can buy art at various price brackets, as contemporary art is a way for us to engage with the world "politically and emotionally". For that reason she'd like to see more people go to galleries.
"In Auckland the exhibitions are completely free to visit, we have a number of them on at any time, they're very high quality, and you participate by walking in the door, which is remarkable. There are very few other mediums in the arts where you can participate at no cost."
• Art Ache, Thursday November 25, 5pm-8pm, Golden Dawn, Ponsonby. Signed limited prints available from artache.net until December 1.
Share this: