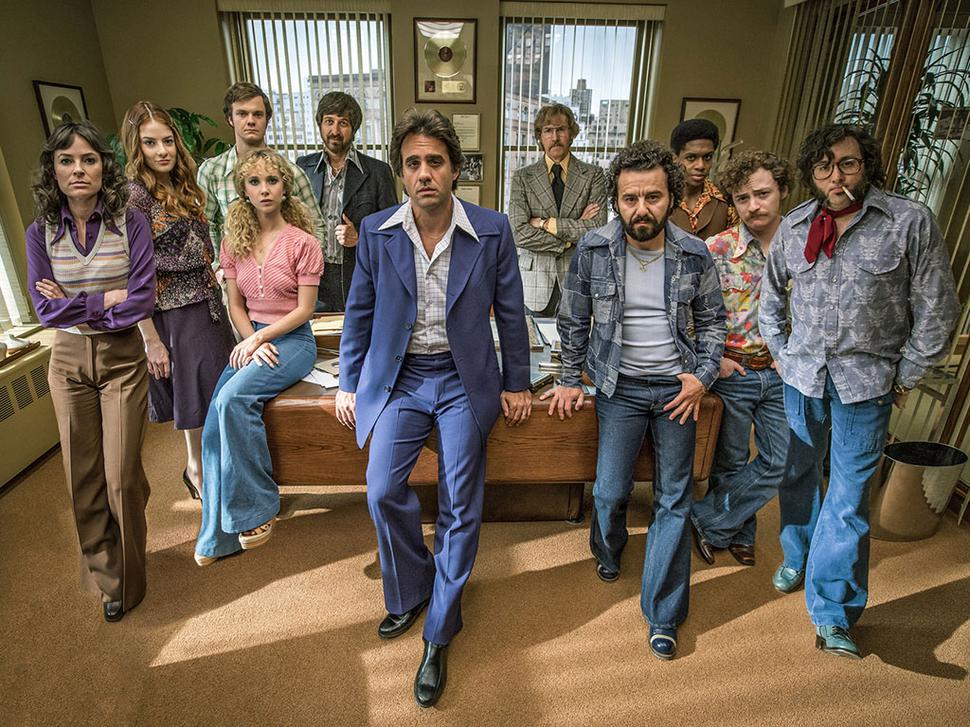 TBT: Juno Temple on New 70s Show Vinyl
The actress talks vintage shopping, feminism and shooting nude scenes with Mick Jagger's son
Thursday Feb. 11, 2016
It's the TV show fashion and music lovers have been waiting for. Vinyl, a collaboration between Mick Jagger, Martin Scorsese and writers Rich Cohen and Terence Winter, recreates the glamorous yet gritty music scene of 1970s New York City. The drama focusses on Richie Finestra (Bobby Cannavale), as the head of flailing record label American Century, at a time when disco, punk and hip-hop are emerging.
It also stars Olivia Wilde as Richie's wife Devon, Ray Romano, James Jagger (Mick and Jerry Hall's son) and Juno Temple, along with a stellar crew, who have meticulously recreated every detail of the era. Many of them, including costume designer John Dunn, experienced the decadence of the era themselves – not least of all Mick.
We chat to Juno, who plays Jamie Vine, the lowest-paid assistant at American Century, yet by far the best-dressed and most "kickass" woman in the office.
Jamie's an incredible character – what drew you to her?
She is, isn't she? She's kickass. It was a great moment when I got the part, because I was getting ready to go to a Christmas party and I was faffing about in my living room in LA, and my agents all called me at once, which always means like either good news or bad news.
I said: 'I'm getting ready, I'm not going to be late, I promise.' They were like: 'You booked the part.' I literally had to collapse to the floor and have a momentary weep, and I woke my entire family up at three o clock in the morning in England. I couldn't believe it.
I remember reading the pilot and just thinking, this is my ultimate fantasy. I wish I'd been a young woman in the 1970s - what a time, musically, fashion wise, and with this huge move forward for women - birth control was legalized, abortion was legalized, sex became a whole new thing for women. Women were really starting to speak out, stating we are just as fabulous as men are, if not better. And Jamie is the epitome of that.
As the show goes on you find out more about her, you see she is someone that is so passionate about music, and so passionate about being a woman and so passionate about being heard in such a male industry, and she's going to do whatever it takes to have her voice heard.
It really is an honour to play her because she is one of those badass chicks that I think whatever decade you put her in she would inspire women around her.
There's obviously a lot of you in Jamie – how do you differ?
I spend a lot of time in my pyjamas. Jamie would never be caught dead in her pyjamas. Not in public. Never. That's the one big difference between us.
She does have some incredible outfits – did you enjoy the dressing up side of the role?
I'm a huge vintage collector when it comes to clothing anyway, and I would say that 75 percent of my wardrobe is 70s pieces.
Later in the show there's a pair of knee-high platform boots that are original 70s that are mine. I bought them on Ebay, and they got shipped from Taunton – which is my nearest train station at home – to LA.
The sad thing is, there were two, a pair of bright red ones, and a pair of white ones, I should have bought them all. But I do wear those, which is good, because they've stomped a lot in my real life, and they've stomped even more in Jamie's life now.

Your Dad, Julian Temple, is a friend of the Sex Pistols and was very involved in the punk movement – how much did you know about this era already?
My Dad is someone that so embraced and lived in the 70s and really was a part of that amazing punk movement, that revolution, and I grew up listening to it all, for sure.
But I also grew up with this amazing attitude from him, which was again: stay true to yourself. Be you. Don't do things you're not passionate about. And also saying things like: 'Knowledge is the key to life, listen and learn'. Because that's the only way you're going to be the best you can possibly be.
He was truly inspired as a young man by those artists, which is what my household musically was filled with when I was a kid. 
You and James Jagger have quite an intimate scene in the very first episode…
Yes we do! We shot that on my 25th birthday. So that was a wild day for me, turning 25, butt naked, directed by Martin Scorsese, having sex with Mick Jagger's son. I'll never forget that birthday.
Vinyl premieres Monday 15 February at 8.30pm on SoHo, Sky channel 010, or you can stream weekly on Neon.
Share this: