Kauai: Lush, Green and Gorgeous
The Hawaiian island of Kauai is paradise for those who love the outdoors
SPONSORED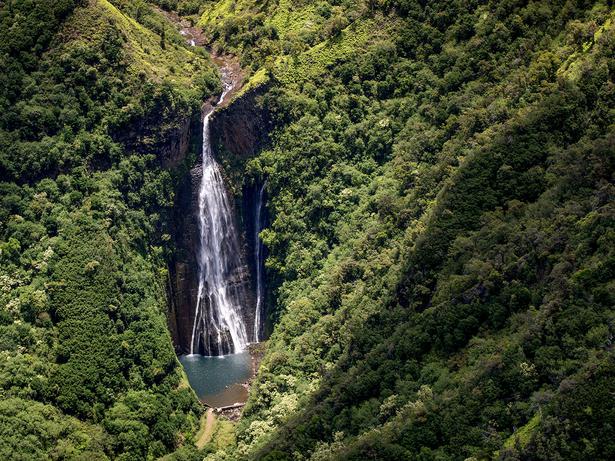 Wednesday June 21, 2017
It's impossible to think of the Jurassic Park movies without picturing its dinosaurs and cast members crashing through lush emerald rainforest, much like it's hard to think of Lord of the Rings without our spectacular South Island scenery as a backdrop.
Director Steven Spielberg could hardly have found a better place on earth to film the four-movie franchise than Kauai, the oldest (at 5.1 million years old) and most pristine of Hawaii's islands, and a place that stuns you with its beauty every turn you take.
Despite being just a quick flight from Honolulu, Kauai — the "Garden Isle" — remains largely untouched thanks to most of it being privately owned. Very little of it is accessible by car; 80 per cent is uninhabited.
This means that seeing it from the air is both a treat and a necessity. Lihue-based Safari Helicopters offers a Deluxe Waterfall Safari scenic flight that gets you around the main highlights in about an hour.
The theme music from Raiders of the Lost Ark — another Spielberg film to use the island as a location — boomed into our headphones as pilot Brian lifted us into the air.
The next 60 minutes whizzed by in a blur of amazing sights as we made our way through the Hanapepe Valley to Manawaiopuna Falls, the "Jurassic Park Waterfall" which featured in the first of the films (cue music change), through the Olokele and Waimea canyons and into one of the wettest places on earth, the dormant crater of Mt Wai'ale'ale.
REAd: How to Spend It... in Fiji
The movie and TV locations kept coming as we soared around the valleys and canyons: Pirates of the Caribbean, South Pacific, Avatar and Fantasy Island.
The day was clear, but low cloud kissed the ridgeline — it had poured with rain the night before and many of the island's waterfalls were in full, resplendent flight.
Brian pointed out the National Tropical Botanic Gardens (NTBG), the island's famous Tunnel of Trees (a canopy of about 500 eucalyptus trees that form a natural gateway to the island's south shore), and even a hippie commune.
He gave us a few different perspectives of his favourite part of the journey, and mine, the rugged Cathedral Cliffs on the Napali Coast, a 24km dramatic stretch of 1200m-tall mountains that drop steeply to the sea.
The towering sea cliffs seem to be hand-carved into picturesque points, like a mountain of meringues.
The short flight to Lihue Airport from Honolulu is nothing after the relatively painless nine-hour flight from New Zealand to Honolulu, especially if you're riding in style in either in Hawaiian Airlines' comfy lie-flat seats in Business Class or its Extra Comfort premium Economy Class seats. After landing at 10.20am, you could potentially be on the ground in Kauai, rested and ready to go, by lunchtime.
The Garden Isle is paradise for outdoor lovers, with plenty of hiking trails through its valleys, and visitors tend to stay here for longer, renting condos with kitchen facilities, such as the one I stayed at, Outrigger Waipouli Beach Resort and Spa at Kapaa.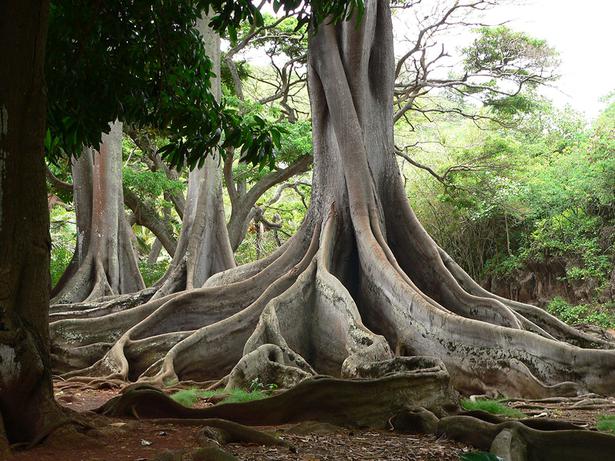 Back at ground level following my chopper ride, the island's green-clad volcanic peaks look a lot more gentle on the drive south to the non-profit NTBG in the Lawai Valley. I've signed up for a sunset tour of Allerton, one of its two main gardens.
The other, McBryde, is its flagship, featuring many rare native Hawaiian plants, but Allerton is the one that will capture your imagination if you love history as much as a tropical setting alive with vibrant birds of paradise, red ginger, purple bougainvillea, a rainbow of hibiscus, spider lilies, ixora, nasturtium, cactuses and ferns, just to name a tiny number of the plants on show.
There's plenty of birdlife too: mynah birds, egrets, squawking green lorikeets, and even a black-crowned night heron.
The late afternoon guided sunset tour (US$95, including dinner) of the former private 34ha estate once owned by Robert Allerton and John Gregg takes three hours and starts with a gentle one-hour walk through the estate under the shady rainforest canopy.
READ: Grey Gardens Estate on the Market In the Hamptons
Part of it is alongside the stream where Johnny Depp filmed parts of the final Pirates of the Caribbean movie at night under huge lights to create a daylight effect. Why? Because of the constant cacophony of cock-a-doodles during the day thanks to the wild chickens and roosters (known as moa) that roam the island.
It took Allerton, an artist and philanthropist, and Gregg, an architect, 20 years to create the garden, which they considered a place of peace and enjoyment for everyone. The pair were lovers, with a 20-plus year age gap, and so Gregg would inherit the estate after his death, Allerton adopted him as his son in the mid-60s. These days the property is in a trust.
An enthusiastic collector, Allerton filled his "outdoor rooms", crafted out of plants, with treasures from his travels.
A highlight is Diana's Room, which features a replica of the Diana of Gabii statue on display at the Louvre in Paris and a reflection pool giving a double vision of a wooden, Greek-like temple.
The whole tour is fascinating, from the anecdotes of the celebrities and politicians who stayed on the estate, including John Wayne and Jacqueline Onassis, to the sight of the three sprawling giant moreton bay fig trees featured in the first Jurassic Park film. The best part, however, comes at the end when the tour emerges from the forest canopy and reaches Allerton House.
Originally built by the couple in the 1930s, the homestead (now a replica) is set back from a white sand beach and crashing ocean, on a lawn sprinkled with towering palms casting long shadows as the sun begins to sink.
We tour its simple rooms, decorated with decorative kimono, botanical drawings and historic photographs and a hallway of cabinets containing huge seashells, before helping ourselves to a tasty buffet dinner of salad, chicken, rice and fruit and sitting down to eat on the covered screen porch which extends around the length of the property.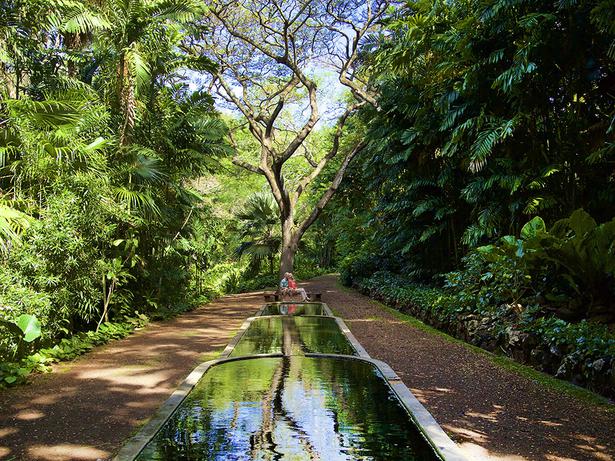 A cottage off to the side, moved down to sea level from its original location, once housed Queen Emma of Hawaii as she recuperated from the tragic death of her baby son and husband in the 1860s.
For another perspective of those early days in the island's history — and a taste of contemporary Kauai — call in for lunch and a riotous rum tasting at Kilohana Plantation, five minutes out of Lihue.
The former estate of sugar baron Gaylord Wilcox in the 1930s, these days is home to beautiful gardens and a replica train that takes you on a 40-minute narrated ride through the property on the tracks once used to move the sugar cane harvest around.
Wilcox's former Tudor-style homestead, home to the island's first elevator, now houses 11 clothing, jewellery, antique and gift shops in its former bedrooms and living areas, as well as the excellent Gaylord's Restaurant (order the sensational Plantation Pie, you will not be disappointed).
Every half-hour the onsite Koloa Rum Company tasting room holds free tastings of a selection of its award-winning rum products. Lively pocket-rocket brand ambassador Nikki Munroe hosted our tasting of about 20 up-for-it punters where we sampled a few of its nine offerings, which include five hand-crafted, single-batch rums.
READ Where to Go: Bedford Soda and Liquor, Takapuna
We even made our own teeny cocktail, a Tiny Tai, using Koloa's own Kukui mai tai mix and a shot of its white rum, topped with a dark rum float.
There's a huge emphasis on the artisan producer scene on Kauai, with "mom and pop" operations at its heart. Farmers' markets are held in most of the townships, and the "old Kauai" sits comfortably alongside the new thanks to the determination of its inhabitants to protect it.
The chances of any part of Kauai becoming the next Waikiki Beach are slim to none, and that adds to its appeal.
• Shandelle Battersby travelled courtesy of Hawaiian Airlines, Hawaii Tourism and Outrigger Hotels and Resorts.
WHERE TO SNORKEL: Head for Po'ipu Beach Park on the south side of the island. You can also surf, and stand-up paddleboard here, and occasionally you'll be treated to some native wildlife — either the endangered monk seal, or green sea turtles.
WHERE TO WATCH THE SUNSET: Head to Spouting Horn, a geyser created by water pulsing through an ancient lava tube. Especially great when there's a big south swell during summer — waves can go as high as 18m.
WHERE TO SHOP: Swing by The Shops at Kukui'ula, a high-end outdoor shopping village with galleries, boutiques, premium eateries and more, set among tropical gardens. The precinct has regular events, including a weekly gourmet culinary market, a monthly art walk, music and street food nights. Visit Theshopsatkukuiula.com
WIN WITH VIVA: Win a Trip for Two to Hawaii
Share this:
More Culture & Travel / Going Places