Exploring Koh Kood Island in Thailand
A luxury eco resort on the Island of Koh Kood in Thailand offers a memorable experience for the senses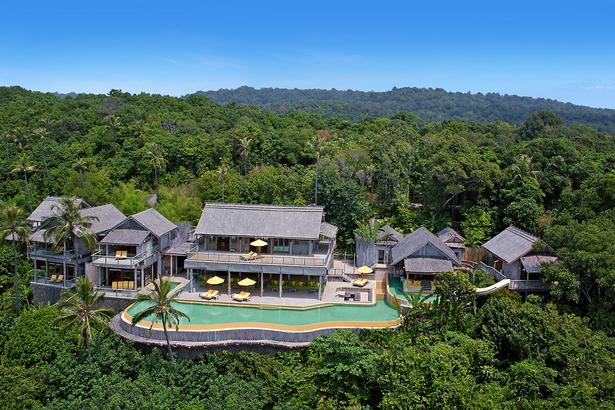 Wednesday April 20, 2016
The first thing you notice is the glass water bottles. Although, by then you've also noticed the private plane (stocked with homemade cookies and soft, cloud-like marshmallows) that takes you from Bangkok airport on a short but scenic flight over the Gulf of Thailand to the difficult-to-reach island of Koh Kood.
You've also noticed your 'man Friday' (Soneva speak for personal butler) who, upon disembarking, gently removes your shoes, in keeping with Soneva Kiri's 'no news no shoes' philosophy. And of course, you've also noticed your incredible room, replete with outdoor bathroom, private swimming pool, views over the lagoon and wharf and a separate wing for children. But it's the glass water bottles that you really notice.
In an industry (and indeed country) known for its terrible environmental practices, walking into a high-end resort and seeing glass water bottles scattered throughout brings welcome relief from the usual array of plastic and makes you realise this resort is very different.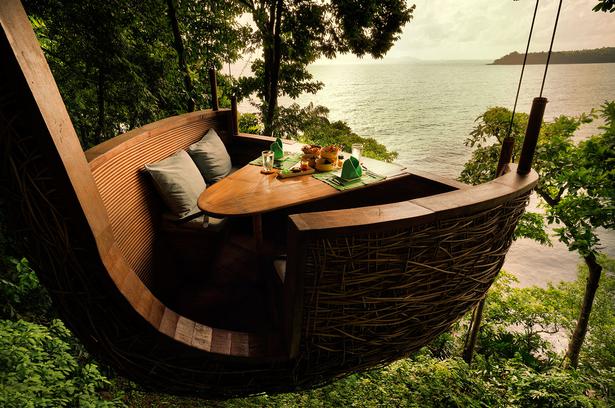 Indeed, on my first trip to Thailand in 1999 (a holiday fuelled by Sang Som rum, fake Prada wallets and Alex Garland The Beach fantasies), my idyllic deserted beach holiday was ruined during a walk inland, when a wrong turn through the jungle saw me come across a veritable mountain of plastic drinking bottles. I remained thirsty for the duration of the holiday.
A more recent visit to Phuket had me very morose when, as a naturally early riser, I would awake before the myriad of workers had cleared the beach of debris; thousands of plastic bottles and other tourist flotsam and jetsam piled up on the white sand by daybreak each morning.
So when I heard talk of the island of Koh Kood, where tourism is scarce and the water is clean, I knew I wanted to visit. And when I found out there was an eco resort on the island I knew I wanted in, at any price.
The tagline for Soneva Kiri is 'intelligent luxury' and there's really no other way to describe it. Despite the eye-wateringly expensive tariffs it is a place completely free of pretension. When they say 'no shoes' they mean it; you don't suddenly turn up for dinner a bunch of barefoot bandits only to find everyone in full evening attire.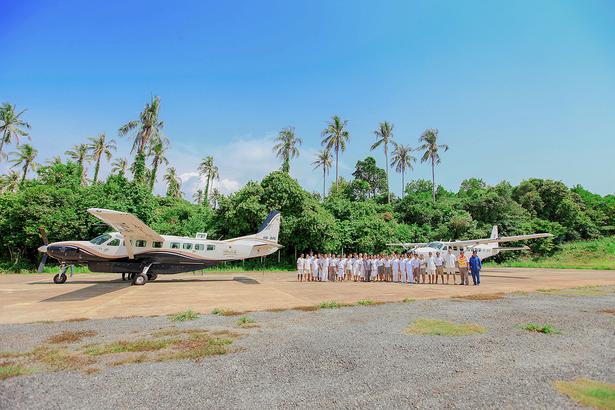 Your butler (ours was the most wonderful man named Palm) instantly becomes the best friend you didn't know you had. Especially when he books you massages, finds you a yoga teacher and advises on the various restaurants on offer.
The food is phenomenal. Especially the fresh, Thai dishes, 80 per cent of the produce of which is grown and prepared on-site. While my husband happily indulged in charcuterie and dim sum for breakfast, I enjoyed the freshest, most delectable tropical fruit platters, served with copious glasses of freshly made coconut milk, which tasted like nothing I'd experienced before.
Made daily from coconuts collected on the beach, I felt very guilty when I eventually attended a coconut milk and oil making class and realised just how much elbow grease had gone into my breakfast feast!
Of the four restaurants, the Benz was our favourite, accessible only by boat (we once kayaked home) and comprising a seasonal Thai tasting menu; the dishes change every night in tune with what the resort garden and local fishermen provide.
Each restaurant had a specialty cold-pressed juice, the Benz's was the antioxidant-rich butterfly pea flower (there was an abundance of these vibrantly coloured flowers on the island, I have searched high and low for them since my return to New Zealand to no avail). A squeeze of fresh lime saw the juice change from a bright to an opaque violet before your eyes and we would knock it back, virtuous in the face of other drinks to come.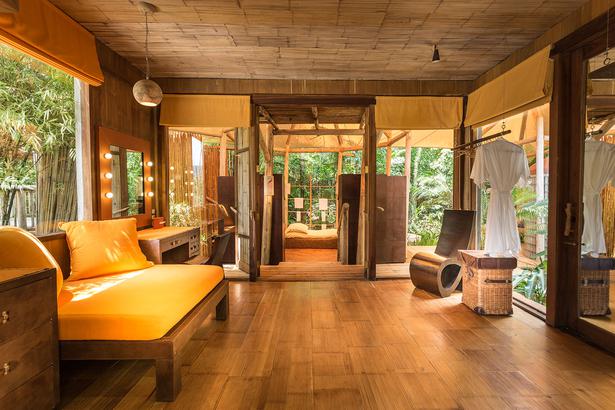 Soneva Kiri is big on "experiences", which form part of its very fabric, and are the reason you become — as we did — so emotionally attached. This is no passive beach holiday. At the very least, you can visit their home-made icecream station, or chocolaterie.
At the very most, you can have high tea in a treehouse where your waiter brings you cucumber sandwiches via zipline. You can watch a movie al fresco on a giant inflatable screen over a glorious pond (the resort generates and treats their own water supply) and later, a trained astronomer can take you up to the Stardome for a private viewing of the galaxy.
They're not afraid to take you outside the resorts walls, either. In fact, as you slip out the back and walk through the shanty town that's sprung up at the rear, resort staff will proudly inform you that this town has found a way to tap into the solar electricity grid that Soneva has implemented, and they are in fact powering these locals.
While the resort has so much on offer it's also amazing to get out and experience what the island is known for — notably the fishing village and incredible waterfalls and swimming holes.
The resort can arrange snorkelling trips to some of the best reefs in Thailand, although there is also the man-made reef right out in front of the resort tended to by Martijn, the resident marine biologist, with as much love and care as is heaped upon the organic vegetable gardens. Martijn is fascinating to speak to; originally from the Netherlands he is clearly excited by the opportunity to fulfill his vocational dreams in a place with both seemingly endless resources and interesting problems.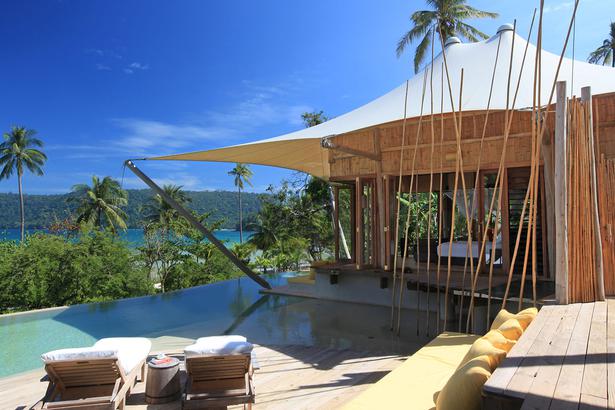 The week after we leave, one of the world's foremost experts in eco pest control is due to consult on greener ways to control sandflies. (The lack of toxic pesticides no doubt contributes to the abundance of wildlife we saw; one of the highlights of the trip was the large geckos, enormous spiders, huge coloured butterflies and sepia moths, and a lazy monitor lizard, lying across the path like a crocodile in wait. It was like living inside a steamy, scented natural history museum.)
Soneva Kiri has wellbeing at its very soul. The spa, managed by the excellent Six Senses resort brand, will happily arrange Ayurvedic consultations in accordance with the resort menu, as well as sunrise yoga on an upper deck overlooking the pristine lagoon. I enjoyed a massage using Tibetan sound-bowl therapy, where the vibrations of the bowl emanated through me.
Just as good for the soul was a walk through the abundant resort gardens, laden with pineapple, mango, passionfruit, cashew nut trees and every herb and spice imaginable. The huge and comprehensive compost system is called the 'waste to wealth' area. Scrawny tropical chickens (apparently their skinny legs are a biological response to the climate) produce the richest of free-range eggs.
The resort is scattered between the lagoon and the beach, with a steep hill separating them, and guests are provided with rechargeable electric golf buggies to effortlessly get around. You have to seek the beach out, but there is a sense of ease offered by this isolation once you get there.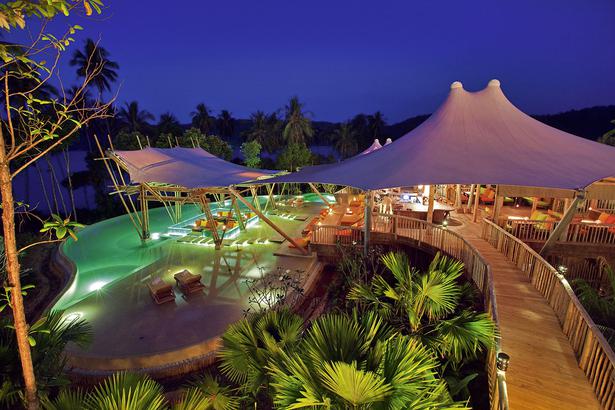 At the beach, ice-cold beer, cold-pressed juices and delicious cocktails appear from a bar crafted from a converted VW Kombi parked on the sand. Paddleboards, surfboards (yes, there are good beginner waves) and other non-motorised toys are available, and in the evening the beach is set with tables and lit with lanterns for a sumptuous seafood buffet feast – an abundance of glorious local delicacies eaten with your toes dug into the sand.
As parents of two, er, spirited boys (aged 6 and 7) we were incredibly nervous about how this incredible resort, and its guests, would react to our presence. And the beauty of Soneva Kiri lay in that very reaction. We were loved, we were welcomed, we were relaxed. And in those conditions my children flourished and, miraculously, behaved.
When our time on the island came to an end my children sobbed and clung to Palm, their new best friend. A harrowing and devastating end to the best holiday of all time. It's worth selling the house in order to fund a trip back next year.
Share this:
More Culture & Travel / Going Places