Meet Rocker Kylie McKenzie & Her Adopted Rescue Chickens
Following on from volunteering at The Animal Sanctuary, Kylie McKenzie adopted four pet chickens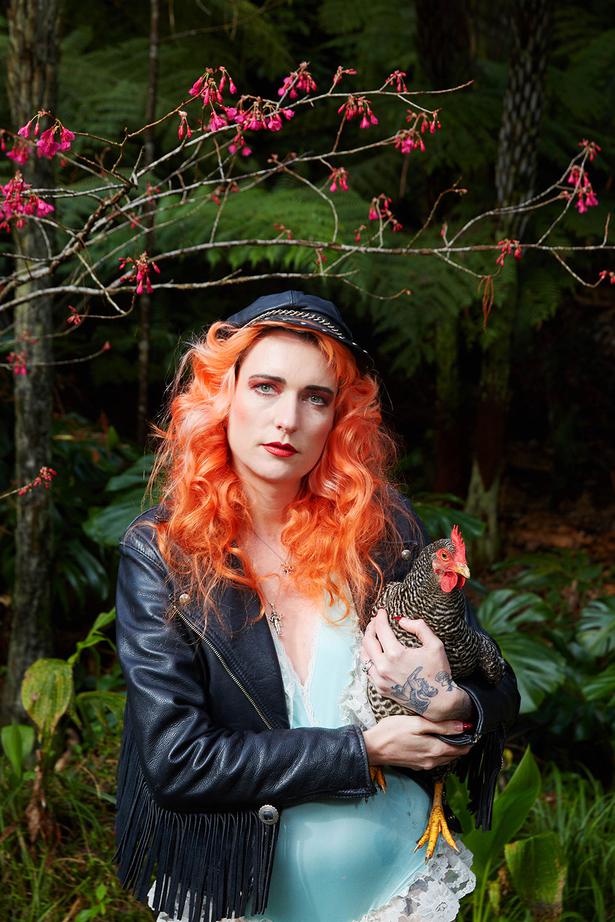 Monday Aug. 13, 2018
"When I first returned from living in Europe, I helped out at an animal sanctuary in Matakana. I originally went up there because I wanted a goat, but they needed help to rescue 100 chickens.
I'd never spent much time around chickens before and I totally fell in love with them. We had to worm them and clip their nails and all that stuff. After moving into this house, there was already a chicken coop here. I was like, 'perfect' and a couple of days later I went and got some chickens.
READ: Up Close With Musician October & Kanda The Blue-Tongue Lizard
"The white one is Leda, from a poem Leda and the Swan. The black one is Bathory, which is from Countess Bathory — she was one of the first vampires from Hungary. She used to take young ladies and drip blood from them and drink it, but it's also the name of one of my favourite metal bands.
The black and white little one is a barred rock variety, the others are Orpingtons, she's called Dolly Parton. Orpingtons are a bigger breed, they're like a bulldog breed, big and tough and fluffy; they have fluffy bums. They always have yellow legs.
The ginger one is Vali, after Vali Myers. She was an Australian but lived in Italy and she went off the grid. She had giant red hair and tattoos on her face and hands and had loads of amazing animals, like foxes and chickens. I've always looked up to her. Vali is the leader of the chickens.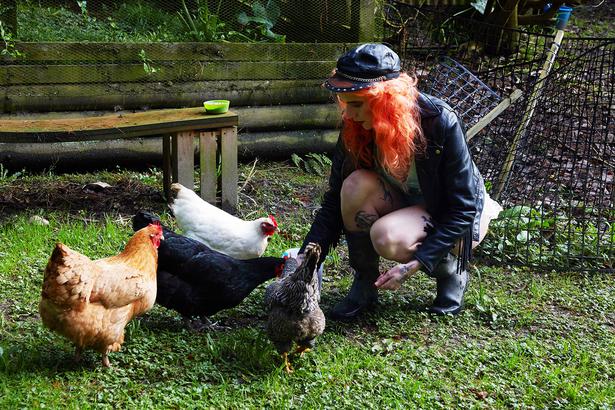 "I can sit and watch them for hours. Each one has its own personality. I don't eat chicken anymore after getting them, each one is really different and they are really loyal. If you have them from when they are young, they will jump up on you and hug you. They give you love back. They are so funny, the way they run and the things they do to each other. You get eggs from them, which is awesome. I'm always giving eggs away as presents.
READ: Stylish Pets: David Farrier's Parrot Keith
"To me, animals are very important. When I lived in London I didn't have any pets and I felt like something was missing. I would go to the Hackney Farm or anywhere to be around animals, even just patting a cat on the street. Anything to make me feel good. I definitely need animals around me."
Share this: