DJ Lady Shaka On The Power & Importance Of Nightlife
A live gig can be frenetic, even propulsive — it can also be a wondrous, booming rumble of community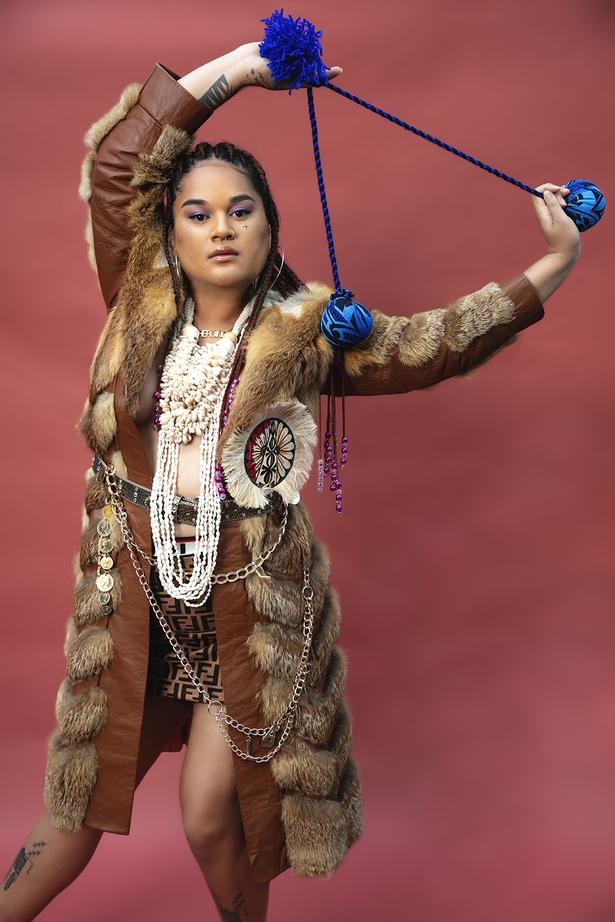 Monday Aug. 2, 2021
Nightlife offers a unique reflection of the vibrancy and soul of a city, whether it be nightclubs and the safe space they can provide for queer and trans BIPOC communities, the buzz of the latest and greatest restaurant or the frenetic energy of a live gig.
But its changing face is usually best represented by the people who were there: the ones who showed up, dressed up, socialised and danced, whether it is DJs, those front-of-house, club night promoters or fashion and art scene 'It Girls'.
READ: 'I Thought I Had Walked Into The End Of The World': Judith Baragwanath On Life After Dark
For Viva Magazine — Volume Four, we asked a few of today's local party people — each with creativity, personal style, social connections and charm by the bucketload — to share their perspectives on the joy of going out.
Here, DJ and interdisciplinary artist Lady Shaka reflects on nightlife in Tamaki Makaurau versus her new UK home, and her iconic set at a local pop-up of Boiler Room, a cult London club night that streams online.
Why do you go out?
As a DJ, most of my work is predominantly in the clubbing and nightlife scene. It is where I make a living, create art, create a vibe and make people feel something.
Why is nightlife important to a city… and the culture of a city?
It creates diverse spaces for people to enjoy themselves and to experience new music, people and places. It creates memories and places for people to belong.
Why is it so important for QTBIPOC communities?
Nightlife is important for a lot of QTBIPOC, especially with the rise of safe spaces for and by QTBIPOC. Having spaces for people to be their genuine selves without fear of judgement or hate is important!
How often would you go out? And where do you tend to go?
Most weekends I am performing at clubs, bars or festivals, which means I am constantly experiencing new places, new scenes and contributing to nightlife culture. My journey is always changing, which means I am always down to experience something new.
When and where did your love of nightlife start? When did you start going out, and what are your memories of that?
As soon as I was of age I was going out, having dance battles in the middle of the dance floor and making new friends. I first started off attending a lot of Afro/Dancehall events such as Wuk It Up and whatever was going on at Neck of the Woods. One of my favourite memories was definitely dancing to DJ Orikol while eating KFC that I had snuck into the club. My three favourite things all in one: music, dance and food.
What role does fashion play in your approach to nightlife?
I love fashion and wearing clothes that represent me and what I am about. I wear clothes that make me feel sexy, that make me feel good about myself no matter my size. Fashion, to me, should always be fun and daring or, at the very least, make you feel good.
Covid has obviously had a huge impact on nightlife across the world, something you would have seen in the UK and coming home to Auckland. What have been some of the impacts, for you personally, and that you have seen in the wider industry? How have you seen it return?
The effects of Covid-19 in the UK have been devastating for those involved in the clubbing scene, especially business owners and DJs. I have seen the permanent closure of so many iconic clubs and seen so many of my DJ friends taking on other forms of work just to survive as clubs have now been closed for over a year. I am very grateful to be back in New Zealand performing for live crowds, because this is not a reality for the rest of the world and may not be for a long time.
Has your relationship with 'going out'/nightlife changed post lockdown?
After experiencing a full year of lockdown after lockdown I most definitely am grateful to be in a position where I can be a full-time DJ and artist again. Each gig is a blessing and I treat them as if they were my last, because for so many this is nothing but a dream.
You recently came back to Auckland from the UK. What's your take on Auckland's nightlife scene today, compared to how it was before you originally moved to the UK?
I believe Auckland has grown so much in the level of delivery of the gigs that are now happening. There are far more parties such as Filth and Afrodaze who have developed spaces that cater to culture and community, which is beautiful. I will most definitely miss hearing "leshgooo" when I return to the UK. 
Your Boiler Room set included an *iconic* moment when you played Hinewehi Mohi's Kotahitanga (Union), and you performed with your poi. Can you talk a little about that moment — why you played that song in particular?
As a wahine Maori it was important for me to represent my culture, my people, my ancestors, and to show the world who we are as tangata whenua. It is not every day Maori are given international platforms to showcase our art and as New Zealand's very first Boiler Room it meant the world for me to do that for te ao Maori. I chose this song because of the message of unity that it speaks of and the feeling of ancestral power that flows through me when I hear this song. That night I was my ancestors' wildest dreams.
What was the response to that moment — on the night, and even afterwards?
On the night of the Boiler Room it was so uplifting to see other people of colour crying during and after my set and to have my community come up to me and feel seen. My favourite memory was seeing not only my queer community but also my Pasifika/Maori community — including the security guards — screaming "chehoooo".
The response has been so moving, from people wanting to indigenise clubbing in Aotearoa with their own poi to people around the world feeling the aroha (love) of the Moana (ocean) in their homes.
For you, what is always a sign of a good night out?
Sore feet, new songs on your Shazam app, sweaty clothes and a McDonald's takeout bag next to your bed.
What's your party exit strategy?
I'm usually the last one to leave because I love a good party, but if I want to leave there is no strategy. Once the Uber has been ordered, that's it, I'm leaving.
What's next for you? Are you heading back to the UK?
While I was in Aotearoa, I worked on a music project Oro: Ancestral Sounds of the Pacific, producing Pacific club music and learning the indigenous music of my ancestors, which was showcased at my exhibition Taimatangi: The Lost Diaspora (Oro Edition) earlier in May.
I'm not back in the UK and will be performing across Europe at multiple summer festivals/events with a planned Europe tour with IAMDDB towards the end of the year.
– Originally published in Viva Magazine – Volume Four
Share this: