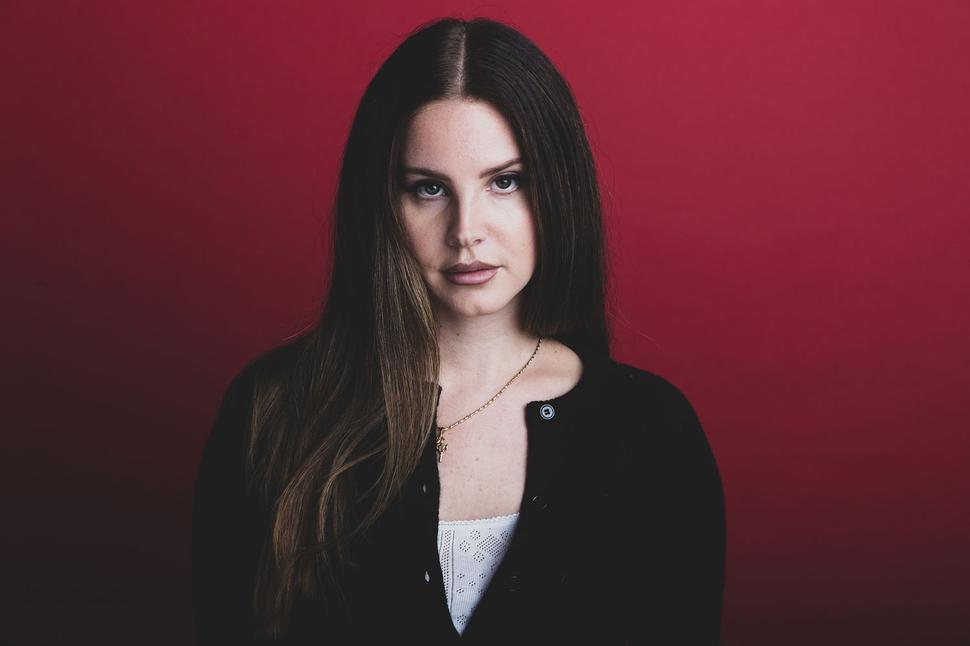 How Lana Del Rey Became The Most Polarising Woman In Pop
She's been accused of fakery, glamourising violence, and setting back women 'hundreds of years'. Is she misguided or just misunderstood?
Tuesday March 23, 2021
It was meant to be the biggest night of Lana Del Rey's life. On January 14 2012, the relatively unknown singer was to perform two songs on Saturday Night Live, the esteemed US comedy sketch show often graced by musical guests.
But Del Rey was the first musician in 13 years to be invited to play the show before releasing an album, and yet to prove she was anything more than a one-hit wonder after her seductive breakthrough single 'Video Games'.
Del Rey's booking provoked a baffling degree of outrage long before the show even aired, with some critics furious she hadn't 'earned' the prestigious spot.
It would be an ominous sign of things to come. Del Rey may have become a star but she would always, inexplicably, get under some people's skin.
The night of SNL itself went from bad to worse. Standing stiffly in a floor-length lace dress, Del Rey failed to hit notes that weren't especially challenging, fiddled awkwardly with her hair and struggled to catch her breath.
It seemed an obvious attack of nerves, a sudden realisation that America was watching, although Del Rey later claimed this hadn't been the case at all.
Overnight, she became a household name for all the wrong reasons.
She was suddenly water cooler conversation, a punchline on Twitter and a critical laughing stock.
No one mentioned the fact Saturday Night Live was known for its notoriously terrible acoustics and often forgettable live performances from the biggest artists too.
Even the show itself got in on the joke, with a pouting Kristen Wiig dressed up as Del Rey simpering, "Based on the public's response, I must have instead clubbed a baby seal while singing the Taliban national anthem."
Subsequent failure seemed inevitable. Yet when Del Rey released her official debut album Born to Die just two weeks after the performance, it sailed to number one in 11 countries, becoming only the fifth album ever to be downloaded more than 50,000 times in one week in the UK.
READ: Billie Eilish's Beauty Evolution: Her Most Outlandish Looks
By the end of the year, it had also become Britain's fastest-selling record. Yet the more successful Del Rey became, the more she polarised opinion.
Much of the criticism focused on her background, her wealthy parents and the fact she had tried — and failed — to make it in the music industry before.
Born Elizabeth Woolridge Grant, Del Rey was raised in picturesque Lake Placid and attended boarding school before moving to New York at 18.
There, she learnt guitar and started playing in clubs under various names while attending Fordham University.
She signed to 5 Points Records in 2006 and started recording her first album as Lizzy Grant.
Soon after it was released, she changed her management, sound and name and became known as Lana Del Rey. All traces of Lizzy Grant seemed to disappear mysteriously from the internet.
Then, in 2011, Del Rey posted a curiously professional video on YouTube, looking like a 21st-century Brigitte Bardot and singing the haunting 'Video Games', spliced with grainy footage of old-school Hollywood.
It has since been viewed more than 250 million times and went on to make 'Video Games' one of the year's defining tracks, earning Del Rey the coveted SNL gig and later named Song of the Decade at the 2019 Q Awards.
So far, so fairy tale: impossibly beautiful girl moves from the country to the big city and becomes a star. But many were suspicious that Del Rey's new name and musical direction were a calculated move by (male) management, that her career — and internet reinvention — had been funded by her father, and that Lana Del Rey was a character the singer could put on like a pair of shoes.
In an early interview with Repeat fanzine, Del Rey even admitted her new name had been chosen by committee.
"Lana Del Rey came from a series of managers and lawyers over the last five years who wanted a name that they thought better fitted the sound of my music. My music was always kind of cinematic, so they wanted a name that reflected the glamour of the sound."
Yet this was hardly incendiary when countless stars, from Elton John to Iggy Pop, had ditched their birth names long ago.
Even the accusation that Del Rey carefully created a fantasy character to win sales seems ridiculous a decade later, now that almost everyone presents a polished, heavily edited version of their life on social media, scripted reality shows are the norm, and pop stars are no longer required to prove their 'authenticity' to succeed.
Worse still, no one wanted to listen when Del Rey repeatedly pointed out that no such character existed anyway.
"Lana and Lizzy are the same person," Del Rey told The Quietus back in 2011. "I wish I could escape into some alter ego, just so I could feel more comfortable on stage, but I feel the same as Lana as I do Lizzy."
Insisting she was not playing a role in her songs was hardly the easy option either.
Del Rey's first three albums spoke of dead-end relationships, abusive partners and submission. She sang of doting on neglectful men and of the thrill of the dark side, dressed up in a sensual, glossy pop-noir package that never outrightly condemned its toxic references.
Her critically acclaimed 2014 second album was even named Ultraviolence; its sweeping title track borrowing a line from The Crystals 1962 hit: "He hit me and it felt like a kiss."
Del Rey was duly derided as anti-feminist, as glamourising domestic violence and trading on stories that were the awful reality for many. But if Del Rey was never playing a character, as she maintains, the truth was even worse. These tales may simply have been hers to tell.
"Having someone be aggressive in a relationship was the only relationship I knew," she told Pitchfork in 2017. "I'm not going to say that that [lyric] was 100 per cent true, but I do feel comfortable saying what I was used to was a difficult, tumultuous relationship, and it wasn't because of me. It didn't come from my end."
She has since dropped the controversial line from live performances — a sign she has moved on, even if no one else has.
"I don't feel comfortable with that lyric anymore," she told the BBC. "Whatever my concept of affection was at that time, it does not serve me anymore. Obviously. Hopefully."
More recently, Del Rey appears to have let her guard down and opened up.
She has begun to emerge from behind the untouchable Hollywood mystique that captivated so many but infuriated others.
Perhaps this is because she really is happier in her personal life, perhaps it's simply because she's older.
READ: Rising Star Benee Takes Her Subversive Pop Music To The Next Level
The change was reflected in her 2017 fourth album Lust For Life, a self-assured, sophisticated record that saw her take aim at Trump's America and featured guest appearances from A$AP Rocky, Stevie Nicks, Sean Lennon and Playboi Carti.
It went straight to number one in both the US and UK and received a Grammy nomination for Best Pop Vocal Album. Its 2019 follow-up, Norman F***ing Rockwell!, drew even more praise, becoming Del Rey's fourth Number One album in the UK and named as one of the albums of the decade by critics everywhere.
But there have been mistakes here too. Letting us in a fraction has sometimes meant revealing too much.
There was an ugly fight on Twitter with rapper Azealia Banks, after Del Rey criticised Kanye West for supporting Trump.
A touchy retort to a journalist she felt had misrepresented her in a largely positive article. And, more seriously, footage posted of clearly identifiable people looting during a Black Lives Matter protest, with singer Kehlani warning Del Rey "DO NOT endanger people with your very massive platform."
The post was immediately deleted, but for some, the damage was already done.
More recently, when she was criticised for the lack of diversity in a group of women on the cover of her new album Chemtrails over the Country Club, she didn't stop to consider why this might matter or simply reveal it was a snapshot of her beloved best friends. Instead, she explained with an astonishing lack of awareness that "in 11 years working I have always been extremely inclusive without even trying to. My best friends are rappers my boyfriends have been rappers."
Using rappers as a breathtakingly ignorant shorthand for people of colour suggested Del Rey had missed the point entirely.
This followed last year's ranting, rambling Instagram statement hitting out at anyone who has accused Del Rey of romanticising abuse, when many of her contemporaries are never questioned for their sexually provocative lyrics.
"I'm just a glamorous person singing about the realities of what we are all now seeing are very prevalent emotionally abusive relationships all over the world," she wrote.
READ: Rising Star Teeks Ahead Of His First Headline Performance
"With all of the topics women are finally allowed to explore I just want to say over the last 10 years I think it's pathetic that my minor lyrical exploration detailing my sometimes submissive or passive roles in my relationships has often made people say I've set back women hundreds of years."
Sadly, her point was lost when fans pointed out most of the artists mentioned — including Cardi B, Nicki Minaj and Beyoncé — were women of colour, questioning whether she was in turn criticising them for embracing their sexuality in music.
She retorted angrily within hours, denying accusations of racism, insisting she had simply referred to her favourite singers and that "this is the problem with society today, not everything is about whatever you want it to be."
Del Rey maintains her comments were purposefully misinterpreted, that she was trying to explain that all women have the right to tell their own story in the way they choose.
But if she has learnt anything in the last decade, Del Rey should know — like Taylor Swift already does — that every lyric and comment will be analysed in ways she could never dream possible.
Her critics attacked her even when she said very little at the start of her career.
Now that she's pushed through to make her voice heard, Del Rey must accept that this time, there will be no one to blame for any backlash but herself.
Nearly a decade on from that SNL performance, Del Rey is no longer the blank-eyed young star breathless with fear and the weight of expectation.
She is not the small-town girl with movie-star looks coldly plotting the fastest route to success, or even the docile woman in love with being in love at any cost.
She is political, sometimes misguided, impulsive, romantic, contradictory, battling to find her voice even if people don't like what she has to say.
"I'm literally changing the world by putting my life and thoughts and love out there on the table 24 seven," she wrote recently on Instagram.
Unsurprisingly, the harsh reality of fame and her own memories of simpler times before its pressures are subjects that Del Rey considers on her sumptuous new album, wondering if all this has really been worth it after all.
After the accusations, the judgements and the controversies, only Del Rey herself can answer that.
– The Daily Telegraph
Share this: