Live Like A Local
Discover why these locals love life in the Hawke's Bay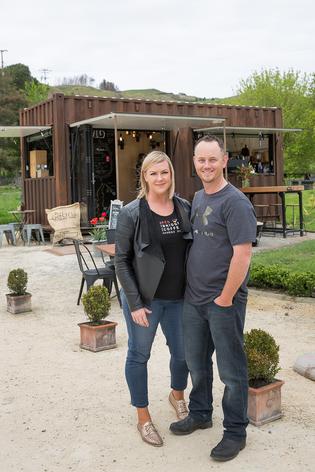 MELISSA AND ANT CAMPBELL
Coffee providores
Although developing a sound business was always part of the plan, creating a sense of place and community is paramount to Melissa and Ant Campbell.
Their wonderful rustic coffee container, plonked on a family plot in the Tuki Tuki Valley, was a success from day one. "We'd hoped that, maybe, after about six months, we'd take on a staff member," says Mel. "It was so busy that we needed one by the end of the first week."
Red Bridge Coffee, so named for the bridge that scores of travellers cross each day going to or from the golden sands of Waimarama or Ocean Beach, had been in the making for 18 months, while Mel and Ant were still living in Palmerston North. Mel — with a corporate background and long career as a makeup artist — saw huge potential in the corner site.
Ant — a third-generation Hawke's Bay farmer and former project manager — furnished her with the family connection, and the details. "Apparently, at the turn of last century, there was a 10-stand woolshed on here — the wool was transported down the river on a barge," he says. More recently, it's been grazing land for horses.
READ: Fat Freddy Drop's Scott Towers' Guide to Hawke's Bay
Red Bridge has quickly found its way into the hearts of this rural Hawke's Bay community. It's a meeting point for locals to get together, chat and help out one another.
"We pinch ourselves daily that we're able to do something we're passionate about, that it works, and that it's creating such an impact on people's everyday lives" Mel says.
Red Bridge now hosts Food Truck Sundays, with Piku Izakaya (delicious Japanese) and Vagabond Jacks (global street food) in residence, and they'll have Fee Hosford's Piece-Makers Market on-site on December 17. "Fee is always popping in with her dad Mason for coffee — Piece-Makers is a perfect fit for us," says Mel.
Starting out was truly a family affair. Ant and his dad handmade the gates, Ant planted the agapanthus, and he and his dad did much of the digging and site development. Now, my mother-in-law Christine brings us beautiful flowers from her gorgeous wedding venue, Belmount Gardens.
We use Origin Earth milk and really rate it. You can take your own glass bottles to fill up from their site in Havelock North, it's all local milk and their processing times are super fast so the milk is super fresh.
We haven't had a date night in ages, but when we do, we'll head into Havelock North for dinner at Black Barn Bistro and a movie at the cosy Event Cinema. We also love to have a swim at Ocean Spa in Napier — they have outdoor heated pools set right on the beach.
Ocean Beach is really close. There's a pretty great surf break there. Ant's family used to have a bach 20m from the water, and he spent hours in the waves as a kid, surfing until his eyes would close up from the salt. The mountain bikes and surfboards are still in storage but we're keen to get them out and find some time to use them."
PENNY FUSSELL
Interior designer
Colour makes Penny Fussell's world turn, and it's the one topic of which she never tires, whether she's describing the beige interior of the rental property she and her little family share while they wait for their new house to be built — "it's like living inside a latte" — or her boredom with New Zealand's ongoing obsession with duck-egg blue.
The interior designer, whose Hawke's Bay business Home Creative is chalking up a number of high-profile clients, says her current favourite shades to work with are "a dark pine green, and charcoal. I'll never tire of charcoal".
Penny spent a decade as a production manager on big-budget TV shows in the UK — One Born Every Minute, Property Ladder and the British version of Project Runway count as career highlights.
But when she met her husband Graham "on the Tube one night. We are such a cliche" and figured out that they'd both worked at Burger Wisconsin in Taradale as teenagers, coming home to the Bay was always going to be on the cards.
"We wanted our children (son Sam and daughter Frankie) to have their aunts, uncles and grandparents in their lives. And for us not be a slave to our mortgage. At the same time, I was conscious that I wanted to shift my focus to interior design. I have about 20 years of working life left — and I needed to be doing something that really floated my boat."
It's been a wonderful homecoming."Hawke's Bay is certainly not the same place I left when I was 18. And contrary to the rumour, it's not sleepy and quiet here — it's busy. People are living big lives, yet it's affordable and has a beautiful climate."
We got married at Craggy Range so we love to go back there. I'm excited about the new chef too — we went to his restaurant in Melbourne and the staff couldn't stop raving about him, so I immediately followed him on Instagram. Church Road is amazing for summer lunches with a bottle of rose on the back lawn, and it's stumbling distance home. I love The Mission too, although it does have some rather offensive blue carpet I'd like to do something about.
READ: Restaurant Review: Terroir at Craggy Range
I source a lot of my fabrics from Little and Fox in Ahuriri — the store is doing great things and spending time there really helps spark your imagination about what it is possible to achieve with fabric.
Hawke's Bay is getting really good at perfecting its cafes. The best coffee is at Georgia on Tennyson, and FG Smiths is my go-to for lunch. I worked at Rush Munro's in Hastings as a teenager and I'm still addicted to their malted milk icecream. The Greek National Cafe is a new, yet old, addition. It's got an insane retro fitout — formica everything — and an old-school Greek menu. It recently reopened, having been in the same family for decades; the service is exceptional.
FIONA HOSFORD
Importer and market-owner
Her love affair with Italy began with her godmother. After growing up in Hawke's Bay, then travelling to London to work at an art dealer until her visa ran out, Fiona Hosford — known to most as Fee — escaped to the "rambling old farmhouse with a permaculture garden" her godmother Heidi owned in Tuscany. A flat in Florence followed, where she learned to speak Italian and love leather, and when she finally returned to New Zealand, a little piece of her heart stayed behind.
These days Fee runs Piece-Makers, a sweet, small crafters market held on the first Saturday of the month in Havelock North. It was established in 2011 and up to 30 stallholders are selected based on Fee's careful aesthetic, which she describes as "a combo of natural materials, handmade items, and a pared back mid-century feel.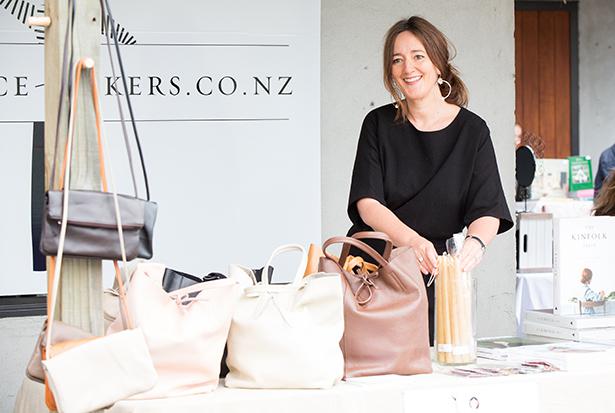 "The things we sell have to be beautiful, well-made, have longevity … and I have to like them," she says, smiling. "I accept that not everybody has the same taste as me, however, so from time to time I do fuzzy the edges."
And one of the stall's is Fee's own. On her first trip back to Italy in 16 years — this time with husband Aaron and daughters Imi and Elsa in tow — Fee discovered Pelletteria bags in Florence and decided to import them. "Nobody uses plastic bags in Italy so all the Italian women wandering through the food markets have these lovely leather shoppers. They are such a great high-quality product, a good price, and perfect for what we need in New Zealand."
I've always been a greenie at heart. I think very carefully about what kind of world my children are inheriting. I grew up in the country, swimming in the river, with a Depression-era mother to whom waste of any sort was unacceptable. I buy only products that last, and the best I can possibly afford. We don't waste any food — everything is either eaten or fed to the chooks. We don't use plastic if we can help it. Even our clothes pegs are wooden (but that's mainly because they look so nice on the line). And every summer we go camping by the Tuki Tuki river on some family land.
READ: An Insider's Guide to Hawke's Bay
I love to have a long Saturday lunch with friends at Te Awa Winery and Restaurant The broad bean falafel is amazing. Or we get picnic food from Hapi and take it to the beach. In the evening we often eat at home under the trees, while the kids splash in the pool. And I have coffee at Hawthorne Coffee Roastery every morning with a group of friends and have done so every single day for 12 years.
If we don't go to the Hawke's Bay Farmers Market on a Sunday, we don't eat. I love being on first-name terms with the people who produce my food. My favourite stalls include The Organic Farm for meat, and Hohepa Cheeses. I love their halloumi, the Greek yoghurt and their medal-winning vintage tasty cheese. I also adore Clyde at the Epicurean Supplies vegetable stall — he's an amazing pianist so you can be buying stinging nettles and discussing Beethoven.
We spend an awful lot of money at Wardini's — a fabulous bookstore in Havelock North run by the wonderful Lou Ward and her team. Adele, at the Napier Wardini's branch, has great recommendations for kids and teens.
WARREN GIBSON
Winemaker
Ask Trinity Hill winemaker Warren Gibson to describe a perfect Hawke's Bay weekend and he gives a wry laugh. "I can't remember a recent weekend when I didn't work, to be honest," he says. "It's just the phase of life we're in — Trinity is really busy, I'm travelling a lot, and we have our own wine label, Bilancia, as well."
Warren and partner Lorraine Leheny moved to Hawke's Bay 20 years ago, having made wine (and beer, in brewer Lorraine's case) in countries across the globe. Melbournian Lorraine was keen to start a family and Warren saw limitless possibilities in the region.
"Other regions — Marlborough, Central Otago — have their singular strengths, but Hawke's Bay is a little bit warmer, with beautiful seasonality and the potential to do so much more than a single variety. That's what keeps me interested and keeps me here."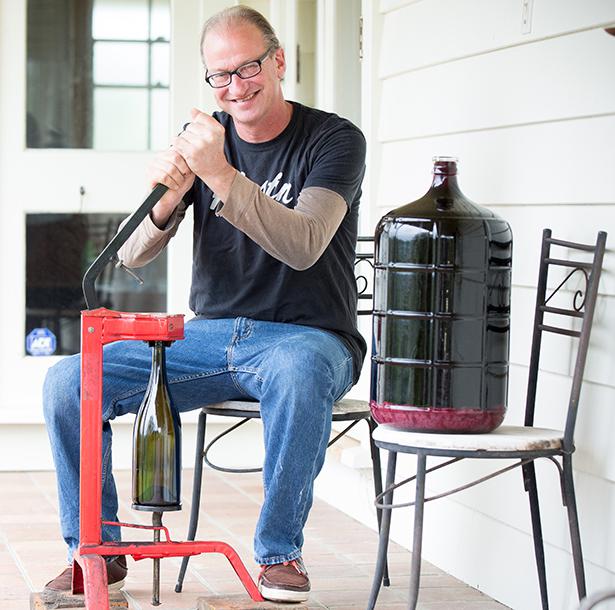 It was in 1987, as a university dropout with no fixed career path, that Warren says he fell into the business of winemaking.
"I was driving to Katikati with my mate John Hancock (Trinity's founding winemaker) to play a game of cricket. He said: 'So what are you doing these days, Warren?' I told him: 'Well, I've dropped out and I'm not sure what to do next — and I don't want to work in a bank.' And he said he had a big harvest coming up where he worked then, at Morton Estate, and could I give him a hand. "I guess I just loved it from day one."
Hawke's Bay is known for its premium wines, but craft beer is really taking off too. For an old-school vibe, the Westshore Beach Inn has a huge selection on tap, and the Common Room in Hastings is a music venue and bar that is well worth a visit. Brave Brewing Company is a newer kid on the block and a great addition to Hawke's Bay. I steer well clear of innocuous mainstream beers these days — most of our local brewers do a nice IPA.
READ: A Guide to Getting Around Hawke's Bay Wine Country
Dining in Hawke's Bay is amazing. The Deliciosa tapas bar in Havelock North is a favourite and is busy most nights. And twice a year there's FAWC — our cool little Food and Wine Classic. It has really transformed the concept of what a food festival is — not a boozy free-for-all but an opportunity to eat and drink in the markets, restaurants and wineries where the food and wine is actually produced. FAWC is a Hawke's Bay institution.
I love sport and we get some really good games at McLean Park, our stadium in Napier. There's a lot of history attached to the stadium, but I'd love to see a new generation of sports and gigs played there. I try to play golf on a Sunday morning out at Hastings Golf Club, Bridge Pa. I enjoy the social aspect of golf and mixing with a great group of local people. I like to trout fish too, but I don't have much of an opportunity.
We live in a rural community,and son Jacob and daughter Grace went to a country school. In the weekends they'd be up tramping to huts in one of the local forests, or rafting rivers or riding the tractor to Cape Kidnappers to do the Gannet Safari. It's pretty unique living here.
• To find out more, visit hawkesbaynz.com
Share this:
More Culture & Travel / Going Places