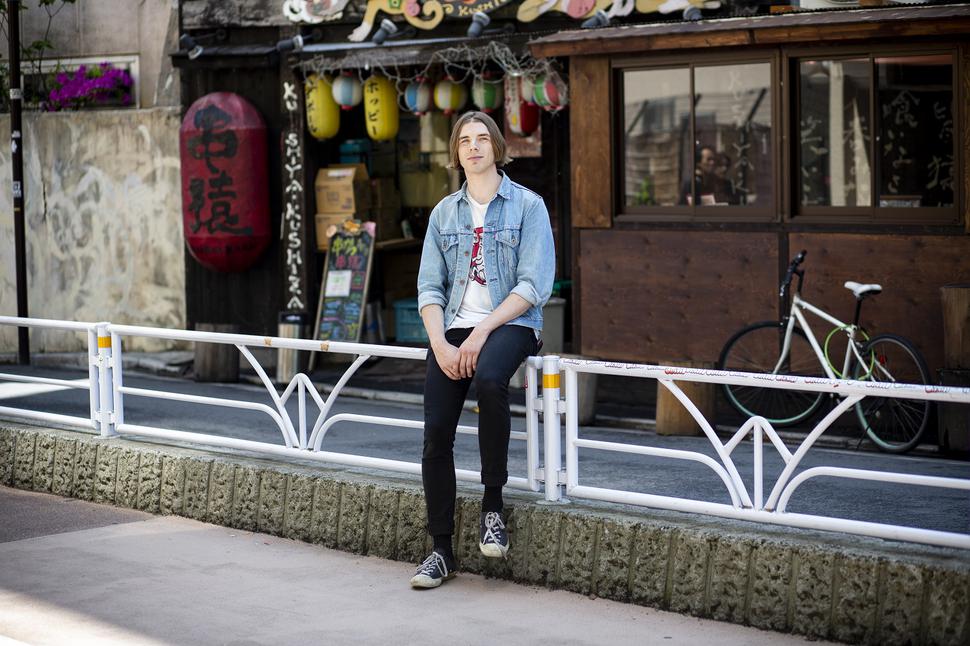 Live Like A Local: Podcaster Chris Gilbert In Tokyo
Radio short story creator Chris Gilbert shares his Tokyo highlights
Tuesday June 25, 2019
Ex-Wellingtonian Chris Gilbert moved to Tokyo in 2015 wanting to get out of his comfort zone and challenge his ideas about the world. His current project has helped him achieve just that, creating a short series of radio stories called 'Fun Radio from Japan' that explores previously untouched corners of Japan.
He uncovers elements of Japanese culture that people might not know about, "but will want to know about" he says. "I travel to this tiny, weird island eight hours away from Tokyo to eat the stinkiest food in the country. I go to Nagasaki and summon back the spirit of my father in this summer ritual called Obon, which is when the dead visit us. It has been super fun making it and I can't wait to share it with the world," says Chris. (Find it here, on Spotify and Apple Podcasts.)
READ: Live Like A Local: Writer Mika Reilly In Tokyo
Previously a reporter for Radio New Zealand, Chris now lives in Kamimachi in Setagaya. "It is a wonderful area. The local train is small, more like a tram, and it rumbles between the houses. I love our local izakaya, a kushi-katsu place called "Kushi-zou". Recently we did a hanami (a Japanese tradition of welcoming spring) in a Seseragi park, and you could see faces you knew from the cafes and such around here, and really feel the community from Shimokita, Sangenjaya, Shoin-jinja, all the places around Setagaya," he says.
Tokyo has been an ideal base to travel... around Japan and explore how varied the country is from region to region. 
Living in Tokyo is like... having a very intense friend who you love a lot, but often need a break from. My main connection has been cycling around in the Setagaya suburbs. It is very chill out there. There is an energy and tension in Tokyo that propels the city. It is very different from the rest of the country and I will often leave to the mountains or the countryside to refresh myself. But, obviously Tokyo is unique as a world city, and the benefits of experiencing life here far outweigh the costs.
The thing I enjoy most about my city is... the diversity. I think it is easy to only see the uniformity of Tokyo. But every part of Tokyo has its own personality. You can go to an area, like Sumida-ku, where you haven't been for a long time and it's like seeing an old friend again. The real Tokyo is in the suburbs though, and my fondest memories of living here will be of cycling the neighborhoods around my home.
A typical weekend involves... coffee, a run around Komazawa park, and then finding a quiet place to work for the day. It is very easy to get to the mountains here so I do a lot of hiking in summer and snowboarding in winter. My favourite weekends include a baseball game, some izakayas, some karaoke, a taxi ride I can't remember, and a lot of Pocari Sweat.
An activity that defines Tokyo life for me is... going to the sento (public bath). There is actually a great book called Tokyo Totem which provides some "totems" for how to understand the city, to give it some consistency. Sentos are one of them. Obviously, they are in every town in Japan, but it feels especially important in Tokyo. The sento is one of the places where you can still come into contact with community in Tokyo.
My favourite area of the city... depends on my mood. If I want quiet walking, looking at craft shops, an older part of Tokyo, I will say that Nezu/Yanaka is my favourite part. If I want cafes or wine bars then Tomigaya, near Shibuya. If I want quiet neighbourhood vibes and a feeling of community, I enjoy going to Nakano. For Izakaya crawls I will head along the Chuo line between Koenji, Nishi-ogikubo, and Kichijoji. But overall, I love Setagaya and the small shopping streets along the Setagaya line.
Tokyo is very seasonal. In the summer try the beer and highball gardens. In the winter, see an "illumination" light-up display. In autumn do day trips to Nikko to see the leaves. In spring, obviously cherry blossoms, so go find a spot to have a Hanami (flower viewing picnic). Also, people should find one of the Yokocho (alleyways) around the city and eat some yakitori.

MY TOP 10 IN TOKYO
1. Shake Stand, Hatagaya
2. Komazawa Park
3. Small World, Sangenjaya
4. The area around Nishi-ogikubo
5. Nezu shopping Ginza from the north towards Yanaka Beer Hall
6. Shibuya Publishing & Booksellers
7. Yurakucho Yokocho
8. Shoinjinja and the areas along the Setagaya line, for small shopping streets and independently run cafes and restaurants
9. Hatos Outside, Setagaya
10. Matsuya — a fast food gyudon (beef bowl) chain. It's so good. There are a few competitors but Matsuya is the best. They also do cheap breakfast sets
Share this:
More Culture & Travel / Features & Profiles