Designer Liz Mitchell's Dramatic Designs For Opera's Brightest Stars
We welcome the return of uplifting events, including the Auckland Philharmonia Orchestra's opening concert, featuring some of opera's brightest talent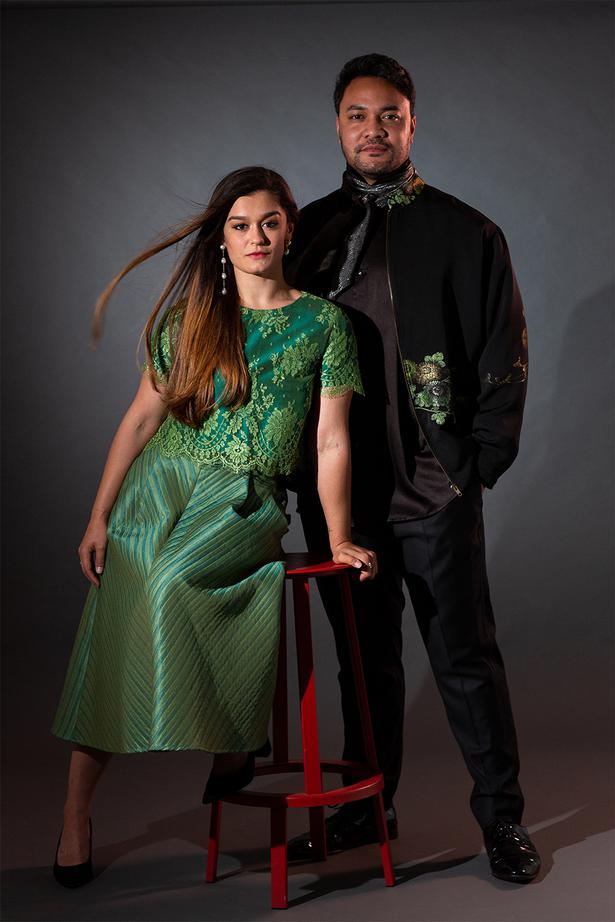 Wednesday Oct. 7, 2020
'A deliberate act of celebration' is the type of dramatic declaration you'd expect from the Auckland Philharmonia Orchestra, as it prepares this week to unite with some of the country's finest opera stars for its annual opera in concert.
After several re-scheduled events, APO CEO Barbara Glaser says the return to business is highly anticipated by both the public and the APO team. "I'm looking forward to the buzz of the live event, to the sense of anticipation before it starts and the build-up of excitement," she says.
"But more than anything, I'm looking forward to the music and the energy in the hall that comes from the synergy between the orchestra and the audience through the expression of great music. This has been such a tough year for us and many others, and for our musicians, losing the possibility to perform is losing much of what defines them and what they have trained for years to accomplish. So for me the downbeat on Friday will come with a huge sense of relief and appreciation for our players' commitment and artistry, as well as a huge sense of relief that the city can come back to life with the APO uplifting its spirit"
APO At The Opera: Tales Of Passion And Betrayal will be a suitably dramatic affair as internationally acclaimed tenor Simon O'Neill presents a line-up of opera stars including Anna Leese (soprano), Natasha Wilson (soprano), Kristin Darragh (mezzo-soprano), Amitai Pati (tenor) and Oliver Sewell (tenor), all joining the APO to recreate opera's greatest tales of passion and betrayal including La Boheme, Othello, Romeo and Juliet, Rigoletto and more.
READ: The New Zealand Fashion Museum Looks To The Future
"To be away from our audience for such extended periods of time has certainly been tough for all of us here at the APO," says Barbara.
"I've been incredibly proud of the creative and positive approach all our team have taken during the year and especially how hard we have worked to maintain a sense of connection with our audiences when we can't physically be in the same concert hall together. As part of the team supporting the musicians I also feel lucky that I get to catch a glimpse of the atmosphere backstage as they all prepare for the evening ahead on stage. Audiences give our musicians wonderful energy — and when we've all been apart for so long this energy will feel even more amplified."
To enhance the experience, fashion designer Liz Mitchell (MNZM) has been tasked with the job of dressing the performers for their welcome return to the stage.
Known for an elegant approach to design, Liz's versatility as a designer is well documented; from designing red-carpet gowns for the likes of Keisha Castle-Hughes at the Oscars to heading the costume design for TV shows Gloss and Seekers.
This latest foray adds more welcome diversity to the designer's workload this year, which has included creating luxurious face masks from special off-cuts and presenting a recent fashion show in support of the NZ Brain Tumour Trust.
READ: Meet The Five Change Makers Shaping Auckland Now
"2020 has presented me with so many unique opportunities and I feel really good about the ones that have come outside of my usual routine," she says.
"I've worked with various performers over the years, but this is the first time I've worked with the APO in this capacity. This really came about through my relationship with the APO's wonderful Rebecca Hendl-Smith, whose wedding dress I designed. To be able to do something special with these performers who have been in lockdown for so long is quite a fun experience and allows us to collaborate on something that could attract a new audience."
From a re-purposed vintage silk kimono fashioned into a cool bomber jacket to a contemporary take on Chantilly lace, the costumes for the show provide a fresh and modern vision of operatic garb, a refreshing change from the formality of gowns and tails.
"Liz has such a wonderful reputation for working closely with artists and people 'performing' in the public eye," says Barbara.
"Her designs are elegant, timeless and dramatic too. They also speak to our unique New Zealand environment and demeanour, which is perhaps why her designs seem to work so well with performers when they're on stage. Liz seems to appreciate how performers move and their need for clothing to enhance and compliment their performance rather than distract."
With a love of upcycling materials, another key element of these designs is Liz's approach to designing menswear.
"As a designer I am more structured in my approach and tailored, and it works for a lot of the performances requiring clothes that command some attention or support them in terms of posture," says Liz.
"With Simon and Amitai they are tall men too, so things like height and presence come in to play. We also reconstructed a gorgeous brocade art-deco-style kimono for the performance. When Simon came into the atelier for his first fitting, he spoilt us with a solo performance, which was absolutely mesmerising to hear. To be able to dress these great performers and help them tell these timeless stories is a real honour."
Share this: