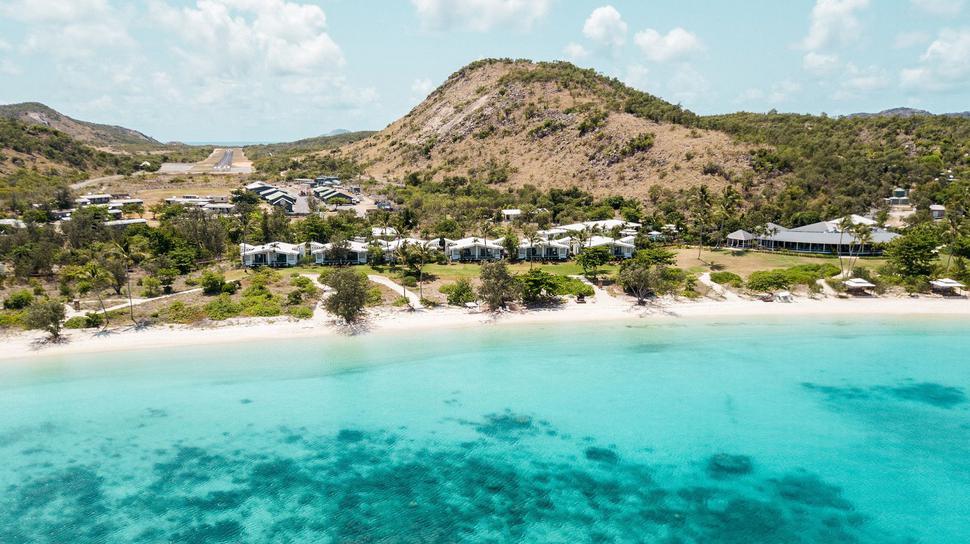 Welcome To Lizard Island, The Resort Offering Luxury With An Important Lesson
Escaping to a luxury resort in the Great Barrier Reef isn't all snorkelling and sundowners. It's also an opportunity to learn about this ecosystem and truly value it — before it's too late
Saturday Nov. 10, 2018
A sharp ray of light pierces a glittering ceiling, creating an iridescent spotlight as a kaleidoscope of colour and sequins parades by. As I gaze through the crowd, one head-turner zooms past in all its multi-coloured glory: a parrotfish, approximately 50cm long, elegantly peacocking past as if saying "go on, take a look at me".
I'm mesmerised by its pink and blue scales, like sequins reflecting off a disco ball. This isn't some hedonistic Parisian nightclub at 2am in the morning though; I'm a pin drop in the vast waters of the Great Barrier Reef off the coast of Queensland, surrounded not by socialites, but an equally if not more exotic array of more than 1500 types of fish, 400 species of coral, 4000 different molluscs and other sea life.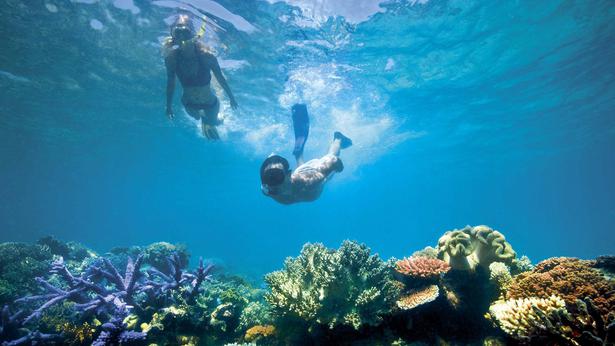 Yes, there's life on land, but below sea level it's a hive of activity. Towards the end of this month, for example, a scheduled coral spawning will occur, happening once a year on the full moon, attracting all types of marine life that come to feast on the produce of this collective orgy (whale sharks, in particular, are partial to a bit of "coral caviar"). While this fascinating social study of the life aquatic might make
some blush, it's underscored by the more serious task of how to maintain and preserve it for further generations — particularly coral.
A visit to the reef is not without the confronting realisation it's under serious threat from the effects of climate change and high ocean temperatures. While coral is resilient and has recovered somewhat since the most recent mass coral bleaching event between 2014 and 2017 from El Nino, only time will tell whether large scale decimation of coral continues to reduce the potential of seeing recolonised reefs in the future.
READ: How To Plan An Eco-Holiday
It's a reality check that lingers as I'm hovering over the 200km expanse of turquoise, high above the reef aboard a charter flight from Cairns airport, heading towards Lizard Island, the northernmost resort of the Great Barrier Reef.
The hour-long flight is spent in silence. I'm gobsmacked gazing out the window at the sheer scale of it: the 3000 individual reef systems, coral cays and hundreds of tropical islands and some of the most beautiful golden sand beaches in the world; this natural ecosystem the only living thing visible from outer space. When coral reefs provide an estimated 500 million people around the world with food and a livelihood and contribute nearly $30 billion to the global economy, their survival matters — particularly for luxury escapes that depend on them as their selling point.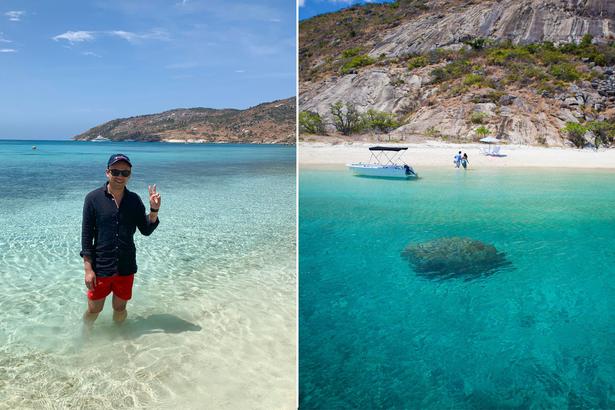 I arrive on Lizard Island resort and am greeted by staff dressed in tidy Bermuda shorts serving cocktails, and as I take a sip of my gin and look out at the postcard-perfect vista, I'm again reminded of its tremendous vulnerability. Rather than feel guilty about its situation, I'm spurred to learn more about what needs to be done to maintain this slice of heaven. Perhaps this is what makes this secluded escape all the more special — to enjoy such luxury is to be aware of the threat of losing it forever.
"Really what we want to do is look at how we can translate some of the research we've come across and try and get that information in all types of storytelling" says Anna Marsden, managing director of the Great Barrier Reef Foundation, who I meet on the Island. "Only through cross-sector collaboration and diverse thinking are we going to find solutions to help our reefs recover in the face of complex threats like climate change. If we can crack the code on the Great Barrier Reef and share that with the world, we can save the system."
READ: How Mustique Became The World's Most Notorious 'Fantasy Island'
As one of my hosts during my trip, Anna is joined by Anisa Kamadoli Costa, the chief sustainability officer at Tiffany & Co. who also serves as chairman and president of The Tiffany & Co. Foundation, an arm of the business aimed at preserving the world's most treasured landscapes and seascapes, with coral conservation and responsible mining its main areas of focus.
Such high-profile attention is what makes the reef's challenge unique, and while a luxury brand like Tiffany & Co. leading the way for private sector investment into the reef might be a revelation for many (myself included) the link is not tenuous; its jewellery has long been inspired by nature and the brand has been a pioneer in environmental conservation since it set up the foundation in 2000.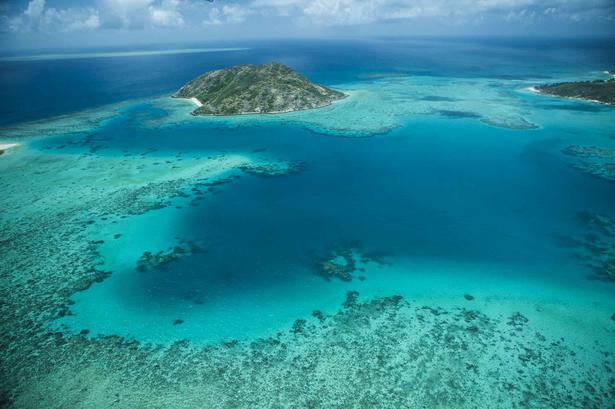 "We feel like we have this moral imperative to take care of the earth because it's given us so much, and frankly on any issue we're working on it's going to take collaboration to actually create the changes needed," Anisa says. "I'm hopeful there's an increased awareness around the coral and the ocean space, not only in dollars, which is nice from a philanthropic perspective, but from a government perspective too."
Even without my hosts, I'm guided towards the resort's environmental efforts whether out snorkelling at nearby Clam Garden at Watsons Bay, taking a guided tour of the eucalyptus and cache woodlands and discovering leathery Goannas along the way; or visiting the Lizard Island Research Station, a coral reef research facility, owned and operated by the Australian Museum.
READ: The Maldives' New Star Villa Is Underwater
These unique experiences sit alongside more traditional luxury resort offerings: swilling Dom Perignon in an opulent suite, being served locally sourced produce and seafood prepared by Lizard Island's executive chef, Taupo born Ryan Locke, (previously from Huka Lodge and exclusive Melbourne restaurant Vue de Monde) or working out in a world-class gym. The reef is omnipresent; and in this day and age of environmentally conscious travellers, it's an ideal escape for those looking to combine pleasure with a lesson in preserving one of the most important ecosystems in the world — and I'll drink to that.
• To find out more about how you can donate to helping save The Great Barrier Reef visit Greatbarrierreef.org and Tiffanyandcofoundation.org
Share this:
More Culture & Travel / Going Places