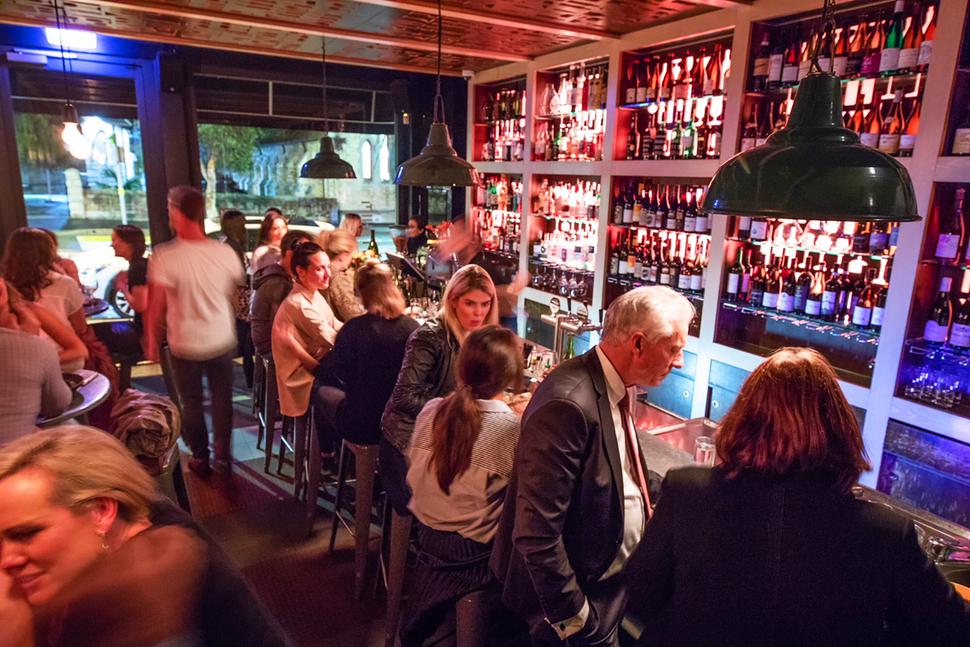 Where To Eat, Drink & More In Sydney
Celebrate the easing of travel restrictions by planning a trip across the ditch to NSW's capital of cool
Wednesday June 17, 2020
Look beyond the twinkling cityscape of Sydney and you will find ample opportunities to see another side to the NSW capital. From leisurely lunches at street-side cafes, to post-work cocktails in rooftop bars, world-beating street art and quirky hotels, there is much pleasure to be derived from scratching the surface of the city.
Eat
There's nothing like a sea breeze to whet the appetite, particularly in a city where enjoying fish and chips by the beach is somewhat compulsory. You can take part in chef Josh Niland's innovative nose-to-tail experiments with seafood at Saint-Peter in Paddington, enjoy a bowl of prawn spaghetti at North Bondi Fish after walking the length of the promenade or have a cone of crisp-battered fish and hand-cut chips from love.fish at Barangaroo. If you want to secure bragging rights, head to Bennelong and sister restaurant Quay, which anchor two corners of Circular Quay and are presided over by executive chef Peter Gilmore.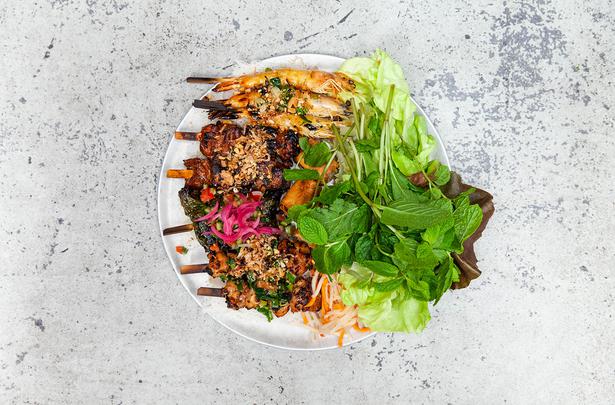 While lovers of mod Asian cuisine will be lured by the aroma of chilli and coriander into Merivale's sister venues Mr Wong's and Ms G's, headed by executive chef Dan Hong, it also pays to look to lesser-known haunts such as Hello Auntie, where an Asian-inspired feast of pork and prawn banh xeo and sugarcane prawn skewers appears to have made its way to Marrickville via the streets of Hanoi. The inner west is also a major draw for foodie finds: for wood-fired hits head to Firedoor, Ester and Lucio Pizzeria. Spice Alley in Kensington St, Chippendale — one of the oldest laneways in the city — is also fantastically atmospheric.
It's worth a foray into the suburbs to Madame&Yves, Clovelly, for vibrant gelato, Iggy's Bread in Bronte for butter-drenched sourdough, and Rita's Bar and Kitchen at the Cat and Fiddle hotel in Balmain for great pub grub and a growler. If you want to feel like you're dining in your friend's dinky kitchen, head to Fred's in Paddington or Sean's Panaroma, in Bondi, both of which are magnets for local A-listers. Proponents of a plant-based diet can divide their time between Yellow, a vegetarian bistro in Pott's Point, Ruby Lane in Manly, Pilgrim's in the beachside suburb of Cronulla and Alibi, Australia's first hotel restaurant and bar to offer a 100 per cent plant-based menu.
Drink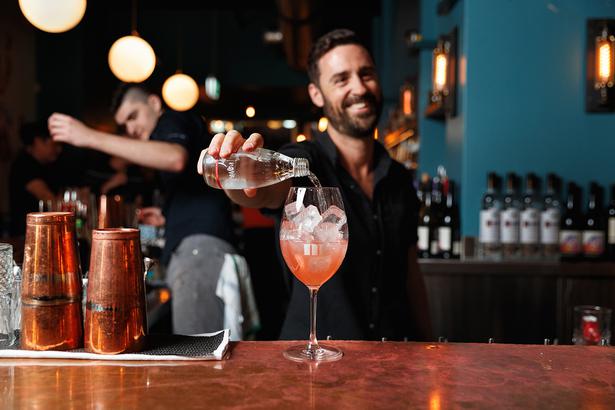 Button Bar is the cute-as-a-button bar that proudly pins Surry Hills' ragtime history to its sleeve. Here, you can hem and haw about whether to imbibe a Blinky Bill or Bloody Blossom in the dark wood-panelled dive bar where the bartenders look like lumberjacks and that's okay. If you want more substance than pomp, follow the fake grape vines and red carpet to Ron's Upstairs in Redfern for a plate of barbecued chook and Grifter Brewing Co. ales by the can. You will also find a motley crew imbibing aperitifs in the secret cocktail lounge behind the bookcase at Misfits Bar+Dining, also in Redfern.
For something a little more upmarket, head to The Wine Library in Woollahra, where you can enjoy some superlative snacky dishes doled out by chef Matt Taylor (ex-Bentley; ex-Monopole) along with choice drops chosen by sommelier Tim Peristone. Plug The Doss House into your maps app and you're still likely to walk past it: the hidden away heritage basement bar was built in the 1840s and has a storied history as a bootmakers, pub and opium den. Ask for something wonderful from the malt vault at this premium whisky bar, located in The Rocks, and then crawl around the corner to find the discreet Clarence St entrance to Old Mate's Place, which has an adjoining rooftop bar. Ragazzi is an Italian bar fit for romance: choose an Italian varietal from the 250 bottle wine list and a bowl of hand-made pasta dusted with parmigiano. If the weather is with you, head north to The Newport on the shores of Pittwater, east to Coogee Pavilion Rooftop, and south to Old Joes, which overlooks the Cronulla surf break known as "The Alley".
If the Sydney Swans are playing while you are in the southern suburbs, do go to Huxley's in the southern suburb of Caringbah, even if you know nothing about AFL. The secret sports bar hidden behind a pizzeria's fridge door serves a hefty American-style burger alongside two-litre jugs of beer and alco-shakes.
Play
Tribal Warrior offers a two-hour cruise around Sydney harbour onboard the Mari Nawi (Big Canoe), where passengers can gain a fuller appreciation for indigenous Australians and learn the Aboriginal names and meanings of significant Sydney landmarks. In addition to conveying their culture to the curious, the guides on board the Tribal Warrior Cruise will forage for food and demonstrate how some of the local flora can be used for medicine.
The whale-watching season in Sydney is between May and November and one of the best places to observe the migration is at Cape Solander, in Kamay Botany Bay National Park, where the whales can be spotted from the clifftops. Sydney's spectacular coastline and abundant green spaces can also be celebrated along the lesser-known 32km hike from Otford to Bundeena, which curls along the coastline in the Royal National Park, Australia's first official national park.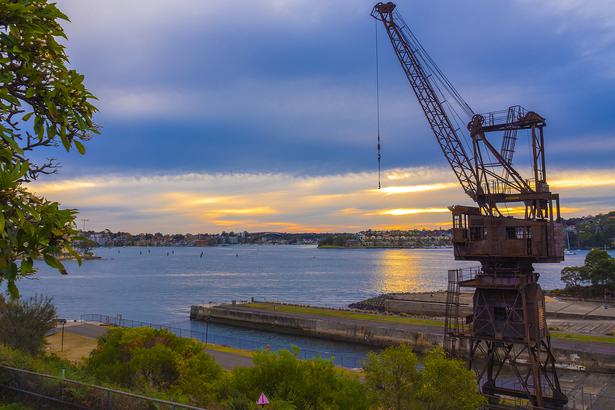 Foodies who want to buy everything from local produce to artisan sourdough should bring their eco bags to Carriageworks Farmer's Market, a Sydney institution. Grab some hand-sliced prosciutto, a fresh sourdough baguette, a circle of Pepe Saya butter, artisan cheese and fresh fruit and plonk down on the sand at Milk Beach, Vaucluse, for a picnic. This small arc of sand can be accessed via the Hermitage Foreshore Walk. Taking in Sydney's soaring skyline can be best done from the water at nearby Cockatoo Island, the largest island in Sydney Harbour and a UNESCO World Heritage site to boot. The rustic buildings on the island have remained largely unchanged for centuries and staying here in one of the heritage houses, apartments or waterfront glamping sites is akin to being in your own travel bubble. The island played a pivotal role in Australia's convict and defence history and the rustic convict-built architecture is utilised to host a rotating roster of art exhibitions and events.
Next stop should be the northern end of Oxford St in the stylish suburb of Paddington, where you will find boutiques such as Magali Pascali and LMS the Brand and galleries such as Martin Browne Contemporary. You could easily spend half a day in Chippendale, home to the quirky White Rabbit Gallery and busy, buzzy Kensington St precinct.
Stay
You will rub elbows with some of Sydney's most colourful characters when you bunker down at Spicers Potts Point, tucked away in a leafy side street behind the sleazy neon-lit streets of Kings Cross. The 20-room boutique hotel is the result of a A$20 million conversion that saw three Victorian terraces become one. Although the inner-city hotel is but a feather boa's length away from Sydney's urban jungle, it is also a stylish sanctuary with dress-circle seats looking out over streets filled with the hood's more flamboyant types.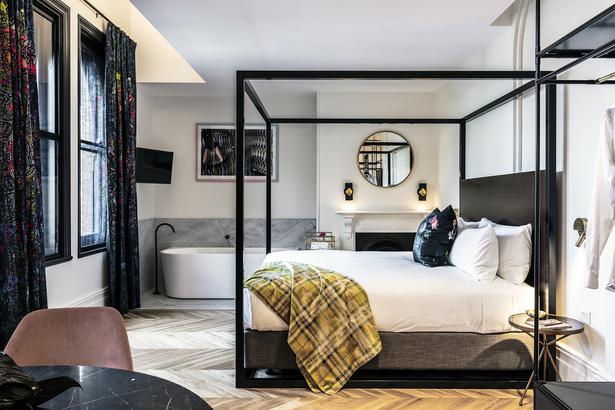 If you would like to stay somewhere that tilts toward both the old and new in Sydney, the Little Albion in the heart of Sydney's Surry Hills is a rare haven tucked away inasuburb that is traditionally hectic from morning to night. The former convent brims with evidence of its previous occupants, nodding to all the different eras the 1903 building has been through. Tucked away between a former church and school hall, Little Albion features 35 character-themed rooms with plum upholstery, dramatic curtains and Art Deco mirrors and a dramatic 4m-high reception and glass lift tower. Ovolo Woolloomooloo also occupies prime Sydney real estate, with pedestrian-friendly boulevards that hug the curves of Sydney Harbour. The hotel has Australia's first 100 per cent plant-based hotel bar and restaurant — Alibi Bar & Kitchen — and has recently launched a Restaurant in Room concept designed to embrace social distancing and promote R&R. Don't worry, the clean Alibi Kitchen offerings also come with a dark-side addition in the form of the "Dirty Bits" bar menu.
The Sebel Manly is another Sydney hotel that has, along with some of its A-list guests — such as the late Zsa Zsa Gabor and singer/songwriter Elton John — had quite a few nips and tucks. But the one thing that remains the same about The Sebel, since it opened its doors in 1963, is that view of sea, sand and sky; the recent $2.6 million makeover does those views justice. Manly Wine Restaurant & Bar shares the premises; order crispy-fried calamari, and skin-on fries from the Bring Me Food menu to be delivered to your door. There are eight suite styles at The Old Clare Hotel, from stylish and cosy to over-the-top show pony. But one of the No. 1 reasons to unpack your bags here is the fact the vibrant precinct of Chippendale — or Hippendale — is on your doorstep. If you don't want to move, order from award-winning Automata and A1 Canteen before retiring to the rooftop pool bar.
Share this: