Lorde: Style Queen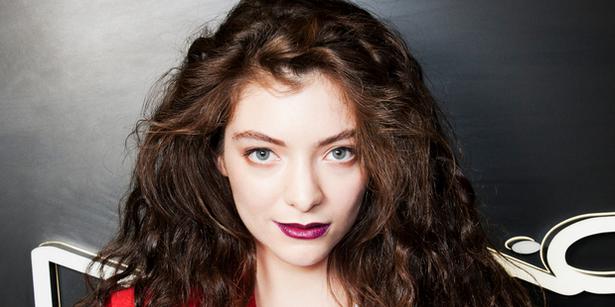 Wednesday June 25, 2014
"I'm wearing colour today which is very rare," says Ella Yelich-O'Connor of her lustrous blood red Valentino suit. Twinned with trademark purplish lips, it's a dramatic combination, but still in keeping with her signature Lorde style and love of dark imagery.
But how does a 17-year-old go, in one year, from clomping around the Takapuna Grammar schoolyard to being hailed as a new generation beauty icon on the cover of Teen Vogue. International hit single Royals and a slew of music awards helps, as does the big brand makeup launch she is talking to in Auckland this week, but it's more than that. What distinguishes the Lorde look is it fits Ella so authentically which chimes with her fans. The look also keeps evolving, as this image exclusive toViva shows.
Ella seems right at home in her boxy designer suits in a palette that owes much to menswear, curls unrestrained and her views issued direct to the world via Twitter and Instagram. But she doesn't often answer media questions about her style choices.
"Black to me is very simple, very strong. It just kind of just works with everything," she explains of her usual uniform. "I recently shot quite a big international magazine editorial and the whole thing is monochrome which I think is cool and quite uncommon."
It will be a couple of months before we see that, but odds on it won't be girly. "I'm all about the perfect pair of black pants or a good white shirt," she says.
Ella, who name checks local designers Jimmy D - "there's a weird math to it" - and Zambesi - "they've stayed cool for a really long time" - now has access to a world of fashion. She's worn Chanel, Balenciaga, Celine, Tom Ford and Alexander Wang at events this year.
"I don't think as someone who likes fashion you geo-target it or anything," she says. "In clothes I'm really drawn to quality, wherever that is from."
In the Auckland-shot counter display photograph used internationally for her M.A.C Lorde makeup launch - in which she is the youngest celebrity collaborator to work with the brand - she wears locally designed Meadowlark jewellery, another personal favourite. But for Ella, being a New Zealander is as much about attitude as wearing homegrown on her sleeve.
"People are hardworking, people are humble, people don't make a fuss about their achievements, everyone is friendly. It's stuff that I try to carry places," she says.
It is refreshing to be among New Zealanders, she says, because she gets treated with a "familial vibe."
"Every day when I walk around I'm approached by people and people aren't star struck or anything, it's just 'oh there she' and that's something I really like about coming home."
By comparison, in celebrity infested towns like New York and Los Angeles there's an anonymity, whereas in places such as Brazil she has found fans are crazily into stars. Much as she likes to touch base with what is reassuringly real, the Lorde support team does now include two vital global pop star accessories.
"I do have a stylist," she tells Viva. "She [New York-based Rebecca Grice] is great because I can say I want these things, and I want this inspiration or I want something that's kind of like this. For the Billboards for example I knew I wanted to wear a very Bettlejuice kind of hat. I sent her all these hat vibes and some of these were from the Kentucky Derby 50 years ago. She'll come back with 10 hats. That's the kind of thing I can't do on my own."
Then there's the help a stylist can give calling in her current obsession with David Byrne-style suits. "I'm really into, a big sloppy trouser break - and she can make the link between that and getting stuff."
New Zealand makeup artist Amber D has been on the road with Ella all year as part of the collaboration with M.A.C. and did her shimmery Billboard Awards makeup and also the look above for this story's portrait shot with Lorde's very own Pure Heroine lipstick.
Both women are enjoying a few weeks respite in Auckland before heading on tour next month to Australia, Japan and then back to North America. This week there have been interviews to do with media from Australia, including from Vogue andWho - and Viva - plus some Lorde time in the recording studio to look forward to.
Dark lipstick predates Ella's public performance life, but follows an earlier love for smudging about in dark eyeliner. There was for awhile a flirtation with a pinky nude shade called Twig, but the darker, now more refined, aesthetic comes from her liking of 80s fashion photography.
"I started the dark lip when I was 15 and then just wore it all the time, but I've always worn a lot of black."
Although she wavers from purple to blood red lips, a wholesale wardrobe colour conversion is less likely. "I don't find I'm drawn to any particular colour," she says.
Instead she starts with the makeup, thinking "I want a lip today," and calling in Amber D to realise the vision. For what is one of their favourite looks to date, the Billboards, she explains: "I wanted it to be kind of shimmery, almost rainbowy looking face that was shiny and slightly 80s looking." Think old Stephen Klein and Mario Testino photographic shoots.
"The women I work with, like Amber and Rebecca, they're all really smart and really good at listening to what I say and making it something even cooler than I could come up with," says Ella, who says her Lorde persona is a projection of true self rather than an alter ego.
"Everything I do is coming out of a very personal headspace, but slightly amplified."

• Amber D explains Lorde's evolving beauty look here, and talks about her dream job with Lorde here.
Share this: