The Man Behind Louis Vuitton
Chairman and CEO of Louis Vuitton Michael Burke on how the Louis Vuitton America's Cup is shaping up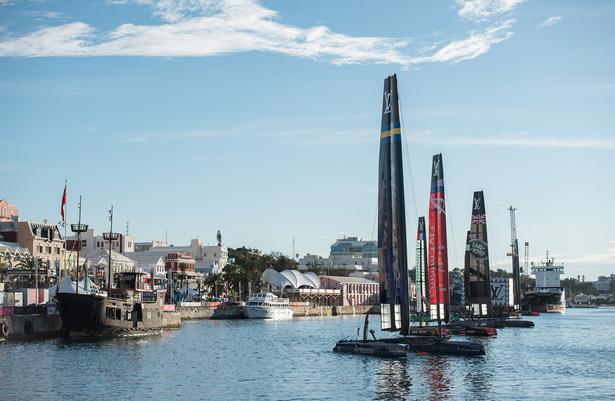 Wednesday Nov. 25, 2015
It's a balmy Sunday morning and I'm sitting in Tucker's Bar at the luxurious Rosewood Tucker's Point Hotel in Bermuda. It may have been a potent blend of jet-lag (the 28-odd hour journey from Auckland to Bermuda two days before included four layovers) and humidity, but the surroundings play out like a dreamy scene from some turn-of-the-century tale such as Out of Africa.
Bermuda's colonial roots are proudly displayed in the bar's interior, made to look like a gentleman's club complete with Persian rugs, paintings of cricket players in cable knit vests, a blue marble bar serving lager on tap and ceiling fans rotating at a glacial pace. White muslin curtains flutter in the Caribbean breeze to a soundtrack of jazz, and palm trees sway in the distance.
A sobering cup of Bermudian black coffee snaps me out of my trance. In 10 minutes I will be meeting Michael Burke, Chairman and CEO of the world's most prolific luxury brand, Louis Vuitton. I'm told he rarely conducts interviews with the press.
When Burke walks into the room he is as understated and elegant as the brand he represents, a white linen shirt tucked into crisp chinos, a pair of Louis Vuitton trainers on his feet. The look effortlessly casual, perfect spectator attire.
Calm, softly-spoken and with an easy air, Burke adds to the languor of the day's mood. There is no bravado or ego. Our discussion is a stimulating mix of breezy humour and intense gravity.
Burke's relationship with Bernard Arnault, billionaire CEO of the LVMH group, is deep-seated. He joined the Arnault Group from university, and took charge of its real estate operations in the United States. In 1986 he joined the LVMH group as head of Louis Vuitton America where he stayed until 1993.
"I had job offers from L'Oreal and Unilever, and all my friends were like 'okay, so you're going to L'Oreal', because that was the holy grail. There were people from those companies recruiting straight out of campus. The offers came but I didn't feel anything. I didn't want to sell soap," recalls the 58-year-old.
"I went instead to work for Bernard in real estate. He described to me what real estate was all about and how it was building communities and dealing with architects. It's the same thing as dealing with creative and commercial people.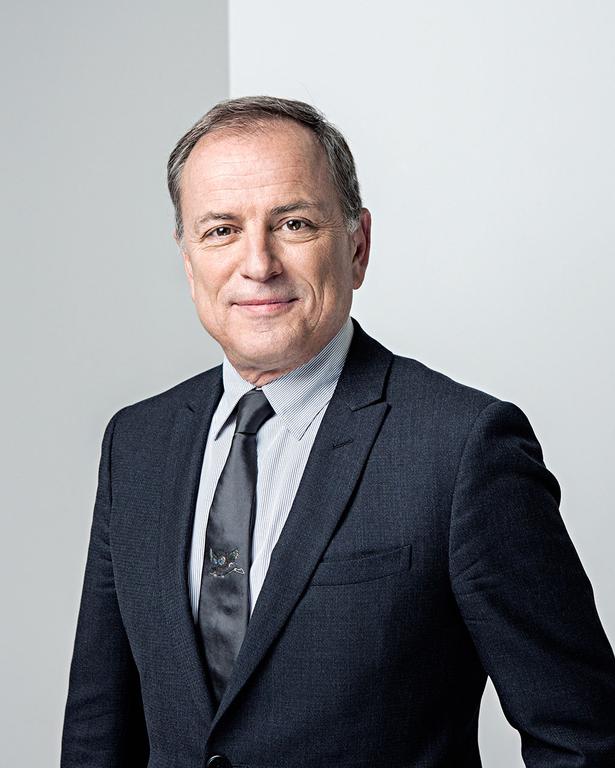 "There was also the tangible aspect of it, which resonated with me. It sounded appealing — rather than being stuck in an office in the 16th arrondisment in Paris and being marketing director."
In a time when selling real estate was considered on par with being a car salesman, it was a risk — but one that has since proven worth taking. In 1997, Burke moved to Paris to become deputy CEO of Christian Dior Couture (Worldwide) and then on to Fendi in 2003. Prior to Louis Vuitton he was CEO of Bulgari and he was appointed chairman and CEO of Louis Vuitton in December 2012, replacing Spanish businessman Jordi Constans, who resigned after a month in the role for health reasons.
Constans had replaced popular chairman and CEO Yves Carcelle, who stepped down that year after a decade overseeing Louis Vuitton; he was pivotal to its growth with the hiring of designer Marc Jacobs. Carcelle passed away in September 2014.
For Burke, it was that risk taking in those earlier years and having faith in what he believed was the right path for him that has put him in good stead ever since.
"Very often I see people make professional decisions based on what their friends think what they should be doing. Why would you do that?"
Never one to conform, he confesses that when it came to his equally charming wife Brigitte (whom I had met at dinner the night before), she was his college sweetheart and he turned down going to Harvard and instead followed her to France where he continued his studies. He also provides more than just the token sound bite.
"My press office would prefer it if I stick to the script and I never do!" Michael laughs. "Nothing is written or scripted; I just speak what I feel."
It's the perfect summation from the CEO of a brand that has built so much of its 161-year history on a blend of savoir faire and emotion. That hallmark is ingrained within the brand's relationship with the America's Cup event — and the reason we are all in Bermuda.
"The America's Cup authority has entrusted us for the last 35 years to protect the cup and it's probably the most valuable and the most desired trophy in the world," Burke explains. "The one element of the America's Cup myth, I think, has to do with the fact that is doesn't belong to anybody.
There is no one federation that controls it, so it is the ultimate travelling trophy. There is a deed of trust which goes back to the mid-19th century that guides what happens to the trophy. Effectively the winner becomes the steward of it for a short period of time, making it unique."
The day before, at the Cup Village, Burke had presented the official Louis Vuitton trunk, custom-made by the brand's bespoke ateliers in Asnieres, on the northwestern outskirts of Paris.
Flanked by a crew member from each of the six sailing teams that had competed over the weekend as part of the third Louis Vuitton America's Cup World Series, along with Team Oracle USA's owner Larry Ellison, Burke reinforced the company's passion for sailing, highlighting its unique place in the world of competitive sports.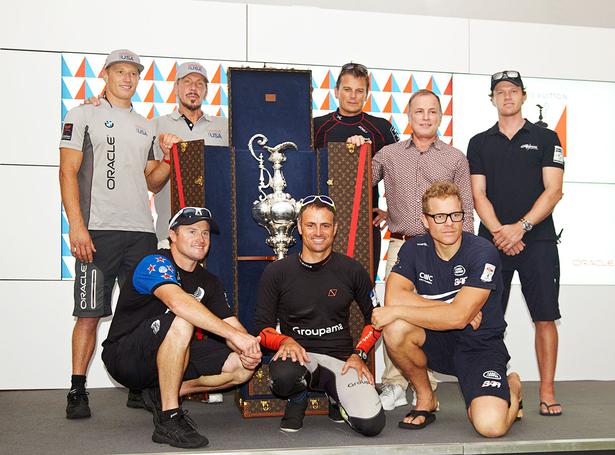 In a weekend that saw Emirates Team New Zealand sail into the third challenger series at the top of the table and Les Tricolores suffer a crushing defeat against the All Blacks in the quarter finals of the Rugby World Cup, I was feeling particularly patriotic. Burke laughs.
"Don't talk about rugby today. That was a blowout, the biggest in 109 years!" (New Zealand and France first played in 1906.)
Like the Rugby World Cup last month and the Fifa World Cup last year, Louis Vuitton's involvement in creating trunks to carry these trophies is an extension of its relationship with the sporting world, a world Burke believes is an important component in engaging the changing face of today's luxury consumer market.
"Sociologically speaking, there are four movements going on right now and they all intersect. These are fashion, sport, music and design. Because of the digital age, everybody is instantaneously engaged and that allows these four to interact in a much more fast-paced, organic manner. Much like in the 20s and 60s there were key moments when artists did engage with designers, but that was at a totally different pace and the interaction was not as ingrained.
"Today, when we do a fashion show there is art, music, design and fashion and that is what it is all about now. When they successfully intersect you create engagement — which is what we're in the business of. For us, it's extremely important to see how audiences engage with all four movements simultaneously."
The coming together of design and sports is a relationship Burke is proud of. From the technical uniforms worn by the sailors to the impressive technology that goes into the design and production of each boat (we were taken on a private tour of Team Oracle's headquarters the day before) it is easy to see how these worlds collided.
"If you are too steeped in the past you will die, worthy of a museum." says Burke. "You're not a living thing anymore and, therefore, not a living brand anymore. If you are just about technology and just about the future, you will become irrelevant very quickly, because somebody else will come along and outdo you with the next leap of technology. It is the junction and the journey of those two that defines the present."
I think of my own journey to Bermuda and why we are here. Other than a mention in the Beach Boys classic Kokomo ("Bermuda, Bahama, come on pretty mama"), Bermuda shorts and the mystique that is the Bermuda Triangle, my knowledge of the fish hook-shaped British Island territory was pitiful.
"You've really got to discover Bermuda from all angles, it's a very complex 20 miles," says Burke. "See it from the sea, land, bicycling, windsurfing and the air. It's one of the most extraordinary places to dive as there's about 500 years of shipwrecks to discover. That's quite an immense feeling. Discover the old towns like St George's, the oldest continuously-inhabited English town in the New World and of course the old naval yard. Everyone should see that part of history."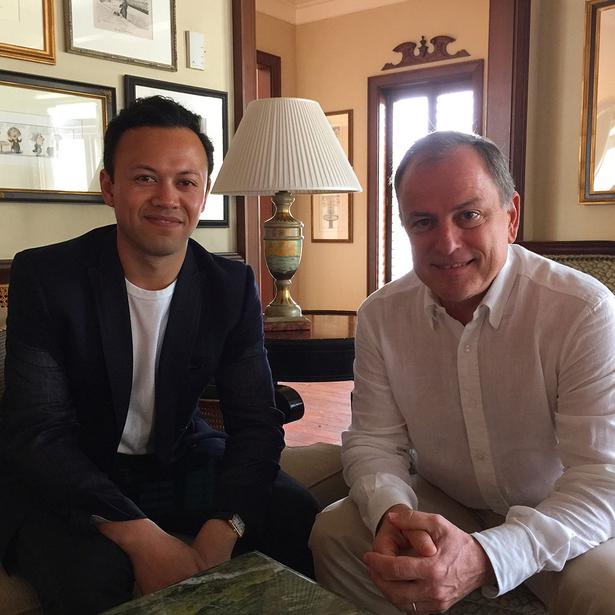 Halfway through our interview we are interrupted by an unassuming man, who on a closer look, is Louis Vuitton's menswear artistic director Kim Jones wearing a Hawaiian shirt. As the two casually chit chat, I resist the urge to run over like some fawning fan and tell him how I've long admired his work.
"I'll text you later," Jones says to Burke as he leaves, with the same natural ease one has when talking to a close friend or family member. Burke returns and picks up where we left off. "My relationship with Kim is very special. As with Nicolas Ghesquiere, the house needs to work on balancing the past with the present so the innovation the designers represent is always in keeping with our heritage. When a designer joins a historic house like Louis Vuitton, the designer will need to evolve, and when that happens, the house will evolve.
"The designer cannot come and believe they will shape the house to their liking. You're dancing with history. It's a pas de deux and the designer and the house have to evolve and they will write a new score together."
Jones' nomadic childhood saw the young Londoner travel with his family (his father was a successful hydro-geologist) through Africa and the Caribbean. So he is the perfect person to understand Louis Vuitton's travel legacy, eventually filtering that influence through subsequent collections for the house and its campaigns (the current campaign is shot in Jaipur, India).
To mark the brand's relationship with the America's Cup a special edition men's Cup Collection, designed by Jones, will launch in April 2016.
"If we were just a regular sponsor, it wouldn't resonate with our clients and press," says Burke. "It's by talking with Russell Coutts and discussing how this was all going to unfold in Bermuda over the next two years. If it wasn't for great product that you can purchase and wear, it wouldn't be as deep as an engagement with this sport."
The capsule range combines Jones' love of sportswear with luxury, and consists of backpacks adorned with the specially designed Louis Vuitton Cup America's Cup victory logo, lightweight shorts and slip-on trainers.
"What we want to offer is how you can dress elegantly strolling down a street in Hamilton (Bermuda's capital). It used to be there wasn't much difference between what the public and the sailors were wearing. Look at them today. You're not going to go to a barbecue dressed like that. But how do you dress as a spectator? That's what we want to bring to the party."
With Bermuda scheduled in the Louis Vuitton itinerary for at least two more years, you can expect even more from the well-travelled house. Just last May, Vuitton supported the 12th Havana Biennale in Cuba along with a riotous Cruise showing at Bob Hope's futuristic home in Palm Springs.
"It was an interesting time for people to discover the history of Palm Springs, the music, mid-century architecture, the progressive design of John Lautner and the myth of the LA dream." Burke reveals that the next Cruise collection will showcase in Rio de Janeiro, Brazil, next May, three months before the Olympic Games begin.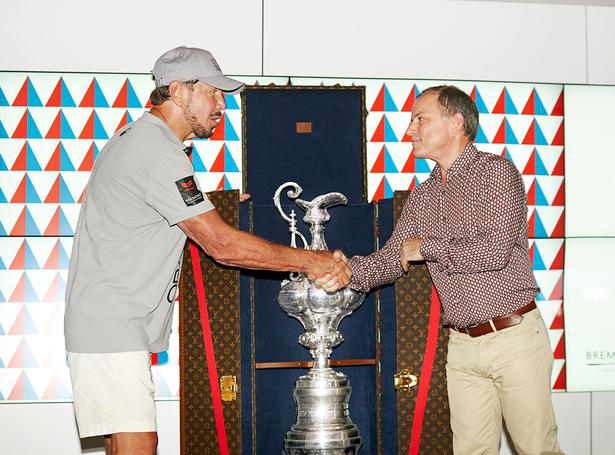 "It's going to be a discovery and journey into a different culture once again. Oscar Niemeyer is one of the most forward-thinking architects and the modernism that flourished in the 20th century in Brazil was unique, a real contributor to modernism for the 20th century, not in a passeiste way, but looking forward."
Looking forward has always been a part of the Louis Vuitton oeuvre. You only have to look at the recent Spring/Summer 2016 collection from Paris Fashion Week as an example of that ideal fully realised. Ghesquiere made a futuristic journey to the digital frontier, set to a thumping soundtrack of German electronica as models explored the runway like characters from Tron Legacy. Perhaps it's the house saying "next stop: time travel". It's an innovative concept, but you can't help thinking a radical leap into time is a challenge the brand would embrace wholeheartedly.
"Victory travels in Louis Vuitton," recounts Burke from his presentation speech the day before. "Just look at the America's Cup. It may sound corny, but when you dig down deep you see that one reason for eternity is that we all try to achieve it.
"Vuitton has achieved a certain amount of eternity, just like the Cup has, and whatever the challenge to achieve that, you know the journey will be worth it."

CHIT CHAT WITH MICHAEL
How I relax:
"I have five kids and they help get your mind off the daily humdrum. I also like to play golf and fix things. Today's world is so digitalised you lose connection with the tangible world, so I enjoy fixing things in the house. When you're doing that you're not thinking about your job and you're totally unwinding. It's a different type of meditation.
I also like to make things out of wood, particularly toys for my kids. It really relaxes you. There's something about wood, the graining, the scent, the texture. The beginnings of Louis Vuitton are with wood and he came from Jura region, where all these forests are. It's where he developed his love of wood, especially poplar, and is the basis of the classic Louis Vuitton trunk.
Last book I read:
"Psychologie des Foules by Gustave Le Bon (1895). It explores the nature of crowds and I found it very interesting and still applicable today. It's great for running a business. How do you get a crowd behind you? A crowd can turn left or right depending on the leader and the leader has an influence on what crowds do. I love reading old books became the English was much different — things were often written in much simpler terms."
Best piece of advice I can give to anyone:
"Find something you like doing and don't try to do what others expect of you. Very often I see people make professional decisions based on what their friends think they should be doing and, I wonder, why would you do that?"
Share this:
More Culture & Travel / Going Places