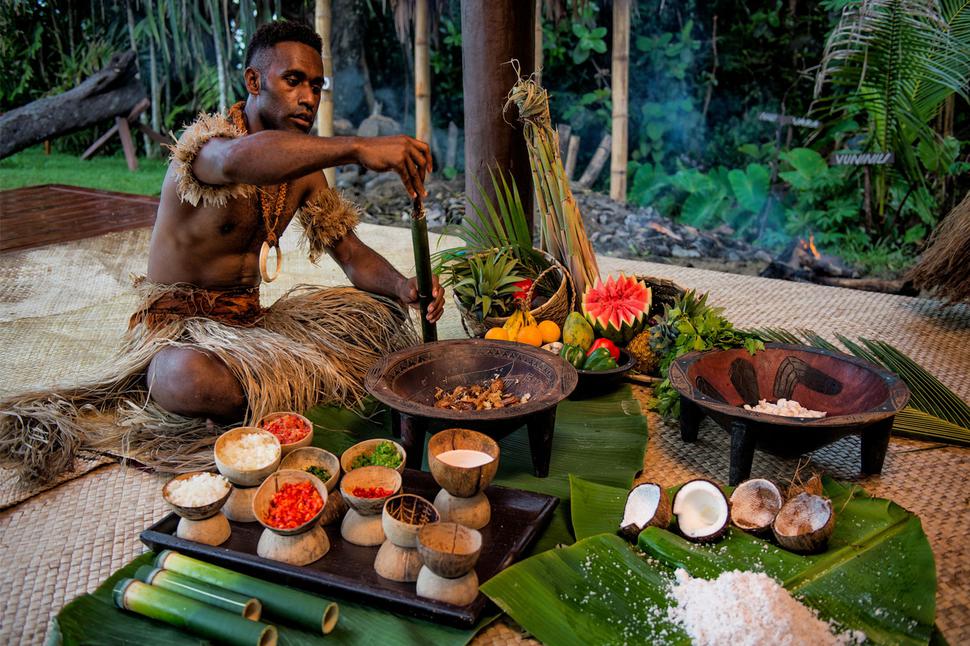 The Luxury Fijian Resort Championing Local Makers & Growers
Fijian culture and cuisine are the star attractions at this unique luxury resort where Dan Ahwa discovers an elegant escape with a focus on supporting local makers and growers
Sunday Sept. 16, 2018
I had one too many bowls of kava the night before, and now I am in a lagoon trying to stay upright on a raft made from strips of bamboo trunks lashed together. My guide, Tukini, a sprightly Fijian is crouching on a nearby bank, sheltered by towering mangroves, instructing me to paddle faster before I end up being swept away into the Pacific Ocean.
It starts to rain, and our attempt to find some fresh crabs comes to a fruitless end. "Turn! Turn!", Tukini calls, waving his hands in said motion. My core muscles begin to contract and I break into a cold sweat as my shirt and shorts cling to my body. I can unequivocally say that I feel absolutely appalling even before being soaked in a rain shower.
READ: The Most Elegant Stay in Flashy Miami
As I navigate my way back to land, Tukini grins and takes my photo as I muster a smile (read grimace), before heading back to complete our tour of the resort's aromatic garden. "The garden is our pharmacy," says Tukini calmly as I try to catch up, out of breath. "It's nature's grocery store."
I'm spending the next 24 hours at Nanuku Auberge Resort, part of the Auberge Resorts Collection, an award-winning boutique hospitality company with five-star properties around the world, including Aspen, Anguilla, Costa Rica and Napa Valley.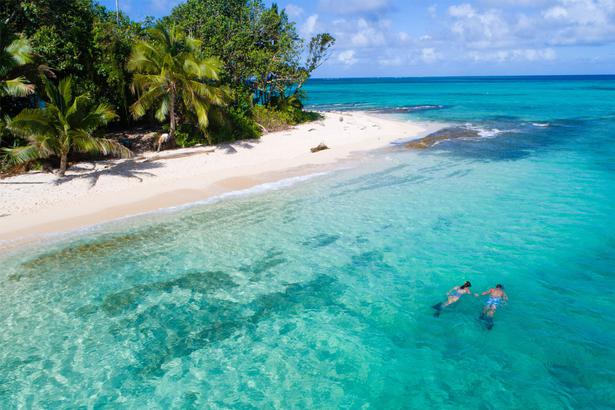 Snorkelling. Photo / Supplied

This Fijian outpost is an elegant addition framed by Fiji's rich Pacific heritage, a tropical oasis set on more than 3km of pristine beachfront on Fiji's southern coast, and an hour's drive from the nation's capital, Suva.

There are 24 suites with a further 13 new luxury villas due in November. It is stationed in what's described as Fiji's adventure capital, Pacific Harbour, and I wish I was here for much longer, if only to relish my villa's private beach access or enjoy room service in my pool house. If the corporate hush of places like Denarau has been your only experience in Fiji, well you haven't really done Fiji, have you?

Resorts like Nanuku pride themselves on being the antithesis of the usual tourist fodder by supporting local produce, makers and communities as much as possible, with Fijian culture and cuisine at its heart.

As with my 'Bilibili' rafting experience, mangrove crab hunting and medicine walk in the gardens to look at the traditional plants Fijians use for ailments and cooking, I'm enamored, despite my sorry state. My hangover quickly dissipates as the rain subsides and I embrace the resort's bountiful landscape, taking a big breath of fresh Fijian air.

READ: A Luxury Escape To Fiji's Kokomo Private Island

"That tree is the tavola tree. Good for the teeth. The coconut tree over there is the tree of life," Tukini says chuckling. "We use every part of the coconut." Whereas every raw food establishment back home has only recently cottoned on to the health benefits of the nut, Pacific Islanders have known this for centuries.

Like my Samoan grandmother, who grew up scraping coconut to use in cooking, I find myself scraping my own and squeezing the juice using coconut fibre in preparation for lunch. There's no discarding the shells either, they're used for kindling.

Guests are encouraged to take part in a traditional Fijian cooking class using ingredients sourced from its gardens and neighbouring villages and the experience leaves me feeling nourished. Men in traditional Fijian costumes take us through the necessities of preparing a Fijian "lovo" or feast, including scraping your own fresh coconut milk before pouring it inside hollow bamboo poles, combined with freshly caught prawns, ginger, garlic and onion before barbecuing on an open fire.

The emphasis on garden-to-table dining is what drew New Zealander Oliver Scarf to Nanuku. The executive chef since February, Oliver previously worked at Fiji's Laucala Resort in Taveuni, and back home at the eco-designed Te Waonui Forest Retreat in Franz Josef and at the George Hotel in Christchurch, where he was acting chef de cuisine at the hotel's renowned Pescatore restaurant.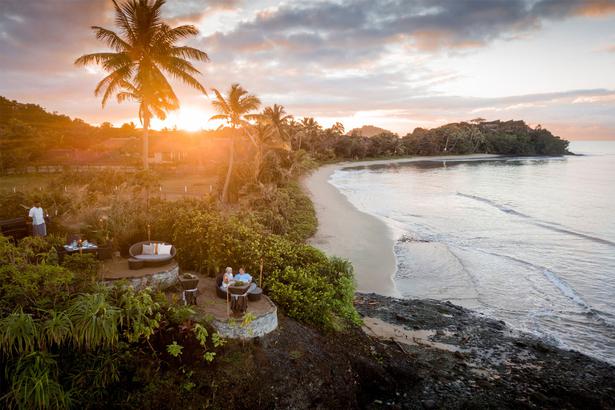 Private island dining. Photo / Supplied

"We try to create a menu that uses as many local ingredients as we can and that determines a lot of what we create," says Oliver. "It's a great way to support the local community and give back."

After I have devoured my prawns, Oliver suggests we take the short drive to visit the nearby Ranadi Organic Plantation, which has been operating for more than 50 years. It's Fiji's largest organic ginger exporter (supplying to some of our own drink and health brands including Phoenix, Hakanoa, Six Barrel Soda and Organic Mechanic), also growing a wide variety of other local produce like turmeric and more recently, vanilla. What's also significant is that 70 per cent of the plantation operation is by Fijian women, an anomaly in the country's agriculture firms.

Practising the highest quality certified organic, sustainable and biodiverse farming methods, the plantation was recognised in 2016 for its efforts, winning the Global GAP Award — a farm assurance programme translating consumer requirements into Good Agricultural Practice.

READ: What To Pack For A Tropical Getaway

Travelling between New Zealand and Fiji, Jodi Smith provides management of Ranadi through her company, The Earth Care Agency, a consultancy agency specialising in regenerative organic solutions for the agriculture industry.

Given the state of the world's food crisis, I'm impressed by the monumental efforts to find some alternative solutions from such a small nation. Guiding the business' transition from local to export business, Jodi stepped down from her role as CEO of Ranadi in 2017, handing it over to local staff to start her own business.

"I still consult to the plantation but I also deal directly with the growers and help them implement food safety and get organic certification," she says. "With Nanuku, the great thing about our relationship is we get their green waste and turn this into compost, which in turn feeds the vegetables we sell back to them. It's a really great way to create less waste and better business practice."

Although a tour of a local organic plantation may feel taxing if your plans for a resort holiday extend to only to sipping cocktails by the pool, it's highly recommended, if only to feel good about yourself on holiday for knowing the origins of your food.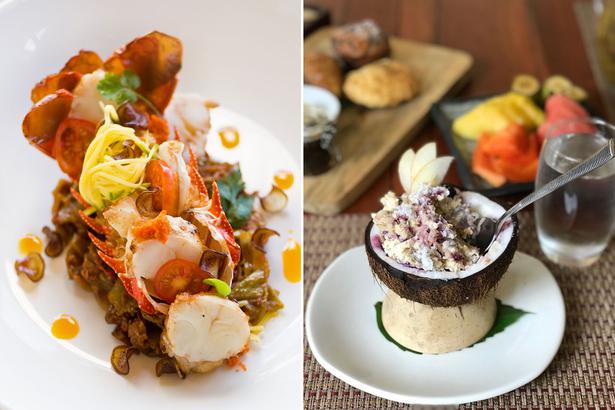 Oliver and I head back to the resort, where I sneak in a traditional Fijian Bobo massage at the spa before drink and dinner at the Kanavata Restaurant with Nanuku's director of food and beverage, Logan Miller, who tempts me with some locally made vodka mixed with kava. I take a whiff of my glass and tell myself "hair of the dog, c'est la vie, suck it up" and other mantras in the face of such generous hospitality, before knocking it back.
Logan offers me a bowl of taro chips in between more liquor tasting — Nanuku's own delicious organic rum and whiskey blends. Is there anything this resort doesn't make? Staying true to its efforts to support sustainability, the restaurant is devoid of plastic straws.
READ: 8 Bucket List Hotels Worth Travelling The World For
"By default, we started with the aim of supporting the community and it's always been how we create our food and the environment," says Logan, whose career working for some of the world's best hotels and resorts (Aman Resorts in the US and The Four Seasons in Sydney) means he's well versed in generous dining experiences.
"Food trends don't often relate to what we do, so we avoid them and Oliver is really great at making the most of updating the menu daily so it's in tune with what our growers and suppliers can offer. That is real luxury dining to us."
Our waiters transform into a band lulling us throughout a specially created menu that includes bresaola with palm heart and avocado, yellow fin tuna, pork belly with celeriac, finished with caramel poached banana.
I say a satisfied "Vinaka and goodnight" to Logan before heading back to the villa for a moonlit swim in the pool and passing out from a day of pure indulgence.
• 11 Nanuku Drive, Pacific Harbour, Fiji. Nanuku.aubergeresorts.com. Dan Ahwa flew to Fiji with Fiji Airways.
Share this:
More Culture & Travel / Going Places