Watch and Listen: Madonna's Most Stylish Music Videos
On the eve of her Rebel Heart concerts in Auckland, we look back on Madonna's most influential music videos that helped define the look of the times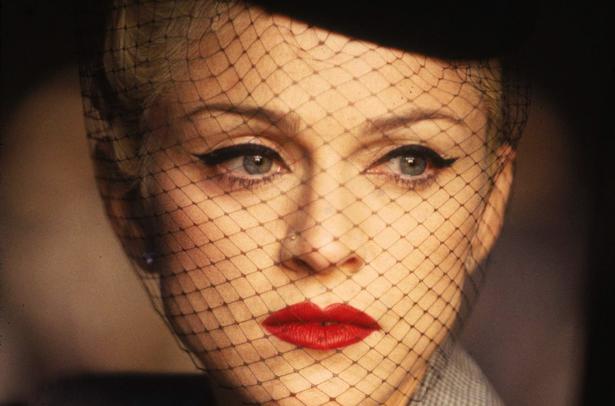 Friday March 4, 2016
Known for her constant reinvention, Madonna has been a pioneer for other fashion heavy pop stars from the last decade, from the ska-girl stylings of Gwen Stefani to the creative D.I.Y. looks of Lady Gaga.
While Madonna's more recent incarnations might not have had as much cultural impact in a saturated market where shock factor has become something of a novelty, many of her earlier music videos have provided ongoing inspiration for other artists. They are also a reminder of how image making and the relationship between music and fashion co-existed more freely in the past – compared to now, where sponsorship deals have superseded more organic relationships between artist and designer. The singer's favoured designers feature throughout her videography, from Jean-Paul Gaultier to John Galliano, Dolce & Gabbana to Dsquared.
READ: Get Madonna's many beauty looks
Cow girl, coquettish geisha, blonde bombshell, dominatrix, lounge lizard, 90s power dresser, silent film star, earth mother, Evita: the 57-year-old's exploration of fashion spans several eras, and has cemented her place as a pop cultural style leader.
On the eve of her Rebel Heart concerts in Auckland, we look back on Madonna's most influential music videos that helped define the look of the times.
Into the Groove (1984): 80s Madonna
Thanks to French stylist Maripol, Madonna's iconic mishmash of ra-ra skirts, fishnet tights and bleached hair became a defining look that legions of teenage girls copied during the 80s. The song also features in Madonna's debut film role in Desperately Seeking Susan.
La Isla Bonita (1986): Latin ruffles
A nod to her Latina roots, the track brought Spanglish pop into the mainstream. It also features a cameo by a young Benicio del Toro as Madonna dances around Spanish Harlem in voluminous flamenco style dresses.
Like a Prayer (1989): Italian slip dresses
One of Madonna's more controversial music videos, the clip featured the iconic image of the singer wearing a slip dress and cross pendant with an unruly head of brown curls surrounded by blazing crosses.
Vogue (1990): Old Hollywood
One of her more fashion heavy music videos, the song references both the Harlem house ball Vogue dancing community and the magazine. Directed by David Fincher, Madonna channels old film stars of the golden era of cinema like Marlene Dietrich and Greta Garbo. It was also the first appearance of the infamous cone bra by Jean-Paul Gaultier.
Erotica (1992): SEX
Madonna's most progressive fashion era during the early 90s was cemented by her coffee table book SEX, photographed by Steven Meisel. Footage from the making of this book was interspersed within the video to Erotica directed by Fabien Baron, known for his art direction of Andy Warhol's Interview magazine. It also features cameos from Isabella Rossellini and Naomi Campbell.
Take a Bow (1994): Pre-Evita
Madonna's campaign to secure the role of Eva Peron in the 1996 biopic Evita began with this music video styled by top fashion stylist Lori Goldstein, which saw her in full fitted 40s outfits by John Galliano, complete with face veil and gloves.
Bedtime Stories (1994): The Surrealist
One of the most expensive music videos of all time, clocking in at a total of US$7.6 million dollars, this video was inspired by female Surrealist artists such as Frida Kahlo and Leonora Carrington.
Human Nature (1994): The dominatrix
Clad in black PVC S&M outfits and a cornrow hairdo, the graphic video was directed by fashion photographer Jean-Baptiste Mondino.
Frozen (1997): Victorian Gothic
The debut single from Madonna's most critically acclaimed album to date Ray of Light saw a dramatic turn for the singer: wearing a gothic Victorian gown by Jean-Paul Gaultier with henna tattoos on her hands.
Ray of Light (1997): Double denim
Directed by Jonas Akerlund, Madonna's pre-Raphaelite curls, double denim and kabbalah bracelet spawned a new era of new age hippies that personified the early noughties.
Nothing Really Matters (1998): The geisha
A distinctive noughties electronic sound courtesy of English producer/musician William Orbit helped re-define Madonna's look during this era. Inspired by the novel Memoirs of a Geisha, the singer dons a number of Japanese kimono style looks, designed by long time Madonna collaborator, Jean-Paul Gaultier.
Tell Me (2001): Americana
The phase featuring all American wardrobe staples of denim jeans and plaid shirts accessorised with bedazzled belts. This era signified a shift towards influences closer to home, preceded the year preview by a similar look in the video for her cover of Don McLean's American Pie. Tell Me rounds out with Madonna surrounded by a troupe of cowboys wearing chaps designed by Dsquared.
Hung Up (2005): Disco
Sampling Abba's 1980 disco hit Gimme! Gimme! Gimme! and paying tribute to John Travolta in Saturday Night Fever and the Studio 54 era, this video featured Madonna in a pink leotard directed by fashion photographer David LaChapelle.
Share this: