SPONSORED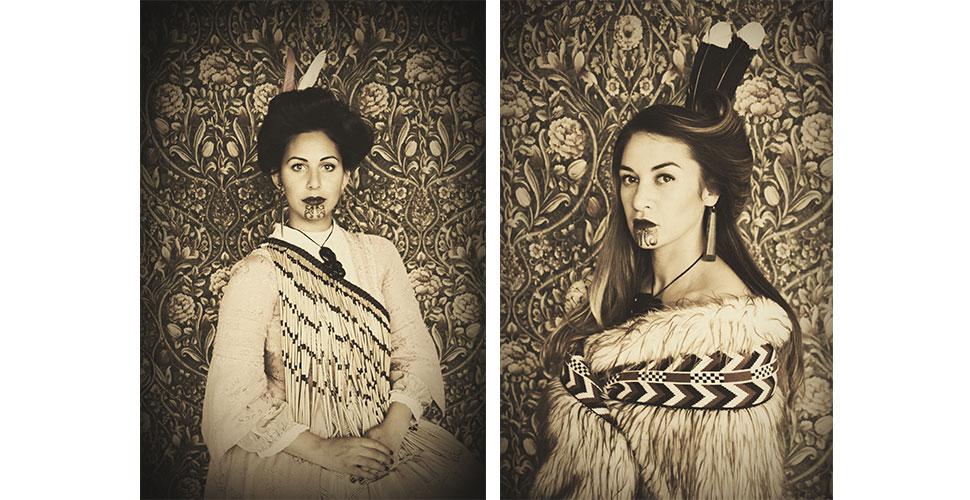 Making a difference: Taaniko Nordstrom & Vienna Nordstrom
Viva and Dilmah Tea celebrate women creating change for a positive future
Wednesday April 4, 2018
Hanging on the back wall of most marae, you'll find portraits of beloved tupuna. These pictures are revered and it's considered rude to point directly at them. For Taaniko Nordstrom, they sat in some corner of her mind and, while looking at old portraits during a trip to New York, they began to exert their influence.
Back in New Zealand, about a year later, Taaniko flung a duvet over a beam in her mum's shed to create a backdrop and experimented with making her own "old" portraits on an iPad, dressing up 19th-century style with a table skirting for a collar, drawing on kirituhi (skin art inspired by ta moko and kauae) and wearing a piupiu.
She found that these portraits had a power, too, and she convinced her sister-in-law, Vienna Nordstrom, who had a camera, to help her turn this into a business, which they called Soldiers Road. The pair headed to Kawhia's Kai Festival and shot 40 portraits in a day. The following week, they went to Waitangi and did another 40. They made a Facebook page and, Vienna recalls, "within four months of our first portrait, we had a booked-out, two-week trip to Australia."
During that trip, both saw a huge hunger for whakawhanaungatanga (connection). Their portraits are a way for people to literally see that connection. Sittings are often tearful.
"We get people coming who korero Maori fluently and share their pepeha and whakapapa with us on arrival, or we get those who only know that they are Maori, somehow, and that's it," Taaniko says. "Most are people who have looked at our images and felt something."
Connection was also felt among non-Maori, once styled, and Taaniko says seeing people moved or empowered by their encounter reassures her that this cultural give-and-take is tika (correct). The granddaughter of a Maori teacher, Taaniko's cultural knowledge was learned in her bilingual home.
"I was exposed to all sorts of different indigenous things, growing up. My mama felt heavily connected with Native American culture, and I grew up with huge portrait paintings she had done of Medicine Crow, and the sounds of Tiddas in our whare."
She admits that navigating cultural protocols is "tricky", but says "as long as you're stepping to it with good intent, the result will always be good". She loves to blend different cultures' clothing and props, to reflect the mix of ancestry in families or within her own history. She has a kimono given to her by an elderly woman who hosted her family during a teenaged trip to Japan, and a Pendleton blanket a Native American aunty in Utah.
"I figure culture itself is fluid," she says. "It moves and blends quite easily and nicely, one with another. It's people who put up barriers. Obviously there is tikanga to be aware of and we have definitely pushed boundaries, but the key to navigating this is education. If it doesn't feel right, I won't do it."
A thriving business, Soldiers Road has grown in ways the Nordstroms couldn't have foreseen. They still hold monthly studio days where you can have your picture taken for $100, or book a private shoot for $150. Copyright is not retained, as ownership is an uncomfortable concept for the pair, who took the name Soldiers Road in a gesture of restitution — it's part of a huge parcel of land confiscated from Maori after the land wars.
They've now taken portraits in New York, Los Angeles, Paris, London, Hawaii and all around Australia. They've done presentations for Tourism New Zealand in Berlin, next month they'll be in Mumbai, and hope to be at the Rugby World Cup in Japan. This year, they intend to employ more photographers and stylists to aid expansion. Their latest move is perhaps the least glamorous and the most rewarding. They've gone into Waikeria Prison to take portraits of men there, joining the Te Ao Marama Maori Focus Unit, which helps prisoners reconnect with their Maoritanga.
Taaniko sees this as a way of replenishing the well. "Culture is a reciprocal source," she says. "If you just take, take, take from culture, it will dry up. If you use and replenish, that's more sustainable. That whakaaro [thought] is what got us into Waikeria: how can we give back to Maori, since until that point, we had used Maori culture so heavily."
At the prison powhiri, they put on their toughest faces as they were met by a huge group haka, then inevitably broke down into tears. "We looked at each other and knew that we were in the right place for what we wanted to do — to help these men see themselves from a different perspective," Taaniko says. "They would be tupuna for people one day. How would they like to be remembered? What image could we create so that their children could see them as something more than just "Dad who's locked up"?
Before taking portraits, the pair required the men to write letters to their tupuna, letters they say are often incredibly sad. The men are presented with their portraits at graduation, and a copy is sent to whanau to hang in the home, subtly altering perceptions of the subject ahead of his return home.
None of this is a money-spinner, obviously. It's all self-funded. But Taaniko says, "we figure if we just keep wanting to help people change for the betterment of themselves and their whanau, we will be blessed."

• This is part of special Viva and Dilmah Tea editorial series celebrating inspirational women excelling in their careers.
Share this:
More Culture & Travel / Features & Profiles