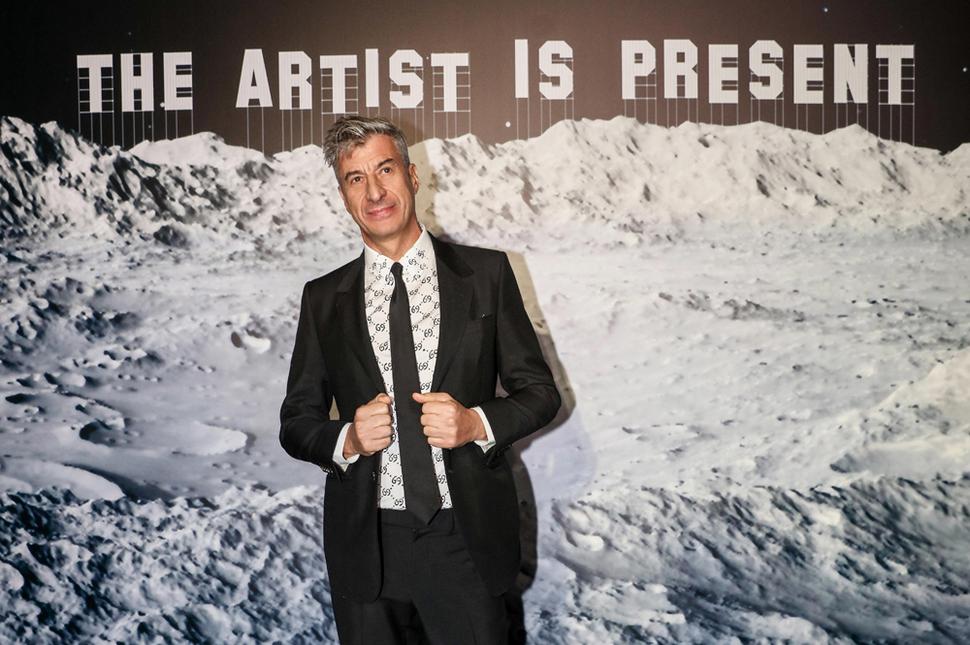 Maurizio Cattelan On Working With Gucci's Alessandro Michele & Why Originality Is Overrated
The Italian contemporary artist talks to Dan Ahwa about his latest exhibition 'The Artist Is Present'
Wednesday Nov. 21, 2018
Maurizio Cattelan has been described as the Buster Keaton of the art world, the Italian prankster trolling the art community with his bold and sometimes controversial works.
The 58-year-old's portfolio of satirical creations includes sculptures of Pope John Paul II struck down by a meteorite (La Nona Hora, 1999) and a fully functional replica toilet cast in 18-karat gold, installed in the Guggenheim museum bathrooms for visitors to use (America, 2016), earning the 58-year-old the reputation of an art world enfant terrible.
READ: Inside The New Gucci Garden In Florence
When the White House requested a painting by Vincent van Gogh for the private living quarters of Donald and Melania Trump, the Guggenheim's chief curator and artistic director Nancy Spector declined, instead offering the $1million dollar toilet as an alternative. Divided into 16 rooms, The Artist Is Present features a mixture of art including sculptures, video projections, live performances and paintings.
Maurizio's own miniature version of the Sistine Chapel complete with copies of Michelangelo's heavenly painted ceilings is a highlight; as is 'Power Toilets' an extraordinary replica of the rather unremarkable toilets of the Council of the European Union.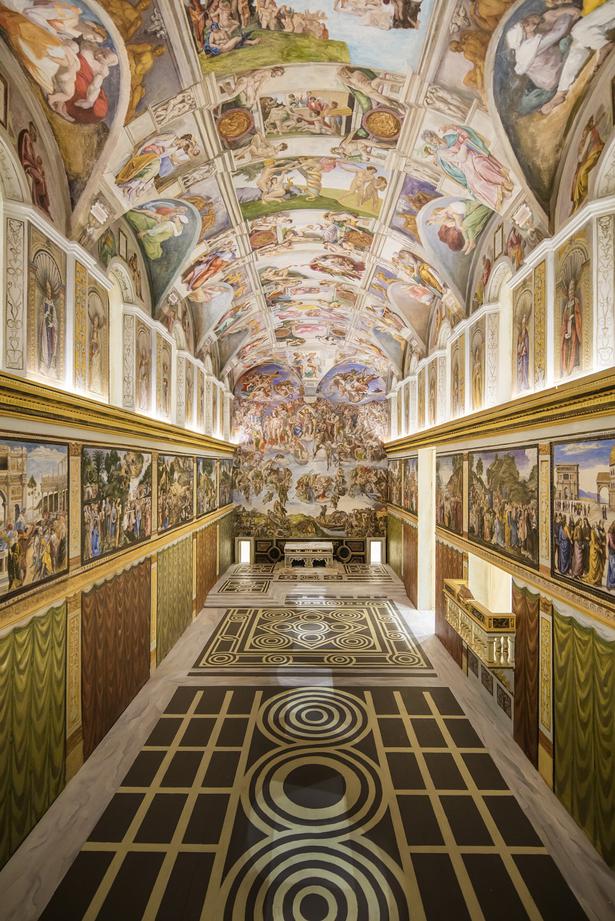 Untitled by Maurizio Cattelan is a miniature replica of the Sistine Chapel complete with copies of Michelangelo's paintings. Photo / Supplied

"Alessandro [Michele, Gucci's creative director] came to me with two words: Shanghai and copies" says Maurizio. "He dared to assign this task to me, an artist not really appreciated by Chinese Authorities, and I was given a total freedom of choice regarding artists and their works. A complex exhibition like this one is never reducible to one clear concept, and this is what I love about art, and what Alessandro respected from the very beginning. We share genuine respect towards what preceded us, and at the same time we are staunch supporters of the idea that the copy is the original. We found ourselves halfway, were iconography meets icons, and were celebrated originals become timeless icons, through a simple act of repetition and propagation."

What made you look to Marina Abramovic's 2010 exhibition The Artist Is Present for inspiration for this exhibition? Do you know how Marina reacted to it?
When we started thinking about this exhibition and the originality of the copy, we tried to embrace and explore the whole universe this word is composed by. We began thinking in a new way, transforming our minds trying to give new definitions to some of the ideas that seemed so natural to us, like originality and authorship.

And the title was a starting point, of course, because you can immediately understand what our intentions are: to give a second life to things that already happened, through the act of copying them. The presence of the copy instead of the original, so that the copy becomes the original, is one of the issues we are obsessed by, lately. I hope she understood it as I intended it: my personal way to pay homage to her.

WATCH: Maurizio Cattelan in Shanghai
What was it like working with the Yuz Museum?
While the space of the Yuz Museum is incredible, we decided for a big operation of imagining a new space in the space. We are working with architects and builders to create a path for the viewers to get lost inside our heads for a while. Obviously, this would not have been possible without a beautiful space to start from.
Having spent some time in Shanghai, why was it important for you to present this exhibition there?
As I'm sure you can tell, Shanghai is the perfect setting for a copyright crime such as this show, but not for the most obvious reasons. While flying to Shanghai I was reading a book about the concept of imitation, copying and counterfeit in the Eastern culture, and the fact that originality and copy are relative concepts, that can change their status depending on the context.
It's almost incomprehensible if you approach this idea through a Western gaze, but it seemed crystal clear to me from the very moment I read it. Even the Duomo in Milan has been partially rebuilt with newer materials to ensure its durability in centuries, as the Buddhist temples are, and no one would argue that it's not the important monument it was before when it was falling apart. This fascinating concept has been part of the Eastern culture for ages: a copy doesn't mean a lack of uniqueness, but rather play an equivalent role to the original.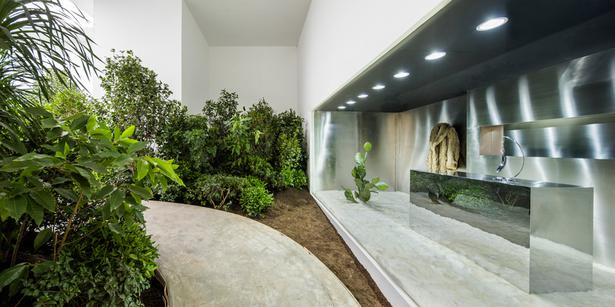 What was the process like working with some of the Chinese artists in the exhibition? Can you share some of your personal favourite works from the exhibition?
I always try to be very respectful of others' works, but without becoming submissive. Artist-curated shows are interesting to the extent that they can trouble our very understanding of notions such as "artistic autonomy" and "authorship" and dismantle the idea of the exhibition itself. Of course, this can make some artist sceptical of the result, but, you know that saying, nothing ventured nothing gained. We are missing some in the art world braveness, both on the artistic and curatorial sides of the river. I believe we should start to take some risks.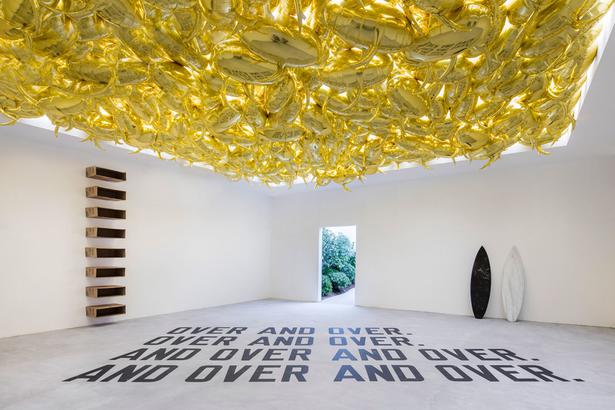 The idea of copying presented in the exhibition reveals a lot about contemporary society, and the need to change our attitudes to the idea of counterfeit. Can you expand on this concept further?
Starting from its title, The Artist is Present aims at questioning what copying can be if we disregard every negative connotation and begin looking at it from a wider angle. Appropriate and copy, in this vision, can be seen as an act of love and respect in confront of the original. Creativity to me has always been related to the skill of sharing and editing, since the very beginning of art history.
It's the nature of representation: primitives painted on the wall of their caverns the haunting scenes so that their descendants can learn how to get food. When the show will be finished, the title itself should remain as an occasion to tell a story. And I can already imagine people telling it: Once upon a time, there was only one The Artist is Present. Then, there were two.
WATCH: Gucci Spring Summer 2019 Collection In Paris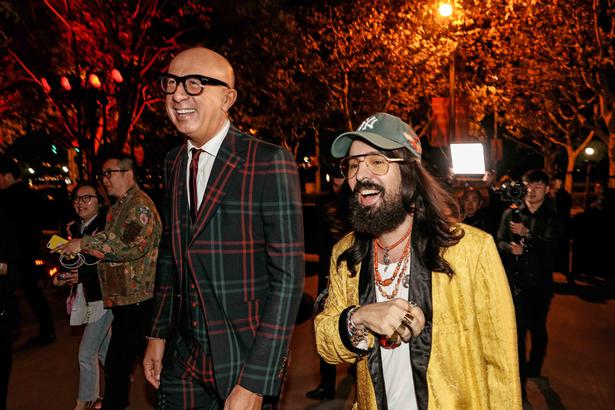 I love seeing your irreverent approach to using social media, specifically your single posts on Instagram. What are your thoughts on how art and artists utilise Instagram to communicate ideas and work? Do you think it's a good thing?
The most interesting works and shows I have seen are those where you see an unfinished struggle, where you can glimpse a deep mystery, a secret. These kinds of mind-blowing encounters are more and more rare. I feel that in olden times the whole effort consisted in trying to identify reality; today, it's just the opposite. Today, we can't get a grasp on anything, and I find this extremely fascinating. From this point of view, Instagram images are often more real than real life, at least that is what people want to show about themselves.
 What are you working on next?
The future is unknown but the forecast is good. 
The Artist Is Present is on display until Sunday December 16 at the Yuz Museum in Shanghai.



Share this: