The Magnificent Meena Harris
The American entrepreneur, political activist and author talks ambition, women-founded business and self-care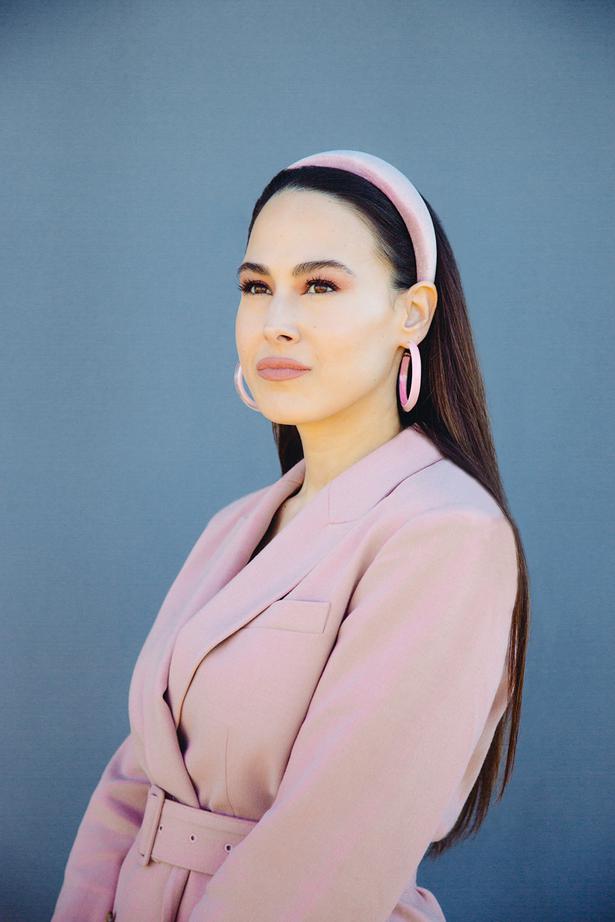 Wednesday March 10, 2021
Here are a few things that Meena Harris has done thus far this year: in January she released her second children's book, Ambitious Girl, quickly becoming a #1 New York Times bestselling author.
She stood on the platform at the US inauguration alongside her family to watch her aunty Kamala Harris (with whom she is extremely close) take the oath and make history as the first female Vice-President of the United States.
She posted a selfie on the 'gram wearing a peach-coloured sweater, embroidered with the words, 'impeach the motherfucker'.
Her politically conscious brand Phenomenal launched a pastel-hued clothing collaboration with Shonda Rhimes' Bridgerton series.
She shared her support for the farmers' protests in India, posting on Instagram about the threat of fascism and militant nationalism; she also shared her support for Meghan Markle amid the tabloid storm ahead of her Oprah interview ("Keep Meghan Markle's name out of your damn mouth. You are racist," she wrote on Twitter).
And just this past weekend, she wrote an essay for The Washington Post about the Dr. Seuss debacle, and the need for more inclusivity in children's literature.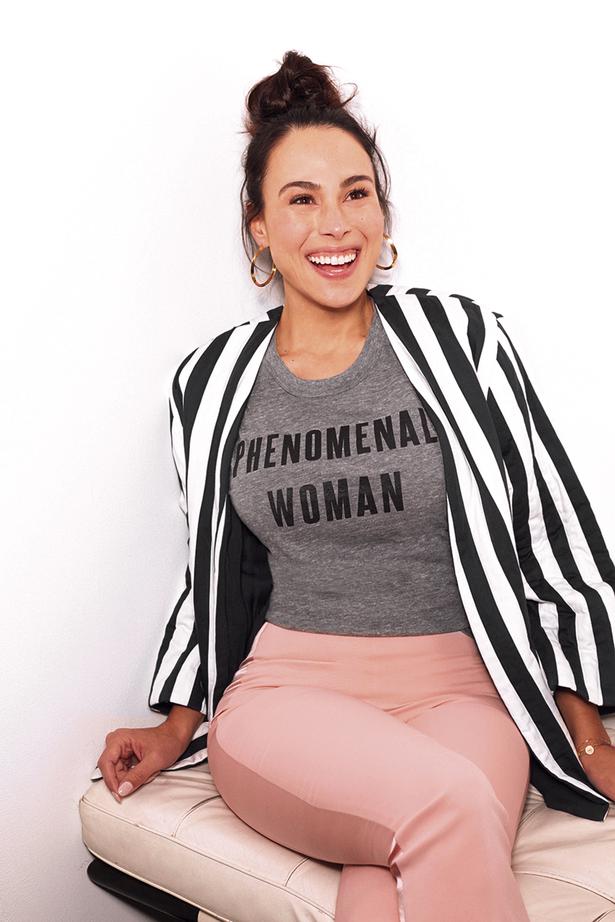 Photo / Thomas Whiteside

These are just the things in the public eye. While many of us are taking it slow during the pandemic, Meena's life, career and ambition are in overdrive — and reflective of a uniquely 2021 balance of the political and playful.

If you are perhaps unaware of Meena Harris, it's likely that you are not online very much.

On Instagram she is on first-name-only basis (@Meena) with 812k followers, and she is undeniably connected within high-profile and influential circles (friends and supporters include Serena Williams, Jane Fonda, Lizzo, Laverne Cox, Jessica Alba, Mindy Kaling, Tracee Ellis Ross, Lupita Nyong'o and more).

The 36-year-old entrepreneur is an in-demand woman (this interview was near impossible to pin down), part of a new generation of outspoken and socially aware leaders using their platforms to foster positive change.

Based in San Francisco with husband Nikolas Ajagu (whose Dior Air Jordan 1 sneakers at the inauguration became a delightful Hypebeast meme) and young daughters Amara and Leela, Meena is the founder and CEO of the ever-growing brand Phenomenal. (She is also an attorney, graduating from Stanford University and Harvard Law School; and previously worked at Uber, Facebook and Slack.)

Meena's latest gig is as "muse" to Monday Haircare, partnering with the buzzy New Zealand-based brand as it launches into the lucrative US market.

READ: Why Kamala Harris' Stepdaughter Ella Emhoff Is Our New Style Crush

Monday's muses act as symbolic representatives for what the brand stands for (they also all have substantial social media followings) — when it launched here, Monday partnered with the likes of Georgia Fowler, Beck Wadworth and Samantha Harris.

For Meena, the partnership is a simple reminder of the importance of looking after yourself in ways that feel easy and accessible.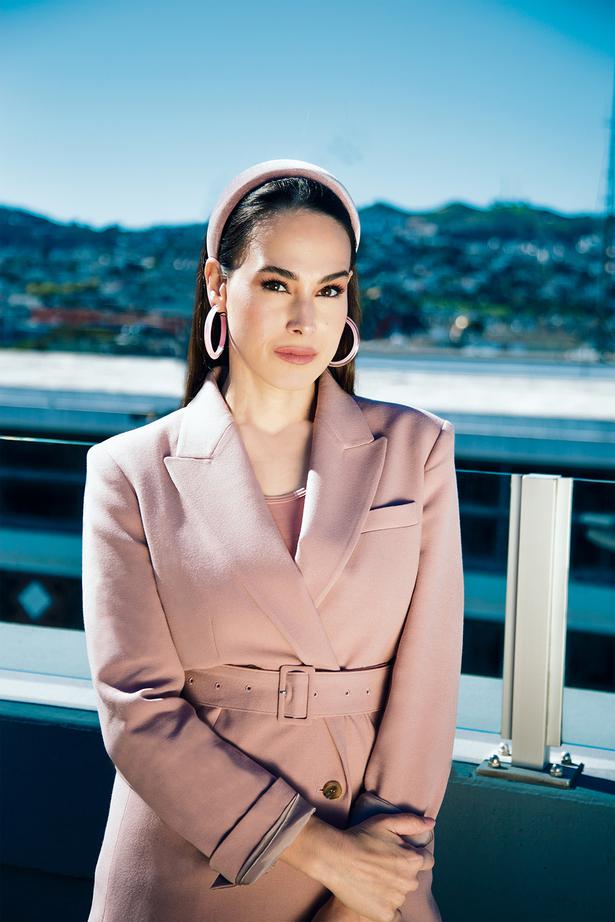 Photo / Megan Lovallo

"Obviously, there's nothing positive or redeeming about the pandemic. But we each have to seek out those silver linings that keep us sane — and keep us going," she explains. "For me, one of the most important has been letting go of things that are out of my control — and taking self-care wherever I can get it. Even something as simple as just enjoying my shower, washing my hair and feeling like I'm taking care of myself.

"That's what drew me to Monday. The packaging is exquisite — it feels like a luxury product, but it's affordable. Accessible. Making things more accessible in every sense is, for me, another major running theme of the pandemic."

For Monday founder Jaimee Lupton, Meena's standing as an accomplished and dynamic woman — lawyer, former tech exec, mother, NYT-bestselling author, CEO and entrepreneur — made her an ideal brand partner.

"She's so relatable when it comes to what she shares with her audience and doesn't seem to hold back when it comes to her values and what she believes in. You just want to be friends with her."

Or, family. Meena comes from a matriarchal line of high achievers.

There is her aunty Kamala, yes, but her mother and grandmother are equally accomplished: mum Maya Harris is a lawyer and former senior policy adviser to Hillary Clinton, while her grandmother Shyamala Gopalan was a world-renowned scientist and breast cancer researcher.

Meena's mother had her at age 17 as a single mother, so she was raised by these three phenomenal women who taught her valuable lessons about self-worth, public service and ambition.

It's no wonder she grew up to find success of her own as a lawyer, and later as an entrepreneur.

READ: Inaugural Poet Amanda Gorman's 'The Hill We Climb' Reignites The Power Of The Spoken Word

Her company Phenomenal launched in 2017 on International Women's Day as a social-impact initiative, named after a 1978 Maya Angelou poem ("I'm a woman, Phenomenally. Phenomenal woman, That's me").

Initially it offered a small run of grey T-shirts printed with the simple but purposeful slogan "phenomenal woman", with proceeds going to women's organisations like Planned Parenthood.

After selling out, the concept grew and grew, and now Phenomenal offers statement T-shirts and hoodies supporting a variety of social campaigns (there's also a swimsuit with Ruth Bader Ginsburg's face emblazoned across it).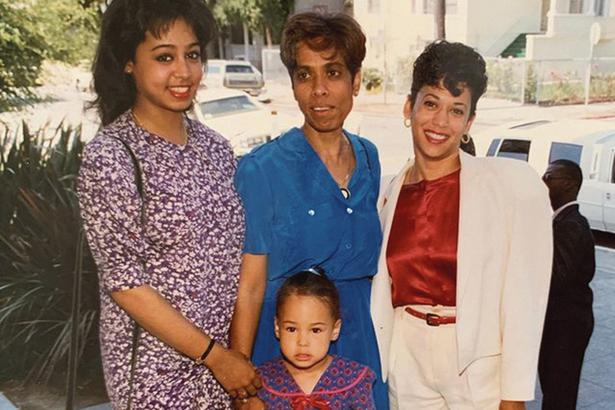 Meena with her mother, aunt and grandma. Photo / Supplied

Today it's expanding its messaging beyond slogan tees; in December, Meena announced the launch of Phenomenal Productions, a creative production house for non-profits, foundations, causes and companies with former Funny Or Die executive and Obama White House alum Brad Jenkins.

Meena admits that in the past year in particular, the word phenomenal has come to take on different meanings on different days.

"If I'm being honest today — as many of us are still just trying to survive a global health crisis — it just means trying my best," she says. "One of the biggest lessons I learned this past year was to let go — let go of the things I can't control, let go of my own unrealistic expectations of myself. If trying my best is the best I can do, that's something to celebrate as phenomenal."

When asked about one of New Zealand's most high-profile 'phenomenal women', Prime Minister Jacinda Ardern, Meena expresses her admiration.

"I can't claim to know much about New Zealand politics. Over the past few years, politics here in the US has been pretty exhausting and all-consuming on its own. But, of course, Prime Minister Ardern is hugely well-known outside of New Zealand — and I've been so inspired to watch her lead so effectively, and with such grace and compassion and optimism, during such a calamitous time.
"When people say things like 'the future is female', Jacinda Ardern is exactly what they mean."
Ambition is another word that has come to be closely associated with Meena, through her children's books and as a champion for young women; something that makes her feel "a great sense of responsibility".
Her own ambitions have evolved and continue to do so.
"Keep doing the work. Stay focused in a world of distractions. And be kind to myself," she says of her current personal and professional ambitions. "I know this sounds deceptively simple. But the fact is, we're all still living through an unprecedented global crisis. It's exhausting just to exist these days, let alone try to be productive. So I try to remind myself to focus on what is within my control, and to let go of the things that are not. My personal motto is, 'No one can do everything, but everyone can do something.'
"Which is not a bad way to think about ambition at a time like this one: if you focus on the difference you can make, even at a microscopic level, right now… you never know where it will take you."
Share this: