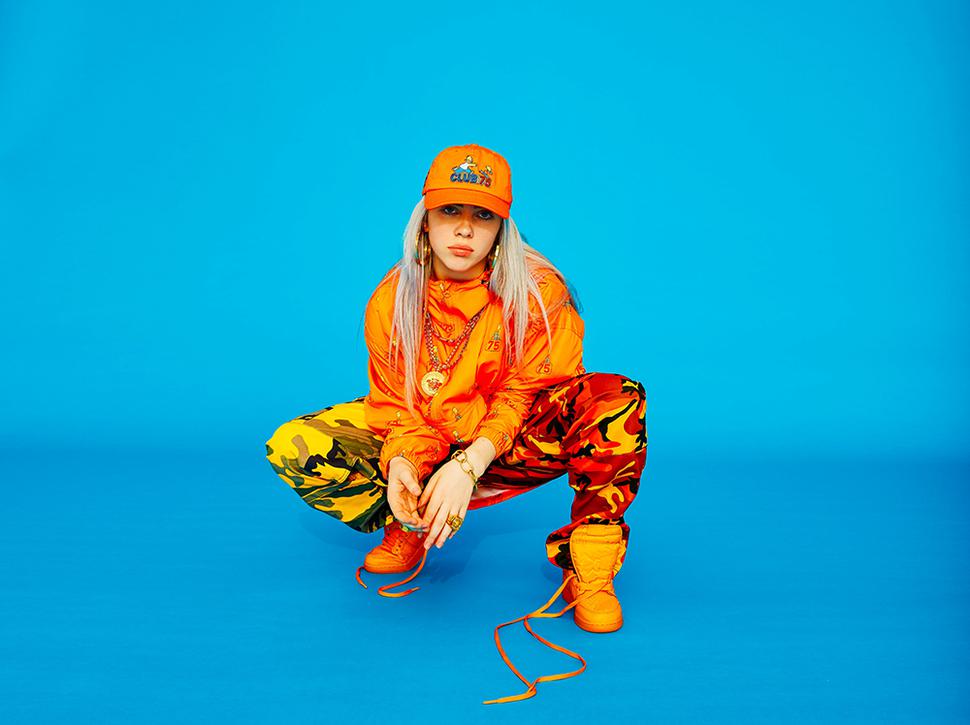 Meet Billie Eilish, The 16-Year-Old Pop Star Prodigy
We talk to the teen singer-songwriter about her love of zombies, thrift shopping and standing out from the crowd
Wednesday July 11, 2018
"It sounds like a love song but it's actually based on the walking dead," says Billie Eilish about her first song ever written. 
At just 16-years-old, and already a mega-pop star, Eilish is used to trading typical teen heartbreak for the likes of a zombie apocalypse, or something else dark and imaginary she's dreamed up from her L.A home. 
Take the song Bellyache, undeniably one of 2017's catchiest tunes, which was written from the point of view of a teenage killer but pretty enough sounding to be played by teenagers without their parents blinking an eye. 
"I get inspiration from anything," explains Eilish. "I don't think you have to go through something to write about it. It's more freeing to just look around you and create."
READ: Favourite Things: Singer-Songwriter Tami Neilson
Eilish blew up two years ago with the song Ocean Eyes, which hit over two million streams after being self-released on SoundCloud and soon resulted in a deal with Interscope Records. Her moody hip-hop inspired debut EP Don't Smile At Me followed next and has taken the forceful talent around the world to perform. She visited New Zealand in 2017 to perform at Auckland's Laneway Festival. 
She's also climbed the charts with collaborations with bigtime rappers like Vince Staples and R&B artist Khalid. The fellow teen sensations first met over Twitter DMs two years ago, "before he blew up and before I was anything," says Eilish and wrote melancholy duet Lovely after hanging out in L.A this year. It's since appeared on Netflix's second season of 13 Reasons Why.
READ: Singer-Songwriter Nadia Reid's Essential Winter Playlist
"It was a really natural process of working together. We knew each other when there was no hype around us so it shows me how much we respected each other for our art," says Eilish. Both Khalid and Eilish have been featured as Apple Music's UpNext artist, a nod to new talent in the industry.
For all that success, it's hard not to bring up her age, which Eilish celebrates. "For some people, that's all there is, but it doesn't define me," she says. "It's tight to be this young. There are so many young artists right now. I'm proud to be in it."
 "I don't feel pressure to be something different because I am something different. There's no point trying to be the same as everybody else."
READ: Singer Jamie McDell's Beauty Routine
Her look - silver-dyed hair, oversized neon tracksuits and chunky sneakers - is also part of the Eilish package, and her Instagram @wherearetheavocados is the delight of her fans who look up to her individual style. The account has over two million followers and shows off her thrifted and custom-made ensembles. 
"A lot of artists have stylists that make them look like someone they're not. I've never been that way. I have to do it all myself," she says."I've always worn stuff that makes people look at me. I like being judged."
Growing up in L.A, Eilish was home-schooled by her parents, along with her older brother, Finneas O'Connell. Her family is talented music bunch, and Finneas produced Eilish's debut EP when he was19.
"My mum taught me how to write music, and my dad how to play the piano. But the thing is I never started singing or making music; it was already there in the first place," says Eilish.
"I knew from the start that music was all I wanted to do. There was no point in school."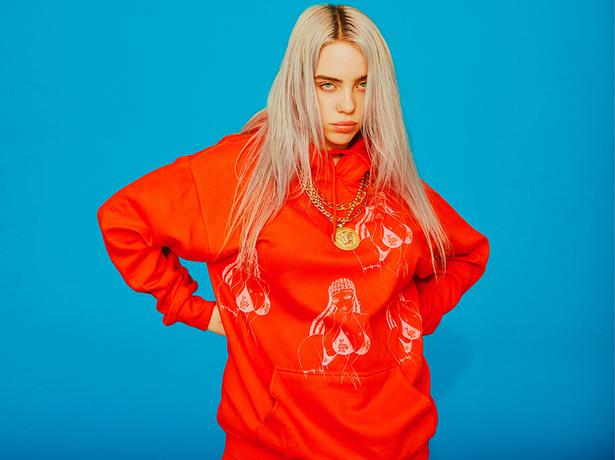 The siblings, who still work together on music, grew up listening to The Beatles and Linkin Park, but it was the radical beats of Tyler the Creator and Childish Gambino she heard at age 11 that really sparked things, she says. "The world of rap and hip-hop has made me who I am."
READ: Pop Sensation Halsey on Her New Single and Evolving Style
The viral success of Ocean Eyes, written as a homework assignment with her brother, was completely unexpected, she says. "We made it because it was fun. We didn't put it out wanting to get famous. It really did go over my head at first. That sort of thing doesn't seem like it could happen to you."
Share this: