Meet King Princess, Pop Music's New Queer Icon
The talented Brooklyn singer-songwriter on staying unapologetically herself in the music industry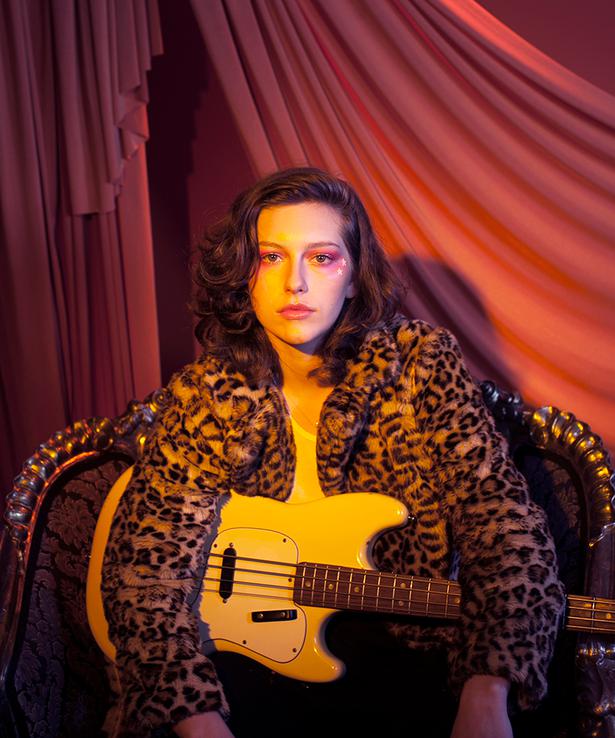 Wednesday Nov. 21, 2018
With only six songs released since February this year, the 19-year-old singer-songwriter from Brooklyn has forged an intense fan base and plenty of publicity for her proactive, and at times explicit, embrace of queerness in the music industry — her new single is called 'Pussy is God'.
While her following is mostly "the ladies and the gays", she tells me, audiences of all kinds are taking notice to her addictive pop hooks and multi-instrumental talents.
READ: Meet Billie Eilish, The 16-Year-Old Pop Star Prodigy
King Princess (born Mikaela Straus) made her way to New Zealand for the first time this month to perform at Auckland's Powerstation. She swaggered on stage in a blue boiler suit, shouted out "I love you" to fans, and brought a drag queen for the finale. After the show, she met New Zealand rapper JessB for a late-night karaoke session.
"I'm such a big fan. Her music is fire," says Straus the next day, lounging back on a couch in her low-key look of cut-off jeans and checked Vans.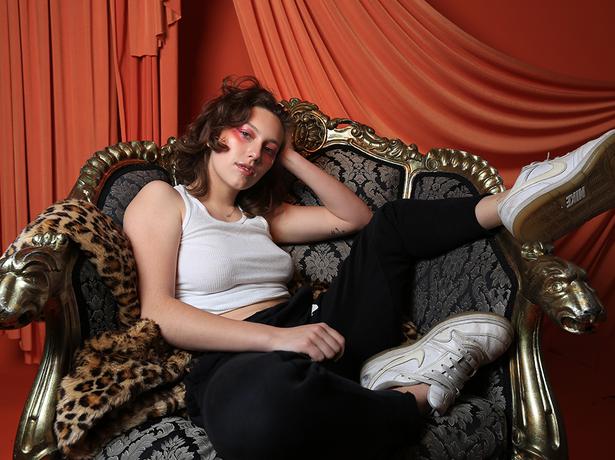 The Brooklyn native says a career in music was "always going to happen" after literally growing up in a recording studio. Her father, Oliver Straus, is the owner of Brooklyn Mission Sound which has engineered records for the Arctic Monkeys, Cat Power and The National. Her upbringing was entrenched in musical education and set to the sounds of heavy rock and Motown. Favourite albums include Zeppelin's Physical Graffiti, while Cher and Tina Turner have inspired her on-stage presence.
By the time she was 11 a record deal was on offer, but her parents insisted she attend private school in the city first, so Straus took to writing songs alone on her rooftop at night as a daily respite from the so-called "toxic hell hole of wealth". At 17 she moved to L.A (where she lives now) to do a year in the pop program at the University of Southern California and wrote her first EP, Make My Bed, in her dorm room before leaving to focus on music full time.
READ: Pop Superstar Dua Lipa Shares Her Health & Fitness Secrets
The EP which was soon discovered by Grammy Award-winning producer Mark Ronson who made King Princess the first signee to his new label Zelig Records. The pair have a close working relationship and Straus affectionately refers to him as "poppa Mark" and "label daddy".
The breakthrough hit '1950' off the EP which takes inspiration from  America's gay history was performed as a TV debut on BBC's Later... With Jools Holland in September. The song now sits at 124 million plays on Spotify and was nudged further into the spotlight by pop superstar Harry Styles who tweeted out the opening lyrics to his nearly 33 million followers.
Styles is an active supporter of the LGBTI community, and Straus is finding herself in a similar position as a role model.
"It's crazy to think about how I've changed someone's perspective on how they view themselves because they can see somebody onscreen that is proud of the people they love. I remember feeling that way growing up about the representation that was half as good as what we're getting now. There's a whole community of queer artists," she says.
King Princess joins other queer voices like Troye Sivan and Perfume Genius making waves in mainstream music and says her success wouldn't have happened a few years ago.
READ: Marlon Williams On His Mercurial Year
"I would not have been accepted as an artist even four years ago, but in 2018 the same white, homogenous straight music isn't cutting it anymore. People are bored. The label system has realised that and is now selfishly taking the step towards diversity. But it's good for us. Queer artists should be infiltrating because we now have a lane. That's what I feel I'm doing right now."
Ultimately she wants labels ditched and music judged on merit.
"I want to be seen as a gay person, but I also want to be seen as a talented musician. Right now, we're not in a place where we can say gender or sexuality doesn't matter. The industry is getting there but until we are I'm proud to be representing the gay community. If that needs to be loud and proud and talked about all the time. I'm down."
Share this: