Live Like a Local: Melaina Newport and Rakai Karaitiana, Design Store Owners
Design store owners Melaina Newport and Rakai Karaitiana share their lifestyle secrets and favourite spots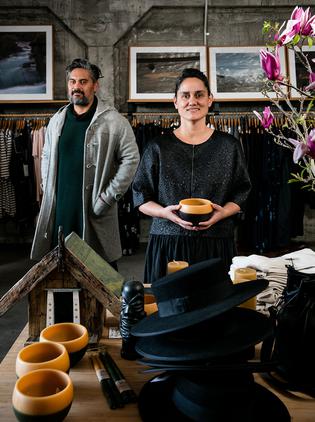 Whanau is at the heart of everything Melaina Newport and Rakai Karaitiana do. After they studied fine arts in Auckland and Melaina fell pregnant with the first of their three children 21 years ago, they returned to the region where they had grown up so they could be near their parents and grandparents, and reconnect with their marae at Waimarama. Even their Napier design store, Aroha & Friends, is a family affair — their eldest son's partner, who works in the store, is due to have a baby in December.
"A lot of people like to come back here," says Melaina. "The schools are good, the weather's good. For a small province it's pretty diverse. There are all sorts of people who live here. It's pretty kooky."
The couple started Aroha & Friends 11 years ago, outgrowing their former space and moving into their Ahuriri warehouse, which they share with Smiths cafe; owner Jennifer Le Comte had used their graphic design services for years. The large space means there's room at the back for Rakai's studio, where he produces his art prints, graphic design and photography.
The main store sells his homewares, alongside fashion from local designers Zambesi, Nom*D, Miss Crabb and Kowtow. The focus is on ethically produced and New Zealand-made — customers are even invited to bring in high-end pieces they're no longer wearing in exchange for store credit.
"Everyone's welcome here," Melaina says. "It's really good having a cafe next to us. There's a constant energy going, it's very social. The store is definitely part of our personalities."
We're not exactly a yogi family but Bikram Yoga Hastings is the best way to detox and stretch and get back into our bodies with the whole whanau. We even bring Rakai's mum, who's 60, it really helps her get centred. The instructor, Jack, is Maori. It's an interesting studio — very simple but the feeling in there is really good. And it's more affordable than a lot of places.
Waimarama with the whanau is always a great day out, whether we're at the marae or chilling on the beach while Rakai goes for a surf. It's a white sand beach and it's so beautiful. Life at the marae is very active. Anything from a tangi to birthdays, all sorts of events. We like to cook when we're there. We sneak in gluten-free baking without anyone knowing. There's also a really nice surf break in Te Awanga. It's our little secret. Rakai will head out there and I'll take the youngest to the park to check out the seaweed and stones. It's a really beautiful neighbourhood, with lots of great vineyards: Elephant Hill is a favourite.
I love going to Hapi in the morning for a green "multi" smoothie, using turmeric from Fiji, and a "cacaochino" the cacao sourced in Samoa, to keep me focused.
SaveMart in Ahuriri is the most epic second-hand store. I don't often get the time to go but when I do, usually with my daughter, it's so exciting to see what we can find. It occupies this huge warehouse in Napier. I love op-shopping. Last time I went I got a New Zealand-made men's suit and an old-school paisley tie, which my son wore to his school ball.
Share this: