Miromoda show celebrates Maori culture and more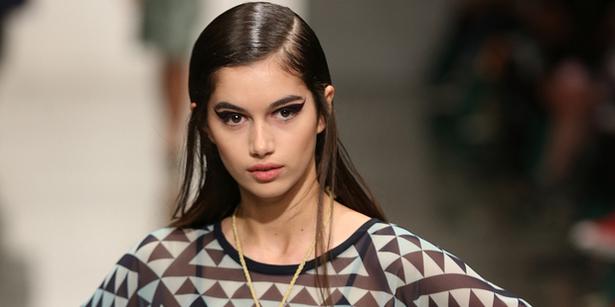 Friday Aug. 29, 2014
Today's Miromoda show at New Zealand Fashion Week was a fitting celebration of indigenous culture after the week's earlier cultural controversy.
The show included 12 collections from emerging and established Maori designers, selected from competition entrants by Dame Pieter Stewart, founder of NZ Fashion Week.
Hohepa Thompson's piupiu print and political statement were highlights of the show, with models flinging records labelled with messages about drugs, child abuse and violence. The Wellington designer of label Hori said backstage after the show that these symbolised criminal records, and his collection questioned why 51 per cent of the prison population was Maori, when Maori people make up 15 per cent of the general population. He is also working on an upcoming exhibition in conjunction with Wellington inmates.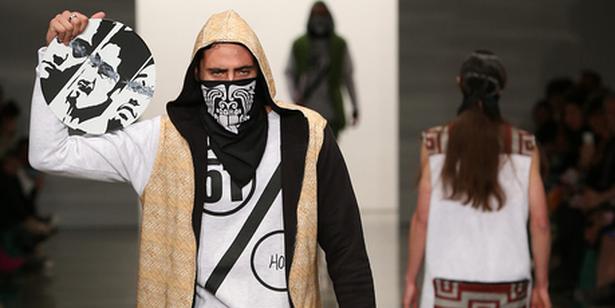 Another highlight was Adrienne Whitewood's casual collection, with pretty dresses, wearable tui and flax prints, and a cute sweatshirt with poi motif.
Maori accessories designer Maree MacLean partnered with French fashion student Angela Gallard to create new label The Noble Savage, with cool yellow tiki prints on a cape-style coat and dress set.
Amber Whitecliffe's women's collection had an interesting viewpoint on the merging of two cultures, inspired by the designer's recent wedding to her Portuguese/Indian husband.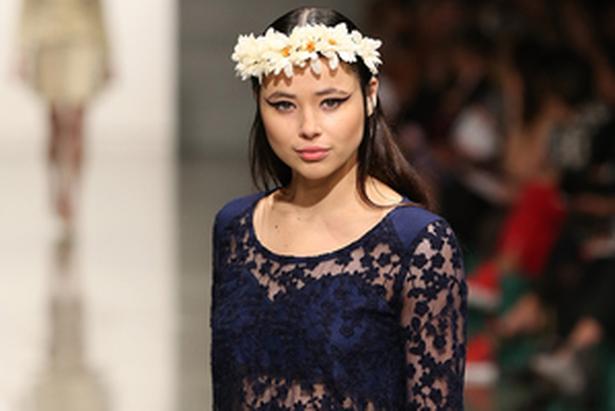 Sofia Aroha's detailed leather cut-outs evoked Maori carvings, and Sharmaine Moke featured tailored belted coats in emerald green and grey.
Kharl Williams-Wirepa made "no apologies" for his glamorous collection, which referenced Maori heritage less explicitly than the others'. His old Hollywood-style black velvet gown with gold trim and his own personal look added a pop of glamour, although using Indian hand bracelets as accessories raised the week's lingering question as to where to draw the line between being inspired by, and appropriating, another culture.
"One thing we know about our show - we own our culture," co-founder Ata Te Kanawa said after the show. "Because we own our culture, we know whatever we do has integrity, and that we've got a race that supports what we do. That makes the difference."
Te Kanawa has plans for hosting an inaugural indigenous global conference next year she says, adding that Australia is on board, and that there has been interest from Hawaii, Canada and the Netherlands.
"It's relatively easy for us in New Zealand because we're so small, we can be the leaders, at least in the South Pacific, and Hawaii gives us a foot into the US."
Share this: