Watch and Listen: Models in Music Videos
Gigi Hadid stars in Zayn Malik's music video. We look back on other memorable model cameos.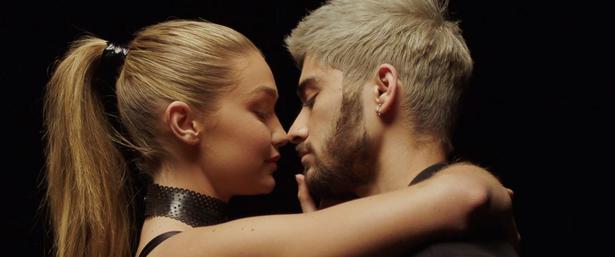 Tuesday Feb. 2, 2016
While music videos today don't necessarily have the same level of clout as they did during the 80s and early 90s - when the debut of a music video on MTV was an event not to be missed - there are contemporary artists who can still generate buzz with their latest release. This weekend former One Direction alumni Zayn Malik released his debut solo single Pillow Talk, with an accompanying music video featuring model of the moment Gigi Hadid (who also happens to be his girlfriend). It's not the first time we've seen Gigi in a music video: last year she featured in How Deep is your Love by Calvin Harris and Bad Blood by Taylor Swift, and she's also featured in videos for Cody Simpson and Miguel. She joins a long list of model music video cameos over the years, many of which have been, unsurprisingly, directed by fashion photographers. Here, a few of our favourites:
Pillow Talk by Zayn Malik featuring Gigi Hadid (2016):
READ: Gigi Hadid on style, Instagram and Taylor Swift
Freedom 90 by George Michael featuring Linda Evangelista, Naomi Campbell, Cindy Crawford, Christy Turlington and Tatjana Patitz
UK Vogue's January 1990 cover featured the iconic black and white portrait of five supermodels that defined the fashion zeitgeist of that time, photographed by Peter Lindbergh. This was a starting point for George's Freedom video directed by acclaimed director David Fincher (Seven, Gone Girl, The Social Network), styled by Camilla Nickerson and with 90s supermodel hair courtesy of hair maestro Guido Palau.
Wicked Game by Chris Isaak featuring Helena Christensen (1989)
Directed by fashion photographer Herb Ritts, whose black, white and sepia toned photographs defined the fashion imagery of the 90s, this video features Danish supermodel Helen Christensen frolicking on a beach in Hawaii with the Californian crooner.
I Just Don't Know What to do With Myself by The White Stripes featuring Kate Moss (2003)
No one else does rock star girlfriend/groupie quite as well as Brit national treasure Kate Moss. The petite model features in The White Stripes' remake of the Burt Bacharach classic made famous by Dusty Springfield in 1964, writhing around a pole in her knickers - and still managing to look nonchalantly cool.
READ: Kate Moss' Beauty Routine
Daughters by John Mayer featuring Gemma Ward (2005)
This Grammy award winning song is accompanied by a music video that features a young Gemma Ward at the start of her career, and is directed by Italian fashion photographer Mario Sorrenti.
Yonce by Beyonce featuring Jourdan Dunn, Chanel Iman and Joan Smalls (2013)
Directed by Ricky Saiz, the stylish clip features the three top models with Beyonce on the streets of Brooklyn as a nod to 90s eroticism via David Fincher's Freedom video for George Michael (1990) and Human Nature by Madonna (1995).
READ: Jourdan Dunn on Motherhood and Modelling
The Stars (Are Out Tonight) by David Bowie featuring Andreja Pejic, Iselein Steiro and Saskia de Brauw (2013)
Directed by celebrated director Floria Sigismondi, whose other distinctively dark music videos include The Beautiful People by Marilyn Manson and Fighter by Christina Aguilera, The Stars (Are Out Tonight) features the three models wreaking havoc alongside Bowie and actress Tilda Swinton.
November Rain by Guns & Roses featuring Stephanie Seymour (1991)
An epic video for an epic rock tune, this video broke the budget and is still one of the most expensive ever made, clocking in at over US$1million. Stephanie's iconic mullet wedding dress by designer Carmela Sutera spawned a trend for garter exposing gowns.
Born this Way by Lady Gaga featuring Raquel Zimmerman (2010)
At 0:49 seconds you can just catch leggy Brazilian model Raquel Zimmermann playing doctor, delivering Gaga's 'new race' into the universe. Directed by fashion photographer Nick Knight, Raquel's cameo added to the fashion heavy collaboration along with Gaga's stylist at the time, Nicola Formichetti.
READ: Lady Gaga Wears NZ Fashion
Stacy's Mom by Fountains of Wayne featuring Rachel Hunter (2003)
'Our' Rachel plays up to the role of desirable older woman in this hilarious music video for American rock outfit Fountains of Wayne - an homage to the teenage shenanigans in the film Fast Times at Ridgemont High.
READ: Rachel Hunter's Beauty Routine
Remember the Time by Michael Jackson featuring Iman (1992)
The king of the music video event, this epic nine minute production played on an ancient Egyptian concept with MJ performing an elaborate choreography sequence by superstar choreographer Fatima Robinson. Along with the beautiful Iman, other cameos include Magic Johnson and Eddie Murphy.
Share this: