Where to Go in Beijing
Artist Jade Townsend shares her favourite places to visit in Beijing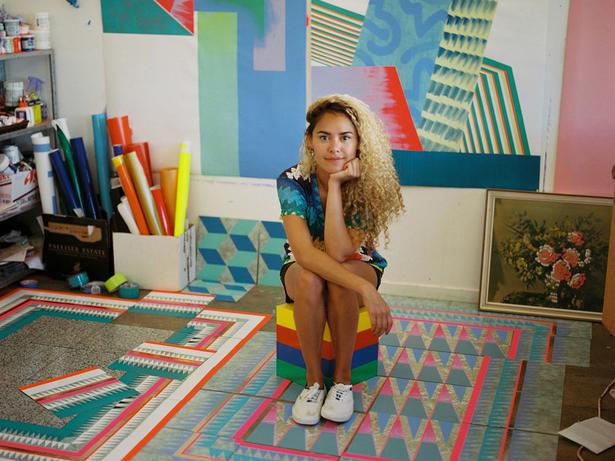 Wednesday May 25, 2016
The worlds of retail and art collide at Scotties, with LED works from NZ-born multimedia artist Jade Townsend on display in stores this month. Initially commissioned by Comme des Garcons for its IT Beijing Market concept store, Jade's new show at Scotties titled End-User reconceptualises artworks custom-made for Comme des Garcons and new works. "Together, they share, explore and examine hyper-consumerism vs shopping in real life, essentially presenting not just consumerism with Chinese characteristics but artworks with Chinese characteristics too," Jade explains.
She studied fine art majoring in painting at the Manchester Metropolitan University, and was scouted during her final degree show by luxury brand Hermes to produce window installations for their UK boutiques. Jade's works have since been exhibited internationally, in traditional galleries and non-conventional spaces.
Now Wellington-based, Jade spent time in Beijing last year while on an Artist in Residency placement, where she explored the city and discovered some favourite spots - which she shares with us here.
IT Beijing Market 
You may not be able to afford anything in China's leading luxury department store but you can come and admire the radical designs of Comme des Garcon for free. The shop fit changes with each season and you can find an exhibition area (which showcases artists like me) between rails of Givenchy and Visvim on the top floor.
Intelligentsia Gallery
Nestled within original hutongs Intelligentsia is a by appointment only art space. Here you will find exciting international group shows of emerging artists curated by my friends, prolific young architects and artists. Enjoy the sound of delicate seeds crunching while hordes of young Chinese wait to be seated at the nearby restaurants.
Fodder Factory
By far my favourite place to eat, fresh and msg free. Fodder Factory is inside an art village home to Ai Wei Wei and his studio/think tank. You can spot his place easily (it's the one with security cameras watching him). Leave a gift in his bike basket like many other fans or press the buzzer like me, the door might just open for you too.
Parkview Green
There is over 500 pieces of art throughout Beijing's most energy efficient building and gigantic shopping mall. There are free public art tours daily which introduce you to a phenomenal amount of sculptures by Dali, Warhol and many more scattered across the floors - you can even touch!
Tianyi Market
Decorations, linoleum, fabric, paper, brushes, inks...Tianyi is a wholesale market with everything. Perfect for any makers after big quantities of shiny or plastic domestic goods. Set aside a day to tackle this materials maze and bring your best bargaining skills too.
Zaha Hadid, Rem Koolhaas, Ole Scheeren Architecture
There is nothing quite like cycling from the dusty village of Feijiacun in the outskirts of Beijing (where my studio sat), and passing Zaha Hadid's futuristic gleaming pods within a few minutes. Catch the impressive CCTV building from a taxi when zooming through town (albeit stuck in traffic).There are so many curious moments of new and old side-by-side in this amazing city!
LED artworks by Jade Townsend.
Share this:
More Culture & Travel / Going Places