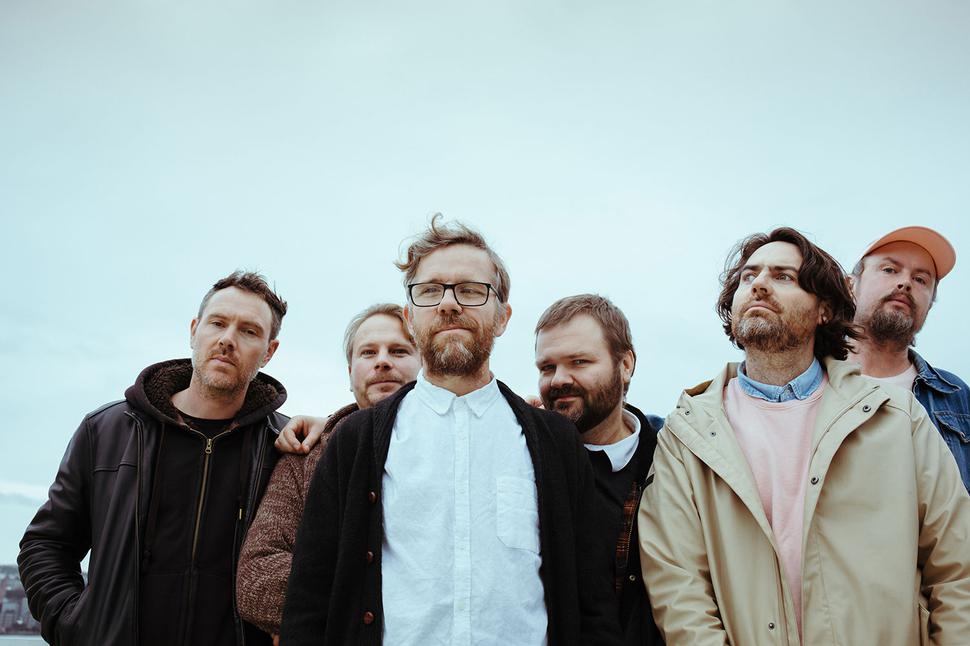 Musician Samuel Flynn On The Phoenix Foundation's Comeback Album
Wellington favourites The Phoenix Foundation sail back with 'Friend Ship', their first album in five years
Monday Nov. 16, 2020
You forget to look up into the sky," Samuel Flynn Scott says. "But if you look up at night, there it is. There's the Milky Way. There's the universe. I love thinking about being a blip within that cosmic soup."
You could say my conversation with The Phoenix Foundation's founding band member has gone off topic. We had been talking about how the startlingly great new album, Friend Ship, is somehow both more personal than anything they've ever done before and an extremely ambitious record. Yet, somehow we had blasted off into outer space.
"It's really important at the moment, when there's so many shitty, hateful people being given a voice to just think about our insignificance and rejoice in a bit of domesticity and the normality of our human interactions. How special they are on a personal level."
A lovely sentiment Sam immediately ruins by saying, "and how insignificant they are." Oh. Right. "Phoenix Foundation gets caught up in these big cosmic dilemmas," he continues, as a way of explanation. "What I like is that when we do that and then we go and do a song about being hungover, that's just as beautiful. There's the micro and the macro always happening at the same time. Whatever boring things we're doing, like washing the dishes, we're always under the galaxy. I love getting into a headspace where you really understand how tiny a blip you are in the universe."
Some people find that realisation terrifying, I say.
"Oh, I definitely find it frightening as well," he says, laughing. "I find that wonderful."
There's something calming in that oppositional feeling, he says. The yin and yang where the terror and bliss merge to become something approaching spiritual. Not in a religious way, he clarifies, saying there's nothing holy about acting good to chase heavenly rewards.
READ Recommended Listening: Five Fresh Albums To Listen To
"You should just behave how you should behave because you want to be a good person," he says. "Really, you're just a little bit of carbon that's gonna go back to being some other s*** and eventually we'll all just be dust as the universe collapses in on itself and then it will expand out again and your atoms will be something else."
The collapse of the universe is a long way away from their new album but when you're this far out in space you keep going. The circle of life, I suggest.
"Yeah. yeah," he enthuses. Then, he laughs and brings us back to earth. "I don't even know what I'm talking about. I'm just talking s***."
Maybe, but the Phoenix Foundation has always had one eye on the stars. Sam describes their galactical interludes as "a cosmic haze", which is apt. But with Friend Ship they wanted to stay closer to earth and make an almost autobiographical album. So there's wonderfully orchestrated and beautiful songs about normal things like doing the dishes and being hungover. You could call it relatable content.
"Luke [Buda] spoke about this a lot before making the album; having lyrics that were very direct and understandable and relatable. You could connect them directly with our lives. We wanted to present ourselves and put our personality front and centre. Everything on the album is related to our actual lives as opposed to singing about travelling through space on a magic mushroom cloud."
Bigger topics are also covered. Former Glory details Luke's experience as a Polish immigrant, moving to Aotearoa, starting school and meeting his future Phoenix Foundation bandmates. "This is no made-up story," Luke sings in its chorus. "It's a little exposé, I guess."
"I think he finds it almost embarrassing singing those lyrics because they're so true but also he understands the power of that truth in the lyrics," Sam says. "When you say something that's really specific it connects with people a lot harder."
Honesty is the best policy, but Sam says he also found their newfound transparency difficult to get to grips with.
"I found it hard, definitely. You start to question what you're saying and feel embarrassed by yourself," he says. "That's a real thing in songwriting. You write lyrics and you think they're good and then you come back to them and you feel embarrassed by your own emotions. You need to fight that feeling a lot."
READ Get To Know Eleven7four, The Local Hip-Hop Duo Making Global Moves
The timing of Friend Ship's landing may suggest it's a Covid album but that's not the case. The band has been quietly working away at it for three years. Cobbling it together in various studios and bedrooms, sending files back and forth and working on it all together when they could.
Listening to it, you wouldn't pick it. It's incredibly cohesive with an easy flow that allows the terrific disco-funk of Landline to sit beside the NZSO starring orchestral pop of Transit of Venus before self-medicating into the valium dream of Tranquility, which guests Hollie Fullbrook of Tiny Ruins, and perking back up with the Brit-pop jangle of the snappy Guru. It's bloody good, is what I'm saying.
"I think that's from the editing," Sam says, modestly. "It's what we left off that makes it cohesive. It would be our most mish-mash album in terms of recording. Go figure."
He says the band strove to make the record lovely to listen to. Even the rockier numbers are catchy and cruisy. The record just has an overall pleasant vibe.
"There's a certain upbeat niceness to it," Sam agrees. "But lyrically, it can go into some strange, dark places."
That's because the album started life as a concept album. "We were going to be playing around with this idea that we're at this crossroads of society, the technological age that's making the whole world anxious. All our leaders are complete f***ing arseholes. We just wanted to do something that felt very human and challenged the status quo in our own quiet way. Not a protest album but something that was trying to connect with people and really striving to express something human."
That was three years ago. As they toiled away on it Sam says the world just got worse and worse, culminating in the Christchurch terror attack. "That really affected a lot of how we finished the album. That was a huge cloud hanging over a lot of the recording. And is some way influential on the album title," he says.
He says the song Hounds of Hell, which has an absolutely brilliant guest vocal from Nadia Reid, is about love surviving post-apocalyptic fires, climate change and rising sea levels. "It all started to feel more and more relevant," he sighs. Then he's struck by an awful thought. "Maybe we caused it? Maybe we caused Covid by writing a post-apocalyptic album," he says. "Sorry world."

• Friend Ship is out now and the group begin their national tour on November 30. Tickets and info at Banishedmusic.com
Share this: