Must-See Exhibition: Space to Dream
Talking to Sao Paulo-based artist Lenora de Barros about her works in the upcoming exhibition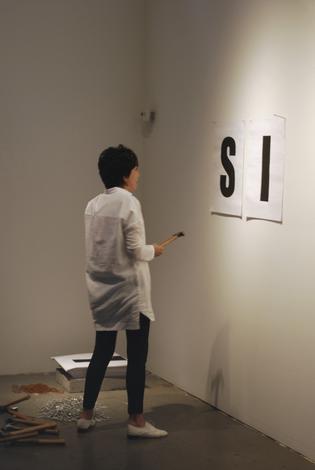 Space to Dream: Recent Art from South America opens Saturday May 7 at the Auckland Art Gallery. Offering a comprehensive look at South American art from a multitude of perspectives, the exhibition observes how 41 artists from six South American countries relate to and challenge their culture. Among these is Sao Paulo-based Lenora de Barros, whose audience-inclusive performance art piece Pregação (Nail Action) 2014 will be on this Sunday at 3pm. We spoke to the artist about her practice, linguistics and the feminine experience.
Who has played a role in influencing your work?
I started my artistic career in the 1970s, at a time of intense experimentation in Brazilian art, marked by a strong constructive and avant-gardist bent which had been growing since the 50s. My father, Geraldo de Barros, was an artist, so I grew up in this creative and stimulating environment.
How has your process developed and changed throughout your career?
Since the beginning of my journey as an artist, I have worked largely with language. My early experiences, in the mid-1970s, were created through word and photo performances. I was influenced by the artistic achievements of concrete poetry (poetry where the poet's intent is expressed by graphic patterns of letters, words or symbols, rather than by the conventional meaning of the words), as well as the context of that time, pop culture, conceptual art, pop art, performance, body art and Fluxus (a 1970s movement of fusing artistic disciplines).
Concrete poetry and its theories – its multidisciplinary nature and dialogue with other artistic fields – showed me possibilities and gave me new directions to explore. I tried to expand into the space of the 'verbivocovisual', (an expression coined by author James Joyce meaning to incorporate geometric and graphic elements into the poetic act or process) always pursuing poetry that considered all the senses. From this platform, I gradually expanded my work into space through video performances and sound installations.
How did the cross over from linguistics into art happen for you?
It was a very natural process. While I was at high school I was very focused on art, but I was introduced to the idea of semiotics, which fascinated me. Then once I graduated, I chose to study linguistics because I always liked poetry and literature and was passionate and curious about different communication and language systems. From there, my study of linguistics naturally informed my art.
Which works will you be showing here in Auckland?
In Space to Dream I'll be doing a live performance on Sunday 8 May, Pregação. In Portuguese, this title has a double meaning. It can mean both 'preaching' and the act of 'nailing' something. When broken down, the title also refers to prego(nail) and ação(action), key elements of my collective action around the word "SILÊNCIO" (silence).
Besides Pregação, I'll show my first video performance, Homage to George Segal, whihch I made in 1985 directed by the poet and video maker Walter Silveira. The idea for this work was first born in 1975 as a visual poem, inspired by the lonely poetic figures of the North American sculptor George Segal.
How do you go about exploring the feminine experience within your work?
To be honest, that doesn't come as a question for me. I acknowledge that some of my works emphasises femininity. And sometimes I think that some of my artworks might never be accomplished by a masculine mind. However at the same time, this aspect doesn't occupy a constant reflection space in my creative process.
Share this:
More Culture & Travel / Features & Profiles