On The Up: Meet New Zealand's Rising Stars Of 2021
Keep your eye on these bright young things making waves in the local entertainment scene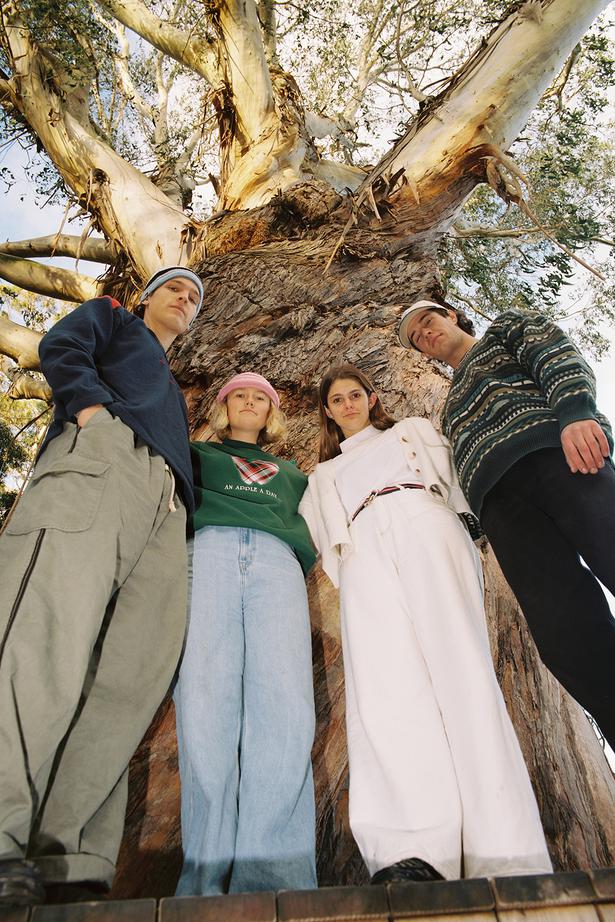 Friday Sept. 17, 2021
THE MUSICIANS: There's A Tuesday
There is a quiet determination behind There's A Tuesday's rise. And they're just getting started. Minnie Robberds and Natalie Hutton have had a steady ascent, from winning Rockquest in 2019 to becoming seasoned summer festival performers.
The hard work for the four-piece, led by 20-year-olds Minnie and Natalie, plus drummer Angus Murray and bassist Joel Becker, is paying off. Now the band has the shout-out power from none other than Benee, one of New Zealand's biggest pop success stories in recent years.
Last month Benee signed the Christchurch act to Olive, the record label she founded in October last year. For the band, Benee's nod of encouragement is special.
"It's pretty incredible and we're just so thankful to be working with her. She's such a legend," Minnie says. "I guess it's so cool to see a fully female-led label and a bunch of girls doing their thing in such a male-dominated industry."
The band have won fans with their infectious, energetic sound. Going forward, they want to use their music to give back to their listeners — and hopefully tour the world if the pandemic allows.
For Natalie, performing and writing is her therapeutic outlet and it helps with her anxiety. And it helps she gets to do both alongside one of her best mates. "It's genuinely the best thing in my life — plus Minnie Robberds! I don't know how I'd process my thoughts without music," Natalie says.
Fans can expect to hear a lot more from the band soon. There's A Tuesday are working on a new EP and plan to release new music before the end of the year. The band tease their new music is "a lot less folky and a bit more poppy".
"We're super excited to be getting close to something that's been a dream of ours since most of us were children," Natalie says.
— Lydia Burgham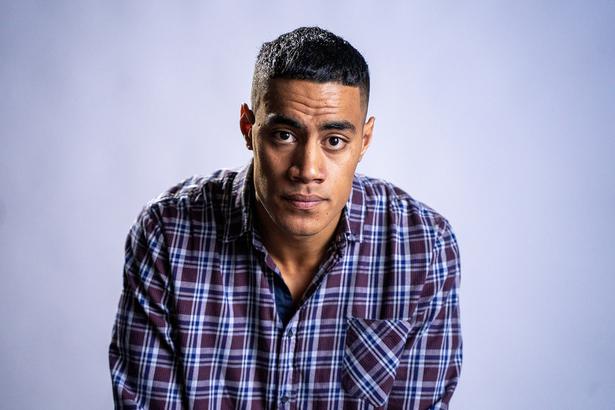 THE ACTOR: Dimitrius Schuster-Koloamatangi
Dimitrius Schuster-Koloamatangi's first foray into acting did not end well. Like countless young teens with big dreams of acting success, the Mt Roskill local had started his own YouTube channel.
"It was just little skits I'd make in my spare time," he says. "But I put in all this music that I wasn't allowed to use so YouTube ended up taking my channel down because of the copyright strikes, unfortunately."
He laughs, then reconsiders. "Or maybe, fortunately, because it was a bit cringe."
Despite losing his channel, he kept acting. Firstly in school productions and drama classes and then at auditions that he'd go along to by himself.
"I was always into acting growing up, it was always the dream, but I kept it quiet," he says. "My boys would always mock me about wanting to do drama so I never really told anyone about it, just so I could try and do it myself without anybody knowing and then if I were to ever start getting gigs then people would find out themselves."
He landed his first professional role in Jonah, the 2019 miniseries about All Black legend Jonah Lomu, and kicked it out of the park. This saw the unassuming young man quickly being signed up by an agent.
READ: How The Costume Designer For 'The Panthers' Dressed A Movement
"It all started coming together. I was going to more auditions, getting all these callbacks and everyone was saying, 'Oh, you're pretty good,'" he says. "I was like, 'Maybe this is something I can pursue.'"
One of those callbacks was for The Panthers, TVNZ's six-part series about the rise of the Polynesian Panthers and the dawn raids of the 1970s. Dimitrius impressed so much that he landed the lead as Polynesian Panther Party co-founder Will 'Ilolahia.
It's a career-making role and it's safe to say we'll be seeing a lot more of Dimitrius on our screens in the future. In fact, as we talk, he's on set in Wellington filming a new movie.
But when I congratulate him on his self-made success, the friendly 20-year-old is quick to play it down and share the praise.
"I wouldn't say I'm too self-made," he smiles. "When my parents finally found out that I wanted to take acting seriously they supported me heaps. And my boys. I think they saw that I was doing well so now they're jumping on board!"
— Karl Puschmann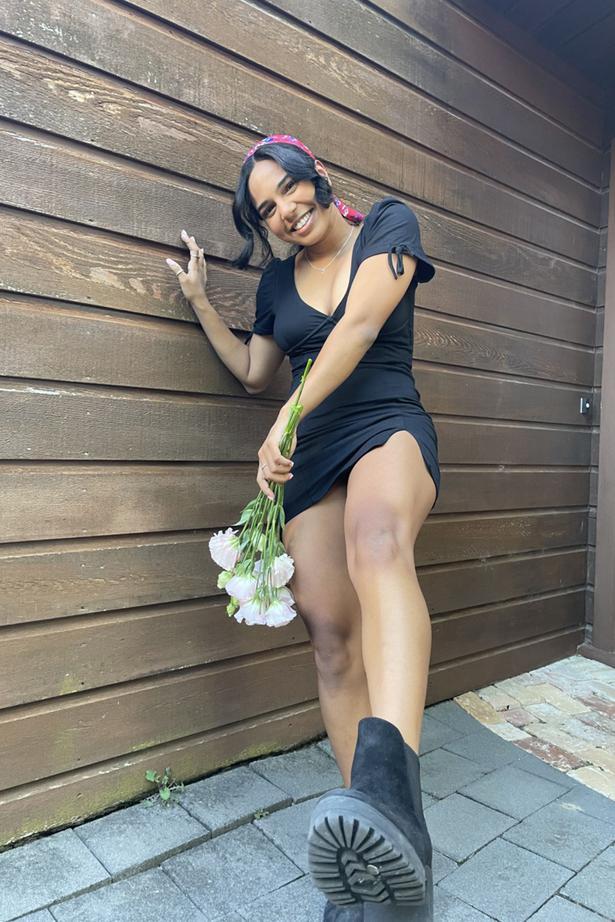 THE TIKTOK-ER: Rishika Iyer
Rishika Iyer isn't afraid to tell it how it is — and to step back from the demands of viral content.
The 22-year-old started creating content on social media platform TikTok as @Funcoolpopulargirl when we all became glued to our screens during lockdown. With her quick-witted quips on everything from casual racism to Ashley Bloomfield, Rishika found success and a new platform for comedy.
"It didn't even really hit me that people were seeing my content," she reflects, recalling a time where she was walking down Symonds St and someone recognised her as "The TikTok girl".
It's a label she accepts with some reluctance. Like the fresh-faced groups of young people who have found viral success, Rishika quickly realised the demands creating content put on her time. Trends move at lightning speed — Rishika tells me it's realistic to film a week's worth of content only to find the joke has already become old. But something that she's welcomed is the chance to be vocal about topics she cares about.
READ: Tinker, Tailor, TikTok: Meet Social Media Star Lydia Grace MacNeil
"As a South Asian woman, I've experienced my fair share of racism and bullying and stuff," she says. "This [posting on TikTok] is the first time that I've actually voiced it publicly, and been so vulnerable in the public eye, and that's definitely something I'm getting used to. It was hard at first, but at the end of the day, the good comments trump the bad ones."
Rishika thinks people should take TikTok creators seriously, comparing the platform to YouTube for people with short attention spans. But the difference in her eyes is that anyone can go viral overnight, and with that potential reach comes a new pathway for stardom.
Rishika performed her first stand-up set at the Comedy Festival this year, but right now her focus is on finishing her degree in medicine. So will she pursue comedy alongside being a doctor? Perhaps, but for now, she's taking the pressure off and concentrating on her life beyond the numbers.
— Lydia Burgham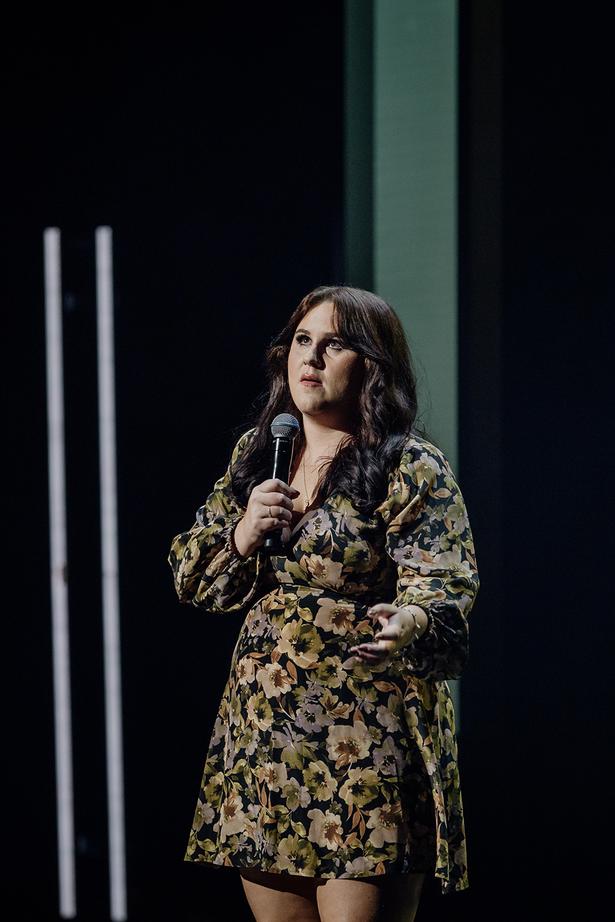 THE COMEDIAN: Liv McKenzie
Growing up, Liv McKenzie was convinced she was going to be a gynaecologist, following in the steps of her mother and her friends working in women's health.
However, that career path was put on hold while at high school. "I didn't realise you couldn't just become a gynaecologist," Liv says. "I didn't know you had to become a doctor, deal with all the science and maths — that's not for me!"
Instead, the 28-year-old took a gamble on turning her love for comedy into a career — and now she has found herself as one of the fastest-rising stars in the New Zealand comedy scene.
After five years of gigging, 2021 has seen Liv start to break into the mainstream, following up her 2019 Best Newcomer win with the biggest month of her career earlier this year, getting her TV debut on 7 Days before scoring a coveted spot at the International Comedy Fest Gala and staging her second show at the festival.
She says the emails asking her to do gigs are still unreal — "I'm always thinking 'Did they email the right person?'" — but Liv is making the most of it.
"I felt like I'd just been chugging along and having a good time and no one was giving a s*** for five years, so the past few months have been amazing."
READ: Are Women In Comedy Finally Being Taken Seriously?
Liv is now in the position to consider herself a full-time comedian — although, in New Zealand's very independent arts scene, "full time" means having to go on the benefit in order to have the time to live a dream career.
It's something Liv hopes will change soon. "You can create that upward mobility if you have enough money, without having to think 'How much can I eat this week and still afford to go to the gig?'"
While her TV work is becoming more regular, Liv's next focus is the Billy T Award — the sought-after prize awarded to a rising comic every year, with Rose Matafeo, Dai Henwood and Mel Bracewell among past winners.
It remains a personal goal, but Liv isn't putting too much faith in the one prize.
"Awards aren't everything — there are really amazing comedians who have never been nominated or who have lost the award, and I think I'd try to have a good time and not focus on winning."
— Ethan Sills
BEST OF THE REST
Mako Road
This band has built a loyal following over the years with their infectious beachy garage tunes. Fresh from releasing their debut album, Stranger Days, in July, Mako Road are on the way up, with brag-worthy streaming numbers. The group harness the crowd-pleasing charisma of Six60 with the carefree vibe of Ziggy Alberts. Expect to see Mako Road on the top of New Zealanders' summer playlists for years to come.
Christabel
From the opening notes of Popstars winner Christabel's single If You Ain't Looking, it was evident New Zealand was listening to the winner. The singer demonstrated savvy pop instincts on the show and walked away with $100,000. Reality TV stardom is just the beginning for the Auckland artist. Her single Ankle Deep, released in August, signals the start of her next chapter. Her soaring vocals signal an emerging sound that is hard to tear your ears from.
Georgia Lines
Tauranga singer-songwriter Georgia Lines has impressive streaming numbers under her belt, boasting more than two million listens across all services. The 24-year-old's soulful vocals and smart, intimate songwriting are worth paying attention to. Her latest single, Call Me by My Name, is a taste of her dreamy voice and effortlessly constructed prose.
Bella Rakete
Showbiz is in Bella Rakete's blood. She's the daughter of TV personality and Brown Wiggle Robert Rakete and has been popping up on commercials and in theatre productions since she was 11. Now 21, the keen powerlifter and recent Elam School of Fine Arts graduate is quickly gaining attention. She starred in Toa Fraser's te reo action film The Dead Lands in 2014 and plays a lead role in Maori Television's acclaimed bilingual drama Ahikaroa, currently in its fourth season. Speaking to the Herald On Sunday, she said, "I'm constantly looking for any artistic medium that I can convey te ao Maori stories through. Whether it's a paintbrush, poetry or through my character, Dylan, on Ahikaroa."
George Ferrier
He played "Trendy Guy" in children's TV favourite Power Rangers Beast Morphers and was the "Party Boy" in the music video for Marlon Williams' song of the same name. But it's George Ferrier's latest role that's bringing him attention. The former Auckland U15 Hockey captain and Juilliard Summer School-trained actor stars opposite British screen icon Charlotte Rampling in the critically acclaimed local drama Juniper, in cinemas next month. While his next role hasn't been announced, George was spotted with the American cast of the upcoming teen crime drama One of Us is Lying. We're fairly certain that's what's known as a "clue"...
Lisa Zhang
You can't say Lisa Zhang isn't shooting for the stars. The young actor's first audition was for the lead role of Mulan in Disney's recent Niki Caro-directed live-action remake. While she didn't get the role — "I butchered my American accent" — she still was cast as an extra. Setting foot on a real movie set for the first time convinced her this was her path. Currently studying commerce and arts at the University of Auckland, Lisa kept her acting sights high and landed the lead in Sky's new drama series Inked, coming soon to Prime. Describing the role as "incredibly rewarding", she hopes to create her own stories for film with a focus on Asian culture, specifically her own Chinese background.
Jadwiga Green
Mental health, gender and sexuality are common themes in Comedy Festival shows but Christchurch-based stand-up Jadwiga Green took that to the next level with her 2021 show Cardigan Faget. Her stories were darker and more serious than her contemporaries but it only meant her observations were sharper and her jokes hit harder. A true comedic genius, she was a worthy winner of the Director's Choice Award.
Joe Daymond
Joe Daymond has been building up a name for himself on the New Zealand comedy scene for years, but after embracing the comedic possibilities of Instagram and TikTok, his career has boomed. He successfully turned his online presence into two sold-out shows at SkyCity before he'd made his TV debut and is following that up with a stint on Celebrity Treasure Island that is bound to see his brand skyrocket.
Maria Williams
While Maria Williams may be following her brothers Guy and Paul into the local comedy scene, her assured debut at the Comedy Festival this year with Anxiety …the Musical!? marked her as a truly unique voice. Her fresh perspective on mental health, complete with an innovative use of the slideshow stand-up format, earned Maria the Best Newcomer (Auckland) Award.
Share this: