TBT: Old-Fashioned Delis in New York
As New York City's deli renaissance continues, we celebrate the city's oldest Jewish dining destinations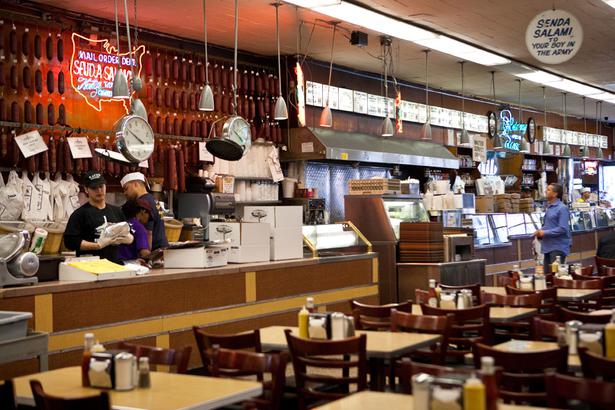 Thursday June 23, 2016
The stylised Jewish delicatessen trend in New York shows no signs of abating, with new outlets such as Frankel's opening this year in Brooklyn and venues such as Sadelle's and Harry & Ida's Meat and Supply Co. opening last year to rave reviews.
Although the number of new Jewish-style delis and restaurants (not all of them kosher) has been rising since 2010, the number of traditional delis has dwindled from thousands in the 1930s to less than 25 today, according to David Sax in Save the Deli.
While we are more than happy to embrace the new guard, we like to celebrate old favourites too. The food may not be as inventive at the older establishments, but the fact that it has been served for over 100 years is evidence of its appeal.
Most US cities have storied delis to be proud of, but New York is the undisputed deli capital. The original delicatessens were opened by European immigrants, eager to recreate the tastes of home in their new country.
Some of these are still serving giant pastrami sandwiches and matzo ball soup to hundreds of customers each day, including Katz's, New York's (and North America's) oldest surviving deli, where the infamous faking it scene was filmed in When Harry Met Sally.
Down the road, Russ & Daughters is one of the last appetising stores and has been supplying the Lower East Side with smoked fish and other speciality products for over 100 years. Appetising stores traditionally sold fish and dairy products - delis being the domain of meat as per Jewish dietary laws.
Both Katz's and Russ & Daughters, while still family run, are adapting to the 21st century with new venues and forward-thinking digital strategies. It helps that Katz's is now owned by 29-year-old third-generation deli man Jake Dell. The deli is set to open their second offering in Brooklyn later this year.
Russ & Daughters opened the upmarket Russ & Daughters Cafe around the corner from their shop in 2014 and a second outpost at The Jewish Museum on the Upper East Side last year.
Both establishments also have online stores from which you can ship the likes of a hot dog or pastrami sandwich across the States if you so desire, proving that deli culture is still alive and kicking.
Around the world, variations on the Jewish deli continue to prosper. Hong Kong's Morty's Delicatessen opened last month and in Sydney last year, Continental Delicatessen was opened by the team behind Porteno and Bodega. In Auckland, Federal Delicatessen and Al's Deli (a Montreal deli variation) are still popular – while Grey's Ave Deli has been serving kosher food since 2008.
Share this:
More Culture & Travel / Going Places