Packing the Perfect Picnic Hamper
Feasting al fresco is a key part of the race day fun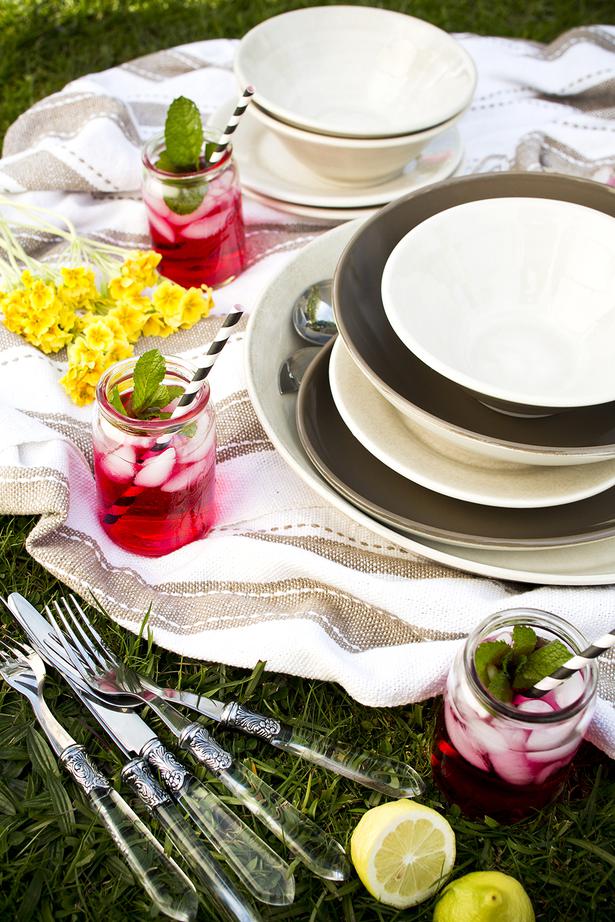 Wednesday Dec. 8, 2010
Growing up in Auckland, a highlight of our Christmas holiday season was the family picnic at the New Year's Day races at Ellerslie. Before it became the thing to do, our family would infamously take over the grassed area inside the track, put up our blue tasseled umbrella, spread out our rugs and proceed to have the most marvelous day of eating whilst the galloping horses thundered around us.
These days the in-field area of Ellerslie is a hive of activity for the Christmas Carnival race season (Boxing Day and New Year's Day) with loads of families carrying on the tradition of feasting al fresco as part of the race day fun. Figuring out food that will create the best surprise when it's unveiled – as well as being able to withstand a hot summer's day without spoiling – is all part of the fun. Here are some suggestions to make sure your picnic's the winner on the day!
First up: make sure your picnic spread looks fabulous by packing lots of coloured serviettes and plates. Don't be shy of taking real plates, cutlery and glassware to make it that little bit more distinctive. Wrap them in brightly coloured tablecloths, pack them into a strong bag and give them to one member of the party to carry. Alternatively, go disposable with eco-friendly ranges from good food stores. 
Next, the food. Taking a mix of home cooking and store bought is the way to go. Here's our favourite ideas:
• Make up mini prawn cocktails with chilled prawns, shredded lettuce, Thousand Island dressing and gherkins all wrapped in rice paper wrappers.
• Cook up a large herb pancake with your choice of filling, roll it up and cut like sushi, and devour with toothpicks.
• Good old-fashioned bacon and egg pies (recipe below), made in individual tins (available Milly's in Ponsonby or Southern Hospitality in Parnell).
• Chop and roast Agria potatoes, salt well and sprinkle with fresh chopped parsley, keep warm in tin foil and pair with fabulous chutneys, aioli and relishes for dipping. 
• Offer up mini, intensely flavoured salads (cous cous with currants, roasted red onion and pine nuts or rice noodles with fresh chopped chilli, mint, coriander and roasted peanuts, drenched in lime and palm sugar dressing) served in little cardboard noodle boxes from Spotlight.
• For a sweet treat buy baklava, Turkish delight or a selection of Indian sweets and serve them in parcels of twisted up baking paper.
• Take chips of strawberries and a bottle of Dollop's berry compote or vanilla custard and dip and drizzle to your heart's content.
Lastly, don't forget to keep cool and hydrated during the day. Try some of these tips:
• To keep bottles of liquids cool for longer, wrap them in wet tea-towels at home, put in the freezer until the tea-towels are stiff and then, still wrapped up, transfer to chiller bags just before you leave home. 
• Freeze cubes of watermelon or orange segments to drop into chilled soda or tonic water.
• Make up mocktails at home – mojitos and pina coladas for the best burst of flavour – leaving out the alcohol and freeze in containers overnight. They'll thaw nicely over the day to reveal the best slushies ever. With a picnic as good as this, you won't care if your horse comes in or not!
Recipe to Try: Bacon and Egg Pies
Makes 6 individual pies
4 sheets flakey puff pastry
6 rashers of good quality bacon
½ cup chives or Italian parsley, chopped fine
6 eggs
Salt and pepper
Grease 6 pie dishes and line with pastry. Fill each with half a rasher of bacon and some chopped herbs, then break the eggs (1 in each) on top and lightly scramble with a fork. Add the other half rashers of bacon. Brush pastry edges with egg white and then put pastry lids on them and seal edges well. Make air holes in lid and cook in pre-heated oven at 200°C for 15-20 minutes or until golden brown. Transport in their tins.
Find out more on the Ellerslie Racedays and become a member of the Auckland Racing Club
Share this:
More Culture & Travel / Summer of Racing