Pamela Anderson's Political Reinvention
Pamela Anderson has turned political agitator and anti-porn campaigner. Elizabeth Day on a curious transformation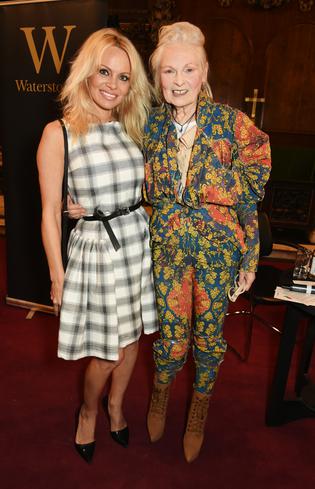 So far, 2016 has been a year of unexpected events. And now, we are treated to the sight of former Baywatch star Pamela Anderson reinventing herself as a political agitator.
The 49-year-old spoke at the Oxford Union this week about the damage pornography was doing to a new generation of sexual partners, saying it promoted violence against women and was "demeaning and hurtful". She also said she was "completely offended" by Donald Trump's recently leaked admission about groping women; her comments were later reported on television news bulletins.
As if that weren't enough, Anderson then visited Julian Assange at the Ecuadorian Embassy in London, where he has been claiming political asylum for over four years. She swept in with her usual glamorous aplomb, sporting cat-eye sunglasses, carrying a copy of Vivienne Westwood's diaries and vegan sandwiches.
A few days earlier, Anderson had been photographed posing winsomely next to a red pillar box, sending a hand-addressed letter to Theresa May at 10 Downing St to protest against animal circus acts. "With all due respect, Brexit is complicated," the actress wrote, "but kissing circus animal acts goodbye is easy as pie."
It's all a far cry from the fictional Malibu beach where Anderson first ran slo-mo across the sand in her red swimsuit as CJ Parker.
It's a confusing time for feminism. We live in an era when Kim Kardashian can post a nude selfie and claim to feel empowered by her own self-objectification. Yet even in this bewildering context, many were surprised to see an actress who has posed for the cover of Playboy a record 14 times campaigning against the porn industry.
But Anderson's experience arguably allows her to offer a unique position on the issue. She told the Oxford Union that for years men treated her "like a porn star", an experience that led to her being "slapped, called a whore and spat on - it's sick, it's hurtful, it's demeaning and it's terrible, terrible sex".
She has called for a "sensual revolution" and the resurrection of romance, while at the same time acknowledging her past: "I know I should probably disqualify myself from the conversation."
Baywatch made Anderson a household name in the Nineties, when she became every unimaginative teenage boy's favourite pin-up.She was the quintessential blonde: a beautiful, buoyant Marilyn Monroe repackaged for modern times. She hung out with Hugh Hefner, went on Australian Big Brother and auctioned off her red swimsuit for charity.
Can that Pamela Anderson really be this same barricade-stormer, who thinks nothing of visiting a discredited political exile and dashing off a letter to the Prime Minister? Who turned up at the Assemblee Nationale in Paris in January to support a ban on force-feeding geese for foie gras?
In fact, her political awareness is the result of a much longer process. It dates back some 20 years, to when she found herself on a long Baywatch promotional tour and wrote a letter on mauve stationery to the animal rights group Peta.
"I'm in a TV show called Baywatch and the press is obsessed with my personal life," the letter went. "I'd really like to divert some of the attention to things more important than my boobs or my boyfriends. Can we join forces?"
Anderson became one of Peta's most vocal campaigners. Her interest in animal rights stemmed from childhood when, aged 12, she convinced her father to give up hunting after discovering a deer's carcass in the house. But it also went far deeper: Anderson was raped as a child, and says she turned to animals for comfort because "they were my only real friends until I had children".
By 2003, she was appearing nude in Peta's influential "I'd Rather Go Naked Than Wear Fur" campaign. She also campaigned for Aids charities and spoke out against sexual violence.
Her personal life did not run smoothly. Her first marriage, to rocker Tommy Lee from Motley Crue, resulted in her contracting hepatitis C from a shared tattoo needle.In 2006, her second marriage to the singer Kid Rock ended after four months, and she found herself a single mother of two boys, with debts running to over a million dollars.
She stopped drinking and started doing pilates. She gave up email, social media and her mobile phone. She worked hard to pay off her debts. By 2014, Anderson was a new woman. She rid herself of her flowing blonde locks and emerged with a new pixie cut, which seemed to symbolise a conscious break with her past.
That same year, she launched the Pamela Anderson Foundation, a non-profit body that campaigns for environmental and animal rights. Comparisons have been made with Brigitte Bardot - another sexpot turned animal rights activist - and indeed, the two have worked together on several occasions.
But, as the past few days have shown, Anderson has always been her own woman. As she said herself in a 2009 interview: "People always tell me, 'Reinvent yourself, re-this, re-whatever.' I haven't reinvented myself. It's an honest evolution. I've always been authentic. Except for the boobs."
- The Daily Telegraph
Share this: