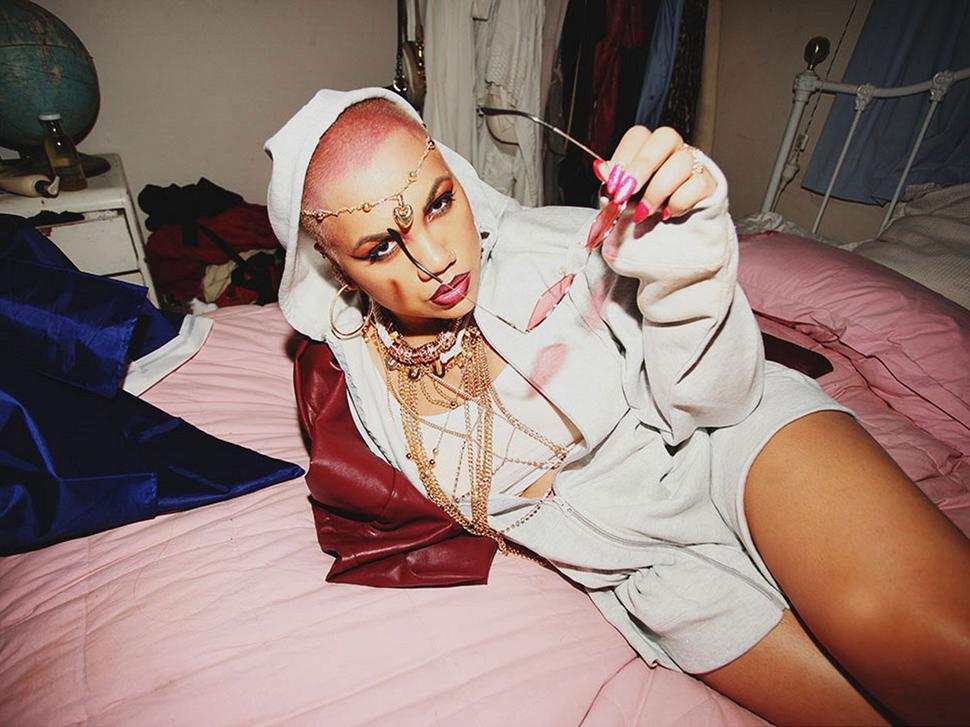 Parris Goebel's Meteoric Rise
Her dance moves may be fierce but as Parris Goebel says, they come from the heart
Tuesday Nov. 17, 2015
Parris Goebel may well be the world's coolest advocate for the law of attraction. The Kiwi celebrity choreographer is trying to explain how, at just 23, she's reached the top of her game, working with the likes of Jennifer Lopez, Janet Jackson, Nicki Minaj and Justin Bieber.
"You get what you put out," she says, over the phone from her South Auckland studio, The Palace. "It always comes back to you. So I think me putting myself out there confidently, it's taken a few years but it's come all the way back. Finally everyone is paying attention and listening because I have something to say."
Well, almost. She can't discuss the four videos she's shooting during this four-day trip home from LA. Or the project she'll return to for six weeks, although she has just choreographed a short dance film, called Purpose, for Justin Bieber. Life is "a bit crazy", she says, not a shred of stress detectable. Kiwi audiences will get an insight into her unflappable nature through her new TV show, The Palace, screening from tomorrow night on maoritelevison.com.
"I was a bit oblivious to it because my dad always finds a way to get cameras in front of me without really letting me know what it's for. So I didn't even really know it was for a show or anything, I just went with the flow."
The Palace, which she runs with her dad and manager, Brett Goebel, draws hip-hop dancers from China, the US, Britain and France. They come to audition for the Royal Family, as her seven dance crews are known, enticed by the prospect of learning from the best, and the possibility of bigger things beyond. "We have to show Parris we are worthy of being here," says one.
With wins under her belt at the World Hip Hop Championship for the past three years, Parris is the competition's top choreographer. Her style, dubbed "Polyswagg" (her mum is Samoan) is best described as a balance between masculine and feminine energy.
"It's boy meets girl ... I love the strength that men have when they move their bodies and I love the femininity that women express through how we have curves and different shaped bodies. I take inspiration from both genders and fuse it together."
She says she can spot passion a mile away. "I truly believe that we're all born with a special magic within us. It's just a matter of time, whether you unlock it when you're 10 or when you're 50."
Parris unlocked hers at 3. A free spirit, she was always singing and dancing, making funny rap videos with her sisters or entering talent competitions at school. By 13, she'd fixed her sights on dancing like Missy Elliott, TLC, Usher, Destiny's Child, Aaliyah, and Janet Jackson. At 15, she and four mates started ReQuest, an all-female dance crew, practising in her aunt's gym, before moving on to her Dad's warehouse, and finally, the Palace HQ.
In 2009, ReQuest won the varsity section of the World Hip Hop Dance Championship. The next year, they won it again. The year after that, the Royal Family won the megacrew title, which they have retained for the past three years. In 2012 J Lo got in touch, hiring her to choreograph her Dance Again World Tour. She also performed with her on American Idol, and featured in her video Goin' In.
It snowballed from there. She's toured with Nicki Minaj and choreographed parts of her Feeling Myself video with Beyonce, toured with Janet Jackson, worked on Cirque du Soleil's Michael Jackson: One in Las Vegas, choreographed and starred in videos for K-pop sensations Taeyang and Big Bang, performed on the US Dancing with the Stars and turned around Justin Bieber's memorable Sorry video in about 24 hours, using her own dancers and her own clothes.
In a music video world saturated by virtual soft-porn, the crew's fierce female energy is a breath of fresh air. It's since clocked more than 123 million views.
"I just wanted it to be very fun, free and not too thought out so that it didn't feel too music-video clippish."
Even so, she won't be drawn into voicing an opinion on the state of hip-hop dancing in general, or whether it's veering in a less empowering direction for women. What she will say is that she's keen to help "mould the dance industry into something positive, and to encourage it to use the internet for positive ways, not negative".
Maintaining your own identity is key, she says. "From the beginning of my journey I really committed to me in the sense of doing what I do best, and not trying to be anybody else but myself, whether it's in art or dance or even as a person," she explains. "I'm just really confident in my own vision and I think there are very few people in this industry that follow their heart like that."

• All seven episodes of The Palace will be available to view on maoritelevision.com tomorrow from 8pm.
Share this: