Photographers Glen Luchford and Doug Bruce open The Rose Hotel in Venice Beach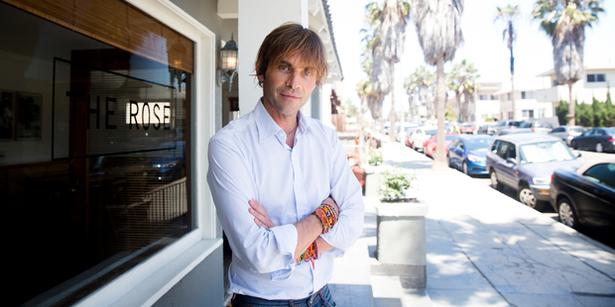 Wednesday Oct. 8, 2014
If there was a moment that summed up our sun-baked stay at Venice Beach, it was when a colourful Sunday morning Hare Krishna parade met a fundamental Christian protest on the world famous boardwalk. The beach community has become one of Los Angeles' hippest addresses, but between the eccentric sellers on the bustling boardwalk and the habitual whiff of weed, its original vibrant spirit lives on.
The Rose Hotel represents that potentially tricky transformation from the Venice of old to new. Owned by top fashion photographer Glen Luchford and his long-time friend and fellow photographer Doug Bruce, the hotel opened in August in a restored former hostel steps by the beach. Already it feels a part of the unique community: it helps that key staff are Venice locals, that some of the colourful characters helped pitch in on the renovation, and that the owners have been visiting the area frequently since the early 90s. That history was partly what inspired the pair to move into hospitality. "Glen always had problems that if he wanted to shoot here, he couldn't put his crew up anywhere," explains Bruce.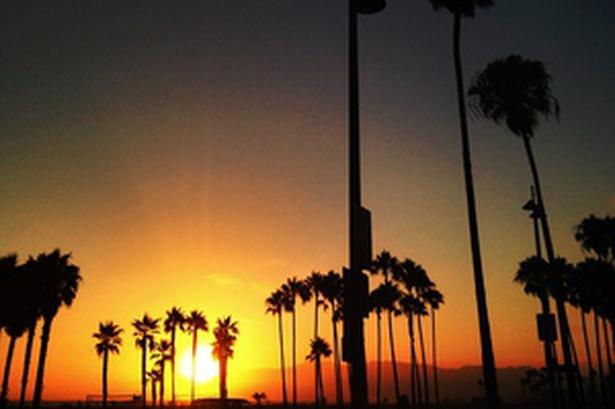 Luchford - who was part of fashion's 90s grunge wave with the likes of photographer David Sims (a friend, who has stayed at the hotel), stylist Melanie Ward and Kate Moss - is still based in Brooklyn, New York with his family.
He visits Venice between shoots for the magazines like Vogue andDazed & Confused plus the label Rag & Bone (the designers are old friends, and produced T-shirts for the Rose Hotel staff). Bruce, whose focus is on travel photography, moved into the neighbourhood about four and a half years ago, "to avoid the New York winters", drawn to the ocean, the surf and the eclectic mix of people.
"This is what every city used to be like - this mix of characters and down and outs and street artists, which is slowly dying everywhere," he explains. "New York used to be like that, but now it's completely over. It's becoming rarer, and Venice still has that."
That vibrancy is reflected in the hotel's own vivid past, according to local legend. "A big disclaimer here," laughs Bruce. "It's part of the myth - you know, Venice is all about storytelling. But from what we understand, it was built in 1908 by Abbot Kinney [the founder of Venice Beach] who built it as a 'party house' for his East Coast friends - which was essentially a brothel. That's totally unconfirmed!"
Kinney later sold it to triplets called Tom, Dick and Harry (yes, really), who kept it as a flophouse until the 70s, before it later descended into something seedier. "Jim Morrison apparently used to come here and 'stock up', you could stay," says Bruce. "I think the Crips moved in and used it as their headquarters for a few years."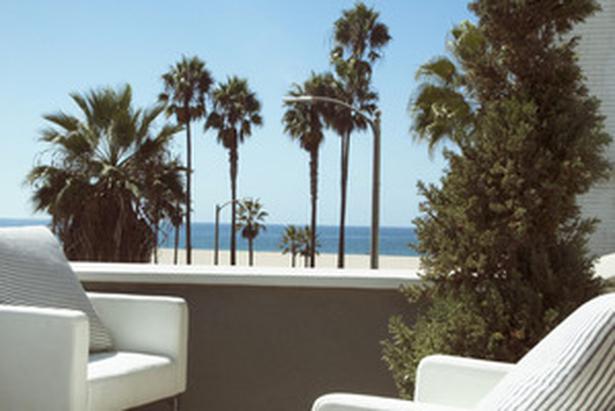 In the 2000s, a local named Scotty took over as the building's guardian, turning it into a cheap youth hostel, before selling it to Bruce and Luchford earlier this year. They had a matter of months to transform the building - then painted a dirty pink colour, with murals, psychedelic art, half-finished mosaics and patchy DIY - before opening. Bruce describes it as unrecognisable, although the chilled vibe has remained.
"A great refined service without the stuffiness," is how he sees it. He recalls with delight a guest walking around the lobby - complete with daily surf report on the blackboard - in bare feet: that's the sort of carefree, unpretentious atmosphere they have established. Staying there feels a little like crashing at a friend's much-loved beach house: worn in with slightly wonky floors, you instantly feel at ease, like you're on holiday.
Luchford worked closely on the interiors with Venice Beach-based interior designer Katerina Tana, who also produces Belgian-linen fabrics that feature throughout the hotel. The aesthetic is low-key luxury, a mix of modern and mid-century with a palette that reflects the colours of the beach nearby. Much of the furniture was picked up at the Rose Bowl Flea Market. Framed black-and-white photos and artwork are a feature of each room, from the upstairs suites (the 1500sq ft Pacific penthouse suite looks out to the boardwalk, a stretch of sand and the Pacific Ocean in the distance, with blazing pink and orange Malibu sunsets to the west each night) to the 10 smaller first-floor guest rooms (some have shared bath facilities, reflecting the building's hostel roots). Photos from a series Luchford shot for the influential fashion magazine Self Service appear throughout; this was photographed nearby with local skaters and surfers. It symbolises the owners' goals for the hotel.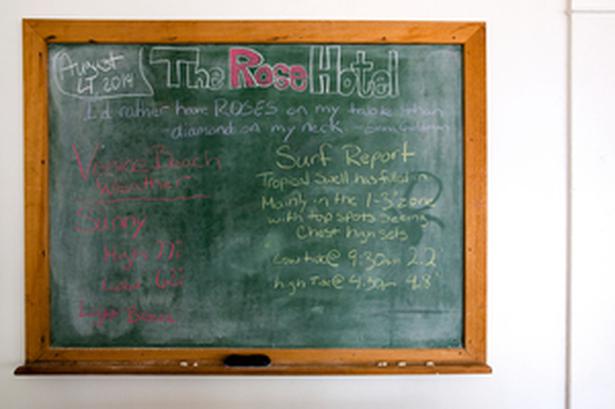 "The art on the walls represents who we are - we want people who appreciate that type of thing," says Bruce, "people who are happy to leave their cars behind and not watch TV, and cycle or walk around, take paddle boarding lessons or go for a surf; embrace Venice basically. Because Venice is very specific but it's changing very rapidly - and we need to hold on to it."

• The Rose Hotel, 15 Rose Ave, Venice, California.

• Viva flew to Los Angeles with Hawaiian Airlines, which flies three times a week from Auckland to Honolulu offering connections to six neighbour islands. In addition, Hawaiian Airlines flies to 11 great US destinations including Los Angeles with convenient connections via Honolulu. Visit hawaiianairlines.co.nz or ph (09) 977 2227.
Share this:
More Culture & Travel / Going Places