Cool Places to Go in The Mount
Viva writer Rosie Kelway's favourite spots in her hometown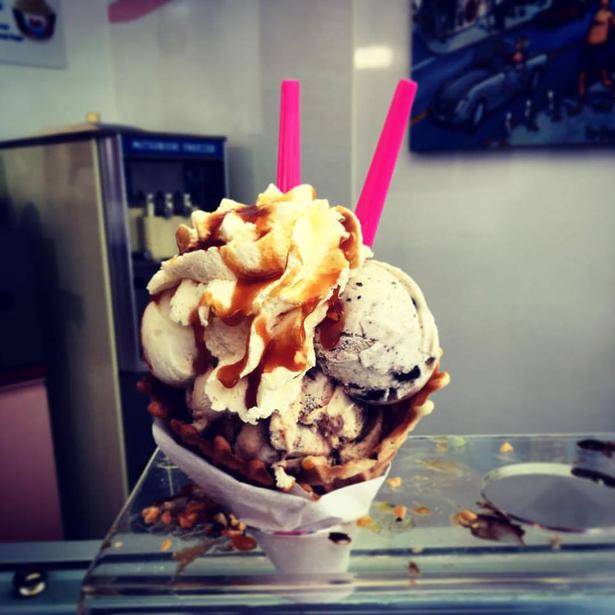 Sunday Dec. 27, 2015
Copenhagen Cones
Often there will be a line out the door and down the footpath, but anyone who has had an ice-cream from Copenhagen Cones knows they are worth the wait. They have been whipping up ice-creams for over 30 years, and it is pretty novel watching the person on the large waffle making machine in the front window freshly press the cones. Try the frozen yogurt in a waffle cone, with cream on top, crushed peanuts and chocolate sauce.
Up The Mount
Going up The Mount is the best and most rewarding walk - walking around it is good, but the view at the top never gets old. There are multiple pathways, but my favourite route is to take the stairs. Apparently if you climb to the summit 38 times, that is the equivalent of scaling Mount Everest...minus the snow, lack of oxygen and vertical rise.
Luca
Hands down, Luca makes the best coffee in The Mount, using Coffee Supreme beans.
The Mount Hot Pools
As a kid I used swim here almost every day, although back then I got in for $1.50. The prices have been hiked quite a lot since then but it is still a treat to soak in the thermal saltwater pools. If you want somewhere to just warm your toes and don't want to pay the pool admission fee, the hot pool outlet is located to the right of the boat ramp around on Pilot Bay.
Sidetrack Café
Sitting at the foot of the Mount, I got my first job washing dishes and clearing tables here when I was 14. It is very much a local favourite, thanks to the friendly owner Petra-Lee. They do really delicious spirulina smoothies and the hash stack is a menu favourite.
Tauranga Yoga Centre
A great place to stretch it out. A casual class is $10 for a 1.5 hour session.
The Blowhole
Also known as Leisure Island, this is another great little walk. Once you get to the end of the island which juts out to the right on the Main Beach, you can go for a rock climb, or at the end to the right (probably best to ask someone for the exact rock!), there is a spot where you can jump off into the sea. It is best, and safest, to go when conditions are fine - the reason it's called the Blow Hole is because the water sucks into this particular area of the rocks and the shoots water up really high.
Share this:
More Culture & Travel / Going Places