8 Great Places to Go in the Spanish Islands
Whether you're travelling to Mallorca, Ibiza or Palma, here are some inside tips on what to do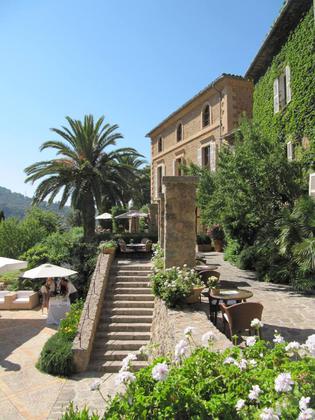 Bex Riley, founder of resort-inspired label Tosca & Salome, shares her favourite spots in the Spanish Islands:
BEST PLACE FOR A NIGHT AWAY: La Residencia, Deia
If you're travelling to Deia for the weekend, La Residencia is the place to stay. It was purchased by Richard Branson, who transformed an old farmhouse into what is now a stunning five-star boutique hotel, which has entertained the likes of Princess Diana, Michael Douglas, Kate Moss and of course — me! Surrounded by olive trees, its stunning outlook over the Med hides the most amazing spa, pools, restaurants, and boutique hotel rooms. The service is impeccable — a place for romance, indulgence and the perfect place to catch up on some R&R.
BEST PLACE FOR SUN DOWNERS: Roxy Beach, Portals Nous
You can really spend a whole afternoon and early evening here — this beach bar is an absolute must for starting out your long night. Pumping out Ibiza beats with beautiful, crystal-clear water lapping at your feet while you sip your sangria perched on the rocky edge, this is as close to right on the water as you'll get from any bar in the world. To get here, it's a cute trip down a flight of stairs with the best view of the horizon. If I could spend every afternoon at a certain place — this would be it. Did I mention the sangria blanca?
BEST DAY TRIP: Cala Deia
An easy 40-minute drive around the most beautiful cliffside view in Palma, leads you to Deia, Soller. Blink and you'll miss the turn off down the steep, winding road to the beach. But once you get here, you are greeted with a beautiful swimming cove, beach bar and fish restaurant. Absolutely breathtaking, this cute little fishing cove is home to the best chipirones on the Island! If you're lucky, you will find a spot on one of the rocks for sunbathing — but you'll have to get here early for a prime position. It's a fun drive here and back from Palma.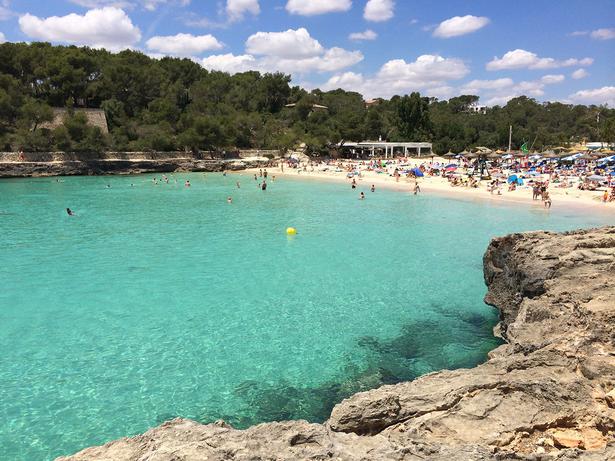 BEST BEACH: Cala Mondrago, Mallorca
About a half-hour drive from Palma is my favourite little beach paradise. Home to the clearest water on the island, it is a quiet little set of coves, nestled in a national park surrounded by gorgeous walks around the rocks. This would be an ideal place to explore on a boat — it just doesn't get more idyllic than this. The beach itself has one small restaurant and many viewpoints for that picture-perfect Facebook post to make your friends jealous back home!
BEST PLACE TO SHOW BOAT: The Blue Marlin, Ibiza
What can I say, this is an institution. The party gets pumping here mid afternoon. You'll be lucky to secure a table unless you book early, otherwise join the crowds on the dance floor or on the beach. Filled with beautiful people swimming, dancing, drinking to the best Ibiza tunes of the day, you'll see plenty of big boats and big bottles of bubbles. The gorgeous little marineros make it a wonderful trip in from the boat to the bar and, once you arrive on shore, you won't want to leave!
BEST RESTAURANT: Patron Lunares, Santa Catalina, Palma
This was a hard one for me — but how could I not have this as my favourite restaurant, when the slushy sangrias are sitting chilled in machines next to the Margaritas? This restaurant has a cute story — named after the owner's grandfather who was a fishing captain, its decor is Spanish cantina style. With crowds spilling out on to the streets of Santa Catalina during the balmy nights, the menu is superb (modern Spanish tapas) and has a great vibe about it, which leads you into your long Spanish nights somewhere in the surrounding Santa Catalina streets.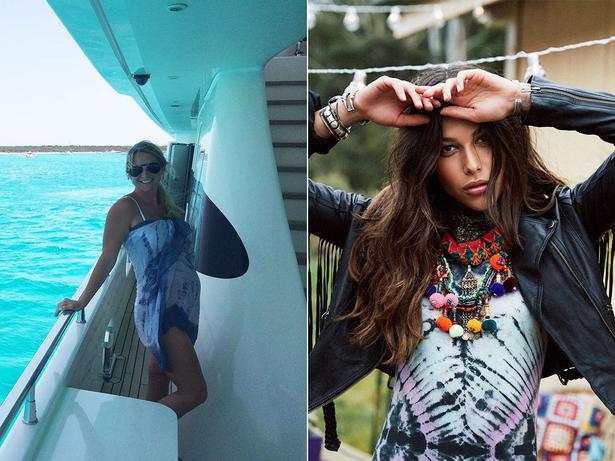 BEST PLACE FOR A WEEKEND AWAY: Formentera
Ibiza's chilled-out little sister, Formentera, is far less-crowded than Ibiza, but has so much to offer in terms of beauty, beaches, bars and general good vibes. It has a wonderful 'kicked back' feel to it and a fabulous walk from town along the beaches to the headland. With crystal-clear water, this place is superb for relaxing, enjoying life and thinking about how you wouldn't want to be anywhere else in the world. Endless sunshine means this place is my new favourite island of the Balearics. Swimsuits are optional on most beaches here ...
BEST PLACE FOR SHOPPING: Ibiza Hippy Markets, Tree of Life
The Ibiza Hippy Markets are amazing! I've picked up some gems here — crochet bikinis and my favourite Ibiza-style knit dresses. These are not on every weekend, so you'll have to check an online timetable — but if you're here at the right time you must check them out. Clothing, homeware, local food, and also some of the most gorgeous scarves I've stocked in the past. If you can't get here, the Tree of Life store in La Lonja Palma stocks Ibiza-style clothing too, and I cannot go past here when I go back to Mallorca without splurging. With amazing hand-made boots and clothing, this store inspired my own story a lot and I still look to it for inspiration for new lines. Love love love.
Share this:
More Culture & Travel / Going Places