Why Poet Hera Lindsay Bird is a Literary Rebel
How Wellington poet Hera Lindsay Bird reinvigorated our love for poetry this year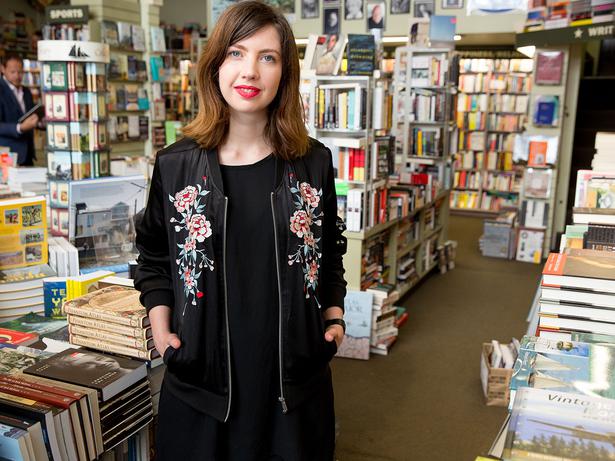 Wednesday Dec. 28, 2016
This year Hera Lindsay Bird established herself as a rebel of the New Zealand literary scene. Not that she sees it that way.
"It's like saying you're an anarchist flower arranger," says the Wellington poet and self-confessed high school goody-good, who turns 29 on New Year's Eve. Her confessional, hilarious, occasionally explicit first book Hera Lindsay Bird certainly made a rock-star impression, remaining on the New Zealand bestsellers' list since its release in July, outselling fiction titles.
"There is no comparison, no other poet sells like this," says Kirsten McDougall, from Victoria University Press, which has reprinted the book three times.
Hera puts that down to luck and good timing but it helps her work is attention-grabbing enough to see it take off, not only in print but online. Her work has appeared on websites including Vice, The Pantograph Punch and The Spinoff.
When the latter published her poem, Keats is Dead So F**k Me From Behind, it was shared throughout New Zealand and overseas more than 7000 times. Lorde was among the high-profile Kiwis to Tweet her admiration, exposing the poet's name to the pop star's 4.4 million followers. (Hera is a prolific Tweeter herself, regularly posting amusing diversions and Dada-esque lines.)
In September, the Guardian called her "New Zealand's most exciting young poet", and last month published a second piece about wordsmiths conquering the digital sphere, describing Hera and her peers as "Instapoets", their work as likely to show up in your social media feed as on your bookshelf.
The recognition isn't enough for her to throw in her full-time job working at Unity Books in Wellington just yet but she is attracting opportunities. Today's 24-hour Auckland visit is to read a new work at an event for the arts and literature website, The Pantograph Punch.
At the recent Cindy Sherman exhibition launch at Wellington's City Gallery, she joined panellists Karen Walker, artist Yvonne Todd and art writer Martin Patrick to discuss Sherman's work. Hera has also just received a Creative New Zealand grant that will allow her to take some time out next year to complete a children's detective novel.
READ: One-on-One with Cindy Sherman
"I think people more than ever now are interested in hearing other people talk really candidly about their lives," she suggests of her burgeoning popularity. "That's one aspect of it. There are lots of jokes in the book as well. A lot of people grew up in New Zealand and they only really encountered the war poets in secondary school.
We don't have a very wide range of poetry and a lot of people don't really like poetry on principle because they've seen such a narrow range. I don't think my book is at all unique in having humour. But maybe people didn't realise poetry could sound like that."
Her poems have been referred to as nihilistic, provocative, offensive, fearless, flamboyant. Naturally, much of the discussion has centred around her free disclosures around sex.
You are a denim tree and I am the world's fastest autumn, she writes in Ways of Making Love.
"Flamboyant definitely," she says. "It's an over-the-top book. The thing I didn't expect was that people would find the content shocking. People have been writing really intimately about sex and relationships for such a long time now."
READ: Why You Should Follow Poet Cleo Wade on Instagram
The way she sees it, she simply wrote a book of love poems. Each is autobiographical and raw, exploring everything from friendship and sexuality to her love affair with poetry itself. No matter the subject matter, her winning ingredient is humour, evident in poems such as Children are the Orgasm of the World and The Dad Joke is Over, not to mention her popular poem, Monica (about the TV character from Friends), also widely circulated after appearing on The Spinoff.
She makes me want to wash my eyes with hand sanitiser
She makes me want to stand in an abandoned Ukranian parking lot
And scream her name at a bunch of dead crows
Where does her funnybone come from?
"I don't know. Probably a well in an abandoned field somewhere, drinking the blood of children."
More likely it came from her parents, both funny people, she says. She grew up a small Thames community populated by "ex commune people". Her father, a therapist, would read her PG Wodehouse and give her collections of EE Cummings and Emily Dickinson for her birthday but he would also insist they watch all the old comedy sketch shows. Her mother is an artist, who now lives in Whanganui. When they left Thames, they gave their goat to environmentalist Jeanette Fitzsimons, a comic family memory if ever there was one.
Hera wrote short stories at high school and began to take writing more seriously at university. During her studies toward an MA in Poetry at Victoria University, her lecturer introduced her to the work of American poets Chelsey Minnis, whose emotionally heightened prose immediately caught her eye, and Mark Leidner, whose casual vernacular creates an appealingly affectless tone.
She also revisited Frank O'Hara, her favourite poet from high school, imitating her heroes' voices at first, until her own distinctive sense of the absurd and the true began to cut through. Until then she'd been writing "restrained, elegant poems that just didn't feel right".
"I don't really know why [poetry] is my chosen medium, it's kind of a silly medium as well," she says. "It's so fusty and antiquated . . . I'm aware that poetry has a limited audience and it's not something that's made very accessible to people, and it's a bit elitist and weird but for whatever reason, it's the medium that resonates with me the most."
Share this: