Pop Superstar Troye Sivan On His Rise To Fame, Coming Out & New Album 'Bloom'
The Australian singer-songwriter is back, blonde, and bolder than ever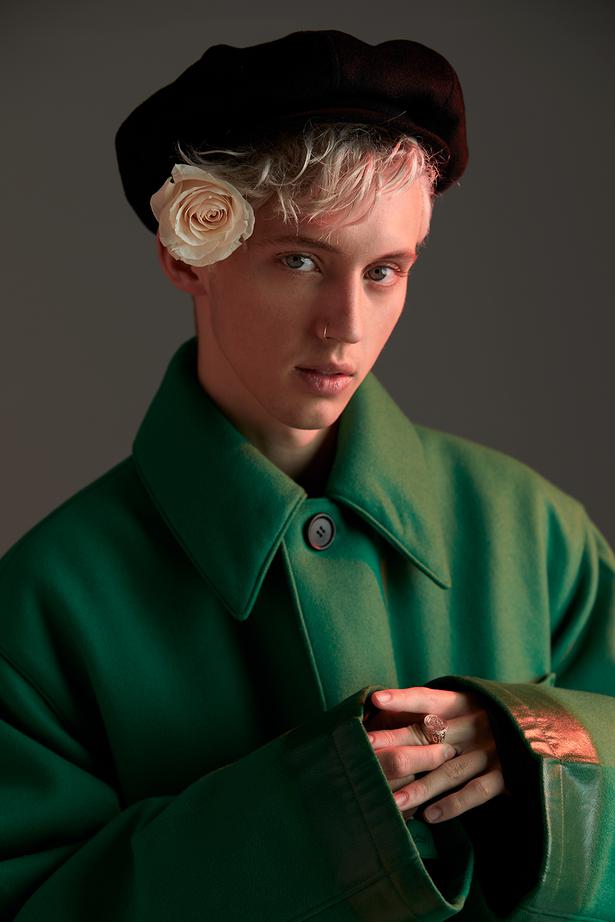 Wednesday Aug. 22, 2018
With his new album complete, Troye Sivan took a plunge into platinum.
"I was really worried about it frying. I had heard so many bad stories," he laughs. "But it was something I wanted to do. I needed to have a change with the new music."
The dramatic transformation — tweeted out in a selfie captioned "It's real y'all!! I promise", to his nearly nine million followers in July last year— was a sign of things to come from the previously brown-mopped Australian singer-songwriter ahead of the release of his forthcoming album Bloom (out August 31).
READ: Why Australia's Biggest Indie-Pop Star Almost Didn't Make It
With select tracks slowly teased out since January, already praised by critics as the best hit of frisky pop this year, Sivan has returned with a new look and sound and the attitude of a bona fide superstar. "Bloom is completely reflective of where I am in my life right now," he says during a promo visit to Auckland.
"I think I would have made this album the last time, but I didn't have the confidence to do it. It's the album that I wish existed from someone else. It's the album of my dreams."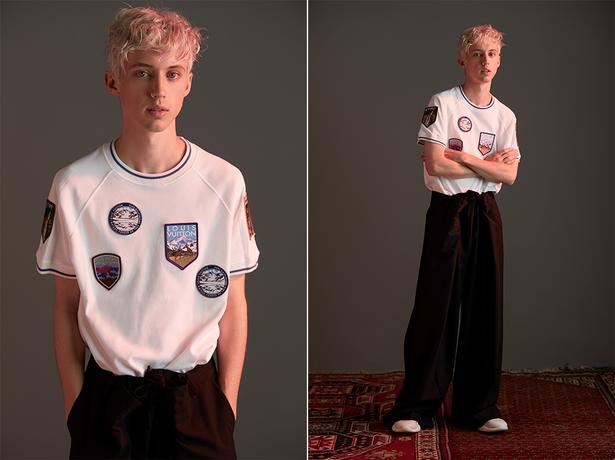 At 23, Sivan has already been famous for a decade building a die-hard fan base as a popular YouTube persona. Louis Vuitton t-shirt $1090. Jimmy D trousers $ 475. Prada trainers $975. Vintage Turkish Kilim, POA, from Babelogue. Photo / Mara Sommer

At 23, Sivan has already been famous for a decade, singing and vlogging to far-flung corners of the internet as a popular YouTube persona. He used his YouTube channel to come out publicly at age 18. All the while recording and releasing two EPs on his own (one in 2007, another in 2012) and then a debut album Blue Neighbourhood in 2015, which had a No. 1 Billboard hit 'Wild'.

READ: Meet Billie Eilish, The 16-Year-Old Pop Star Prodigy

But if the first album — which released a trilogy of videos following the story of a young boy struggling with his first gay relationship — was a cautious exploration of identity, the weight of the world has been lifted off Sivan's more grown-up shoulders in Bloom.

Take the video for seductive dance bop 'My My My!' where Sivan sashays in an open shirt to strobing black and white lights. He's got a hip-twerking strut to put any supermodel out of a job. "I felt the most confident I have ever felt shooting that music video," he says. "I want other people to feel like that too. Everybody needs a wind machine," he laughs.

The video for title track 'Bloom', which Sivan will politely tell you is "about flowers" but is reportedly a sex anthem (he has more confirmed than denied this in interviews), takes things up another notch altogether. Sivan says he wanted to create a "super-lush fantasy world" to set the tone on the day of filming.

"It was all about fulfilling a fantasy. I wanted to just let it happen…whatever 'it' was." With glossy candy-apple lips, avant-garde outfits and flashes of heaving male torsos, the clip is daring, playfully androgynous, and completely terrified him.

"I had to pluck up the courage to really let myself go there," he says. "I still have a lot of leftover issues from growing up in the closet. That fear of all of a sudden you're 15 years old again and you think 'my god can I really do this?'"

READ: Marlon Williams: Moving On After Heartache

Born in Johannesburg, Sivan was raised in Perth and has recently relocated to Los Angeles. He says he's still firmly connected to his Australian roots and calls his Melbourne-based parents and three siblings every day. "I'm a bit all over the place as far as what home is. But I miss Australia so much. I love coming back," he says.

Growing up, Sivan has been singing "literally ever since I can remember" and became obsessed with YouTube at 12 years old. "It really clicked for me early on about the potential of reaching people you'd normally never be able to," he says.

He started by uploading simple pop covers, before sharing more of his personality in candid videos like Australian Boy Does Accents, How To Make Friends and Life's Unanswerable Questions. In 2013 he posted the eight-minute-long Coming Out (his family and close friends already knew he was gay), which has since had more than eight million views. "This is not something that I'm ashamed of," he said, "and it's not something that anyone should have to be ashamed of."

READ: Meet Cecily Danaher, The Young Singer-Songwriter To Look Out For

Sivan had signed a deal with a major record company two months earlier but posted the video without his new label's knowledge. He says it was essential for the success of his music.

"At that point, it was such a non-issue in my personal life. I didn't want anyone else to be able to hold it above my head. I wanted to tell people on my own terms," he says. "It was such a massive sense of relief afterwards. I could tweet about boys and do whatever
I wanted."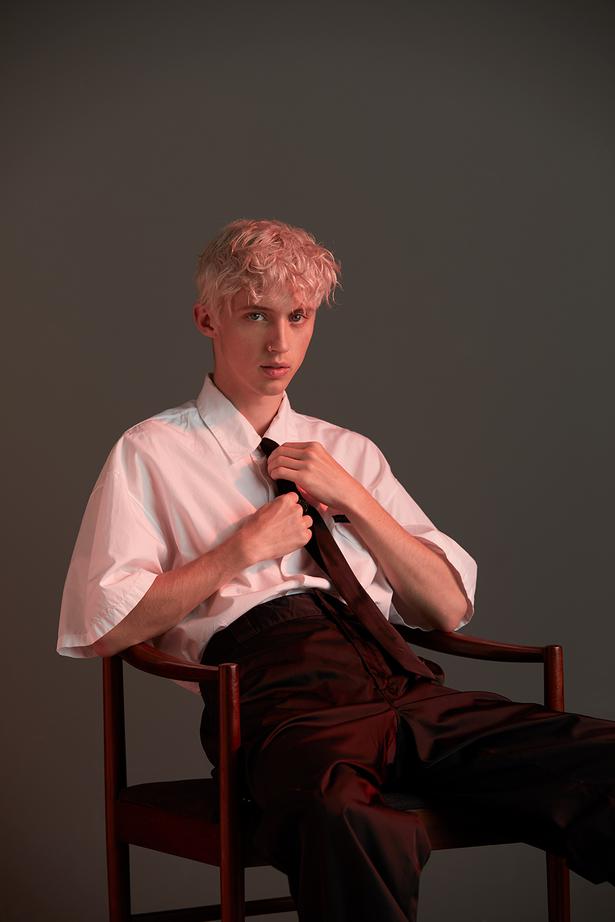 The public announcement was also a way of paying it forward to the hundreds of coming-out videos from others he had found solace in watching online. "My confidence came from finding people like me out there. It made me bold seeing I wasn't the only person going through this," he says. "I'm so thankful I had the internet. I don't know what I would have done otherwise."
Just this month, thousands flooded Twitter with #ThankyouTroye posts, celebrating the video's fifth anniversary. "I still get people talking about my video and how it helped them. I hear the most incredible stories of strength and resistance. I think being able to help just one person would have been enough. So anything past that is purely a bonus," he says.
READ: October's Red-Hot New Music Video
While his sexual orientation is something that's celebrated in his music — several of his songs are addressed to "him" — Sivan maintains it's also beside the point. He's writing and singing universal songs about relationships and love just like any other artist.
"I feel liberated as an artist. There's power in living openly and honestly while being gay," he says. "It's also as simple as I'm just trying to tell my story and what's real to me."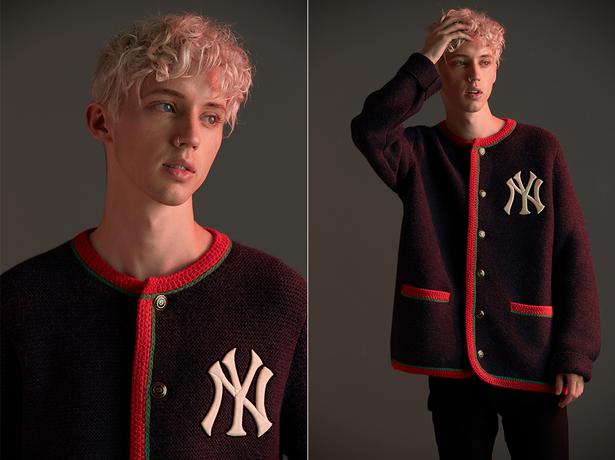 The already established actor will star alongside Nicole Kidman and Russell Crowe in Joel Edgerton's film Boy Erased this November. Gucci cardigan $2035. Photo / Mara Sommer

Still, Sivan is proud to be in the LGBTQ music community. "There are more queer artists coming into the mainstream all the time. That's the way it should be because the community is so diverse. We're heading in the right direction but there's still a long way to go," he says.

READ: Favourite Things: Singer-Songwriter Tami Neilson

With his incredible rise to fame, Sivan has checked off even more career milestones this year. In January he performed on Saturday Night Live to an audience of 4.5 million people after the prestigious late-night show booked him earlier than expected and before Bloom even had a final release date.

"Getting to do SNL so soon was crazy. It was such an overwhelming moment that I'd been hoping would happen for a long time. Live TV is so spooky though. I'm just glad I didn't die or faint," he says.

Sivan has also made another debut in the movie scene — his first was in 2009's X-Men Origins: Wolverine — in Joel Edgerton's film Boy Erased starring Nicole Kidman and Russell Crowe due for release in November. The story tells the account of a gay teen sent away to a controversial conversion therapy programme. Sivan plays a teen at the camp who befriends lead character Jarad, played by Lucas Hedges.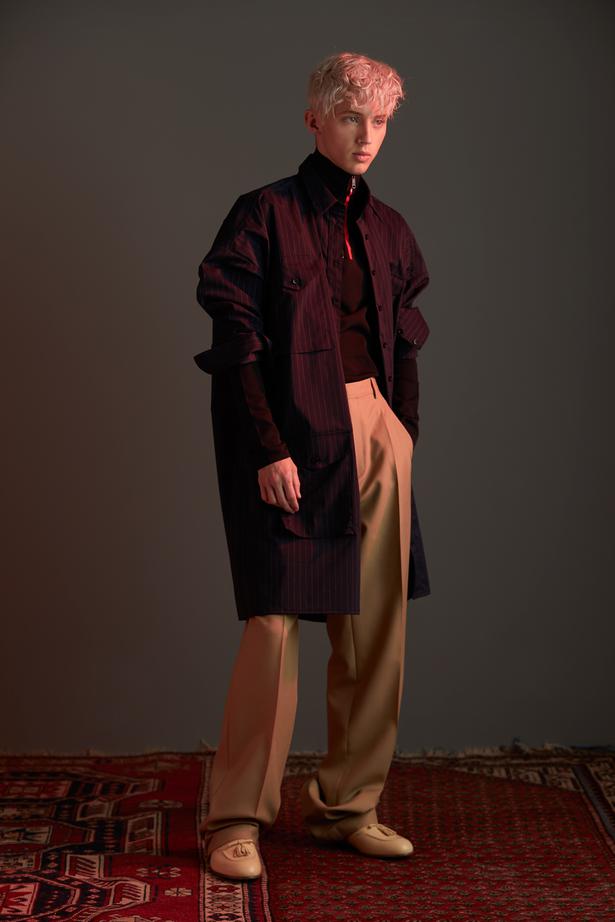 "I couldn't be prouder to be a part of this," says Sivan. "It's going to be a really impactful movie and an important educational tool for parents all around the world."
Next on his list is a Grammy nomination. "But when I'm like ... 60," he laughs. "I'm in no rush at all."
Fashion Editor: Dan Ahwa Grooming: Louise Rae Fashion assistant: Rosie Herdman
STOCKISTS:  Babelogue, Gucci (09) 368 1138, Hattitude (09) 215 8995, Jimmyd.co.nz, Louis Vuitton 0800 586 966, Meadowlark.co.nz, Mr. Biggelsworthy, Prada (09) 366 7121.
Share this: