Prince A to Z: F Is For Fashion
In an extract from a new illustrated book exploring the unparalleled artistic impact of Prince, we look at all things beginning with the letter 'F'
Friday May 5, 2017
No one wore it quite like Prince. He channelled everything from Beau Brummell's Regency-era foppishness to space-age pimp and flamboyant urban toreador – the diminutive Purple One proved that nothing was off limits. His gangster-chic Barbarella-meets-The-Godfather look was exactly that, he watched both films back to back and became inspired. He elevated the unpopular colour purple to stratospheric heights and, by championing high-waisted pants and Seinfeld-like puffy shirts, Prince was able to take some of fashion's biggest no-nos and turn them into a big 'yes, please'.
A description of Prince's fashion tastes reads like a guide on 'what not to wear' – floral fingerless gloves, pink and white fur, Spanish ruffles, metallic stud shoulder pads, stripes, polka dots, flares and wide lapels – but whatever Prince wore, he wore oh-so very well. Prince's favourite designers included Armani, Gaultier and Lagerfeld, but mostly, he worked with a series of personal designers, including Cynthia Vargas Sieloff, Marie France and Stacia Lang, to create his signature looks.
• Designer Stacia Lang worked with Prince for three years in the early 90s. She said, 'He never wears jeans and a T-shirt, but he has to be comfortable – lots of silks and crepes. By day, he sticks to tailored looks but at night he wants to look dramatic. He loves to reveal his physique with nipped-in waistlines. Hats add drama to an outfit.'
• Following Prince's death, Frank Ocean published a tribute on his personal Tumblr, saying, 'He was a straight black man who played his first televised set in bikini bottoms and knee-high heeled boots, epic. He made me feel more comfortable with how I identify sexually simply by his display of freedom from and irreverence for obviously archaic ideas like gender conformity etc.'
READ: 8 Times Prince Proved He's the Ultimate Style Icon
• Stacia Lang designed the infamous butt-baring outfit Prince wore to perform 'Gett Off' at the 1991 MTV Music Awards – although the eye-popping design feature was apparently his idea.
• Prince not only worked with personal designers, he also employed a personal dresser and would not allow anyone else to dress him.
• When Prince put on his yellow bolero and high-waisted onesie, with yellow shoes and matching guitar for a Vogue shoot, he reportedly said to the photographer, 'Tell me if this makes you want to puke.'
• Prince had six separate costume ensembles on his Diamonds and Pearls tour.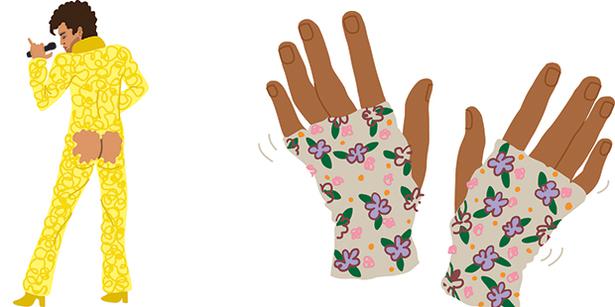 Family
Prince was born Prince Rogers Nelson, the son of John Lewis Nelson and Mattie Della Shaw. Both of his parents were African American with a heritage based in Louisiana. Mattie was a jazz singer and John was a songwriter and piano player who performed in a jazz ensemble called the Prince Rogers Trio. Prince had one sister, Tyka Evene. Prince's parents separated when he was 10. John Nelson said he called his son Prince because he wanted him to do anything that he wanted to do.
Fentanyl
The drug that was ultimately believed responsible for Prince's death, Fentanyl is a painkiller that's estimated to be 80 times more potent than morphine and over one hundred times more potent than pure heroin. Often used as a palliative-care drug and anesthetic, Fentanyl has been responsible for hundreds of overdoses.
READ: David Bowie's Fashion Influence
For You
Prince's first album, released in April 1978 when he was just 20 years old. It featured the singles Soft and Wet and Just as Long as We're Together. The album reached 163 on the Billboard chart. Prince wrote and played everything on the album with the exception of Soft and Wet, which he co-wrote with music producer and engineer Chris Moon.
Funk Machine
The first song Prince ever wrote, at the tender age of 7. Sadly no record of the song exists.
FALLINLOVE2NITE
Prince recorded this song with Zooey Deschanel. He was a big fan of her show New Girl and once told her it was the only thing he watched apart from the news.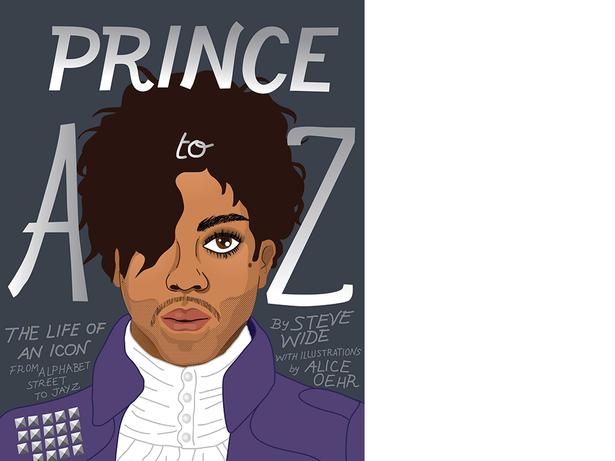 • Extract printed with permission from Prince A to Z: The Life of an Icon from Alphabet Street to Jay Z by Steve Wide, illustrated by Alice Oehr, published by Smith Street Books. $35.  
Be inspired by the good things in life. Sign up now to receive emails from Viva, and twice a week you will be sent the latest news, profiles, videos, fashion shoots, competitions and more.
Share this:
More Culture & Travel / Features & Profiles