How to Live Like a Queenstown Local
Get the inside word on Queenstown from some of the region's movers and shakers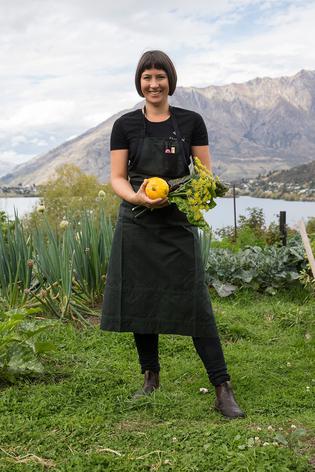 AINSLEY ROSE THOMPSON
It was love at first sight when Ainsley Rose Thompson laid eyes on The Sherwood Hotel. The 30-year-old, now head chef at the boutique hotel on the edge of Lake Wakatipu, recalls her first encounter. "I was working in Wellington at Floriditas and on my own raw food business when Sean Marshall, my first head chef from the Matterhorn, called. He told me restaurateur Sam Chapman was taking over an old hotel in Queenstown and that it was the perfect role for me.
At that stage I wasn't thinking that I would be head chef but after speaking with Sam it sounded perfect. After meeting with Stephen Marr [co-owner of The Sherwood and Auckland's hip Golden Dawn Bar], I saw the site in all its mock Tudor, pink toilet glory. I fell in love with it."
It's Ainsley's first head chef role, though her trajectory over the past seven years has seen her gain invaluable experience. As well as the Matterhorn and Floriditas, she spent two years working under Simon Wright at The French Cafe in Auckland, at Hapuku Lodge in Kaikoura under chef Fiona Read, and at influential Michelin-starred restaurants Quince and Atelier Crenn in San Francisco.
Working at The Sherwood, which re-opened in its current incarnation last year, comes with the perks of a sprawling vegetable garden that Ainsley enjoys foraging from for the day's menu. "You learn a lot of life lessons from a vege garden. Going out there keeps me grounded.
The coolest thing is that there aren't straight lines in our garden, there's a lot of experimentation, a lot of magical little moments, where kale and radishes we let go to seed are popping up just exactly when they want to." Her team also inspire her menu, which focuses heavily on fresh produce and local ingredients."Each chef has their specialty project.
Nick does fermenting, Jo does garden, Marina does cakes, Lewis does sustainability and Ben does meat. I want each to be contributing in a way that gets the best out of them, so they leave here better people and better chefs."
My typical day involves getting up around 9am and going for a long walk around beautiful Arthurs Point where I live, or some yoga at The Sherwood. I have breakfast, read Lucky Peach journal or forage for bits and pieces (elderberries, mushrooms, sorrel and thyme at the moment). I get to The Sherwood around noon. After service at about 11.30pm, I do the orders and research with a central Otago pinot, then I hit the sack!
I like that we are making food for people to enjoy. That maybe we show them something new, let them taste something they haven't had before. I like that when people have something to celebrate they come here to eat.
I love central Otago. The landscape, snow, sun, animals and the people who live and move through this mystical place. Queenstown is a little bubble quite different to the rest of New Zealand. Anything is possible here. First- timers should venture outside Queenstown too: take a trip to Glenorchy or Arrowtown.
Do the Routeburn. Drive out to the Kawarau bungy, Gibbston Valley or better yet, Bannockburn. Visit a winery, pick some cherries. Do the shotover jet. Have a picnic, watch the sunrise or sunset. Put your toes in the lake.
My current favourite place to eat in Queenstown is Taco Medic in Searle Lane. The boys hand-make these super-fresh and tasty tacos. They really care about what goes into them and you can have a beer and a good meal for less than $25.
Three ways I like to relax in Queenstown? Hiking, cocktails and a dip at Onsen hot pools.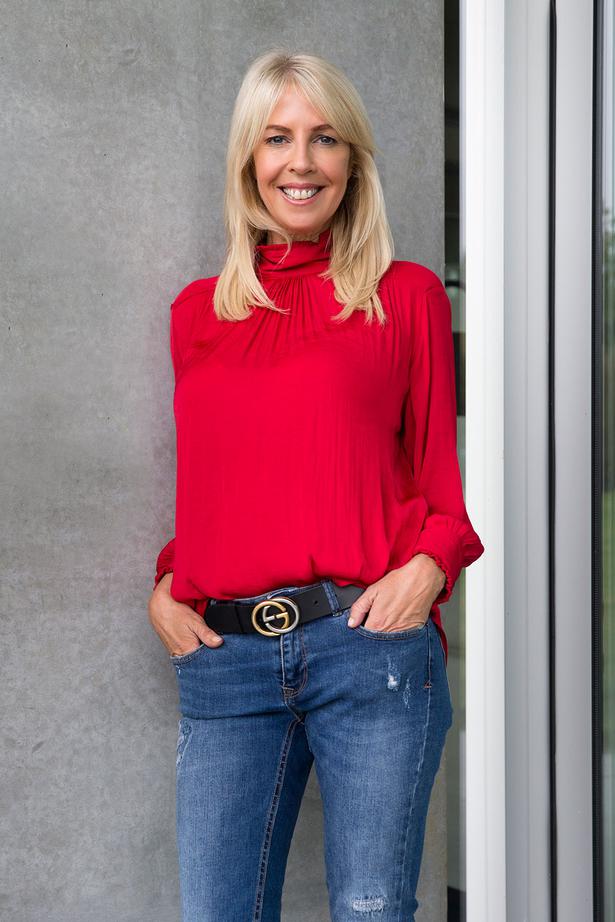 Emma Gould. Picture / Guy Coombes.
EMMA GOULD
Emma Gould cuts a striking figure. Tall, blonde and with a megawatt smile, she's wearing a bright red blouse and a Gucci belt with her jeans. The interior designer, whoi hails from London, has carved a niche for herself as the go-to for some of Queenstown's most stunning homes. Emma's distinctive luxury interiors take inspiration from the natural surroundings and her love of Art Deco. Her career began in the 90s working for some of the UK's top interiors design houses: Colefax and Fowler, David Laws and Ina Lindemann Design. Since immigrating to Queenstown in 2001, she hasn't looked back.
"Having met a number of New Zealanders while skiing in Europe, I was fascinated and intrigued to hear their passion and love for this beautiful country. I fell in love with its scenery, vibrancy, mix of nationalities, and the growing number of national and international residents building homes. It seemed the perfect place to settle." Working with a mix of millionaire and celebrity clients also offers plenty of inspiration to conjure up dream home settings on a grand scale.
"I love the excitement of researching, sourcing and creating the interior schemes, working with beautiful fabrics, materials art, furniture and antiques. My style has always been and remains timeless chic with a hint of glamour. Since moving here I love to incorporate local materials into my designs. I love the fact that after 25 years I am still passionate about what I do," she says.
"I like to make people comfortable in their own homes, and express who they are. It's about the function, the style and interpreting their needs and requirements and also showing ideas that perhaps they would never have imagined themselves."
A typical weekend will begin with a hike up Tobins Track in Arrowtown or a walk around Lake Hayes with my dogs, then lunch with friends at Amisfield winery. There's nothing better than savouring a lunch of seasonal dishes and a chilled glass of Lakes Hayes sauvignon blanc sitting outside in this magical setting. I love to start the evening with a cocktail up at The Sundeck followed by dinner in one of the private dining rooms at Botswana Butchery, then finish with a divine espresso martini upstairs at The Bunker.
Queenstown never ceases to amaze and inspire me. I love the four distinct seasons here, and the dramatic changes that come with them. There is a wonderful vibrancy to Queenstown, yet at times it can be extremely peaceful and a place to gather your thoughts and relax.
For the best caffeine fix visit the amazing Chop Shop food merchants in Arrowtown. Chris and his team create the most tantalising dishes.
I love to relax and enjoy an amazing experience at Aro Ha wellness retreat, one of my favourite places when I need to recharge. I like to hike and take a picnic up to Sam Summers Hut. A drive into Skippers Canyon is fantastic, though not for the faint-hearted. I love to take a walk and take in the views around the Queenstown gardens. This has always been a special place to me.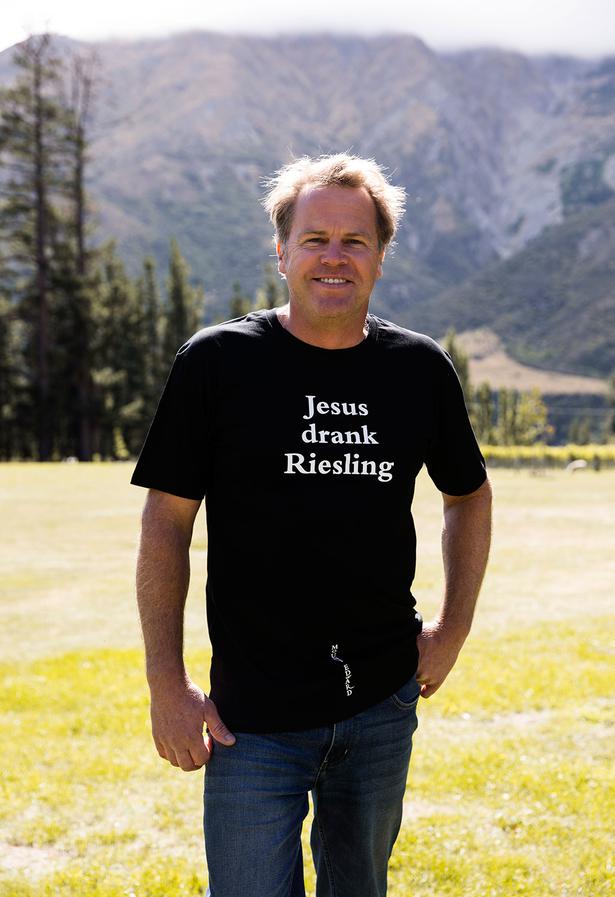 NATALIE NEWLANDS
Natalie Newlands' boutique Angel Divine is a Queenstown institution, a roll-call of our best fashion and accessory designers including Zambesi, Nom*D, Karen Walker, Twenty-seven Names and Meadowlark. Located in the hip Searle Lane, it's a pit-stop for a broad range of local and international visitors looking for something unique. For Natalie, it's a labour of love. "We umbrella so many amazing brands, so it constantly keeps it interesting and fresh, and it's all under one roof. Our window installation is always a popular element too.
We work really hard at making it a welcoming and relaxed environment." A new mother to 4-month old Knox, Natalie also designs for her house label, New Lands. "I'm really into celebrating individualism so women can wear my designs however they want. I don't follow trends but focus on timeless pieces in quality fabrics that make you feel good, and have a bit of fun with along the way. I have a love for coats, probably a reflection of my chilly surroundings."
This year is my fifth year living in Queenstown. I love this place and never take its beauty for granted. This town has a certain buzz about it, elements of a city life, as in restaurants and cafes, but also some of the most beautiful places to explore right at your back door. It's handy that the airport is so central as well, making travel in and out effortless. My husband Myles, Knox and I live in Kelvin Heights, so we get the last of the sun and get to enjoy the beauty of the lake at our doorstep as well.
Autumn in Queenstown is beautiful. The colour palette of the winter collections is reflective of that — burgundy plum through to forest greens and always a touch of black. I will be wearing the Zambesi faux fur coat, Kate Sylvester vinyl pleated skirt, essential Nom*D knits, Juliette Hogan jumpsuit and living in my New Lands coat.
I love eating and drinking at La Rumble and Chop Shop in Arrowtown. Jack Point Club House, Bespoke Kitchen and Madam Woo are also favourites. It's hard to beat a sunny afternoon at Amisfield winery with good company and good rosé.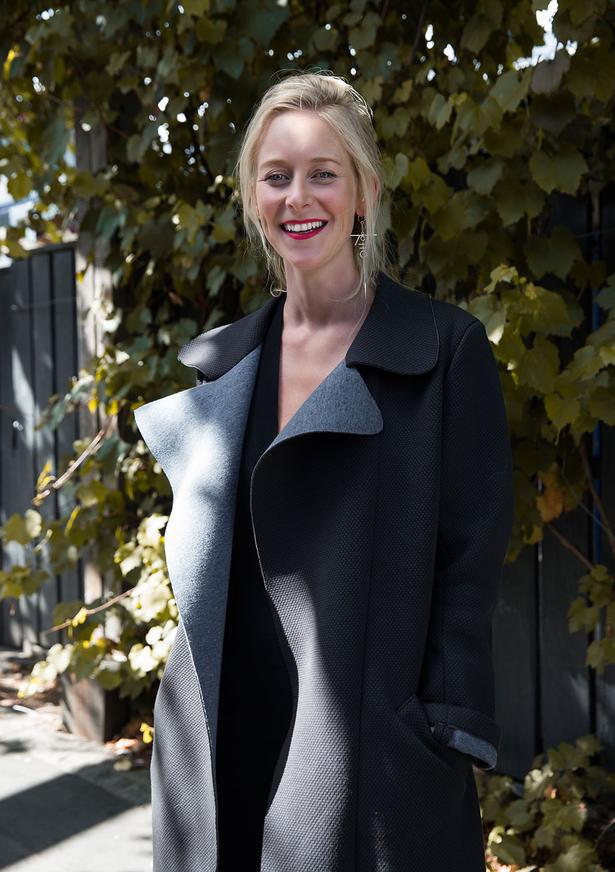 DUNCAN FORSYTH
Duncan Forsyth loves life and when we arrive to take his portrait, the winemaker is in the middle of making spaghetti for lunch. It's the typically rambunctious affair you'd expect from a winery passionate about making top quality certified organic wine, where everyone sits down together for a hearty pasta dish and a drop of vino. Mt Edwards Winery, in the heart of the Gibbston Valley 25km from Queenstown, was founded by one of the pioneers of central Otago wine, Alan Brady.
Since 2004, Duncan and proprietor John Buchanan have focused on growing small-batch premium single vineyard wines — Gibbston is home to the winery and its riesling vineyard, The Drumlin. Provenance is important to Duncan who believes there are few things that you can taste that can tell you about their origins.
"When you grow your vines a certain way and make your wines that way, you can deliver provenance in a glass. You get to help create something that is unique to where it comes from and to the people who help create it. I love being part of something that is essentially both fun, delicious, and involves both the hospitality and creative worlds, within which are a whole bunch of generous, eclectic and driven people.
"You also get to give people wine. Unless you are a miserable sod, is a fun thing to do — imagine selling potatoes instead."
Inspired by his colleagues and friends in the wine industry, Duncan is well-respected in the industry and actively involved in the community, currently helping with work on the light festival, Luma, being held here in June. "It's an art festival involving sculpture and projection, similar to Sydney's Vivid light festival, but smaller. This is hugely rewarding with all sorts of amazing artists and people contributing to this free event."
These days are more about running the business than getting my hands dirty. We can be tasting wine at 8am, making blending decisions, getting orders ready, running tastings with clients, cooking lunch for our crew, updating our website and hosting dinners.
Queenstown has so many positive people, but within five minutes you can be away from everyone, doing something you love in the outdoors by yourself.
It's difficult to narrow down my favourite places to eat as I will miss out some favourites, but The Sherwood and Fishbone both have a sustainability ethos that sits well with us as organic producers. VKnow is another — is there a better suburban restaurant? Nope!
My girlfriend and I recently bought a massive old farmhouse so on the weekends I am usually in DIY hell ... But my thoughts are of skiing, mountain-biking, or getting out on the water.
I love to go to the Glenorchy cafe for some amazing giant sculptures by Dan Kelly. Check out Mark Hill's work at the airport — visit The Front Room or Milford Galleries, Toi a Tohuna at the Hilton or Nadene Mine Gallery in Arrowtown. Also not be missed are the Queenstown Gardens. It's a true sanctuary.
My advice for people visiting Queenstown would be to look beyond the obvious. There is an amazing art scene here from the airport to town, to some of the private collections that are accessible. I would pay for the round of golf at The Hills, even though I can't play golf, just to see the sculptures — inspirational. Plus the biking is legendary. If there was a community award it should go to the local mountain biking club. Epic trails right at your door for free.
Visit www.queenstownNZ.nz/escape for more
Share this: